Overview
Videos
Specification
Materials
Overview
Multi-material, multicolour, sterilisable &
biocompatible capabilities
J5 MediJet is setting a new standard for medical modeling. With multiple materials and multi-colour capabilities, academic medical centers, hospitals and medical device companies can create brilliantly vivid anatomical models, and drilling and cutting guides that are sterilisable and biocompatible.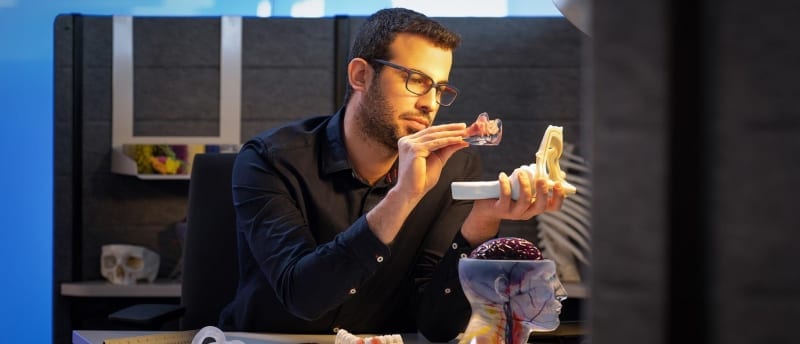 With full certification including 510k clearing for clinical diagnostic use. Biocompatibility certification such as ISO 10993-1:2018 for limited contact to tissue and bone and permanent contact to intact skin, and ISO 18562-1:2017 for breathing gas pathways in healthcare applications. Along with various sterilisation methods to ensure the parts you print are completely suited to your needs.
Print more models with less handling all
within a small footprint
Service multiple departments and create more medical models with less handling all within a small footprint. Print pre-surgical planning models, training and education models, surgical guides and medical device development models with a certified system all on one platform. Plus, with a lower up-front investment and smaller footprint, J5 MediJet is economical and compact enough for small lab spaces.
Improve point-of-care

& patient satisfaction

The use of patient-specific 3D printed medical models for pre-surgical planning improves patient outcomes by reducing complications, decreasing operation time and length of hospital stays. Plus, patient understanding, consent, and satisfaction have been shown to improve with the use of 3D medical models.
Enhance training &
education programs
Synthetic models, animals, and cadavers do not always accurately represent the pathology you are looking to study. Scale up your product demonstrations when training field staff and physicians on your new medical device by providing models that replicate the disease state your device is intended to treat. If you're a teaching hospital, print the exact pathology on-demand and train anywhere without cadaver storage requirements or ethical concerns associated with animal models
Videos
Specification
See the

specs
| | |
| --- | --- |
| Supported Sterilization Processes | Steam (4 minutes at 132°C), Gamma (25-50 kGy), EtO (specifications available upon request) |
| Digital Model Materials | Unlimited number of composite materials including over 500,000 colors |
| Build Tray | Printing area: 1,174cm2 Max Part Size: Up to 140 x 200 x 190mm (5.51 x 7.87 x 7.48 in.) |
| Layer Thickness | Horizontal build layers down to 18 microns (0.0007 in.) |
| Accuracy | Deviation from STL dimensions with rigid materials, based on size: under 100 mm ±150; above 100 mm - ±0.15% of part length. |
| System Size and Weight | 651 x 661 x 1511mm (25.63 x 26.02 x 59.49 in.); 228 kg (503 lbs.) |
Materials
Multi-material and multicolour capabilities
Create patient specific, brilliantly vivid anatomical models with multiple materials and multicolor capabilities that are biocompatible and can be sterilized.
| | |
| --- | --- |
| Biocompatible MED610 | Creates rigid, transparent parts such as surgical guides for dental implant or orthopedic procedures. |
| Biocompatible Opaque (MED615RGD™ IV) | Ivory opaque, biocompatible PolyJet™ material medically approved for bodily contact. The material is designed for both medical applications and is suitable for permanent (more than 30 days) contact to intact skin, limited (up to 24 hours) contact to tissue and bone. |
| Elastico Clear (FLX934) | Elastico™ is a superior rubberlike PolyJet™ photopolymer family ideal for advanced design verification and rapid prototyping. Get more durable, tear-resistant prototypes that can stand up to repeated flexing and bending. |
| Vero | Vero combines excellent detail visualization with strength, a key component in realistic prototypes. Produce smooth, accurate prototypes, surgical models, moving and assembled parts, jigs, fixtures and manufacturing tooling. |
| VeroUltraClear | VeroUltraClear achieves 95% light transmission of that material, and is useful for models or parts that need to show fluid flow or internal mechanisms. |