3D printing saving more than a few pennies for coin-handling expert
A 120-year-old former cotton mill in suburban Oldham might not be the sort of location you'd immediately associate with Japanese philosophy.
Then again, Crane Payment Innovations (CPI) is not just any business.
In 2010, the company acquired Oldham-based Money Controls, which was founded 43 years earlier. Its automated coin-handling systems were originally used on fruit machines before it expanded into applications such as vending machines and self-service checkouts.
Today CPI is a global concern focused on producing an extensive range of payment-handling technology, from cashless products, note and coin validators and recyclers to coin hoppers and dispensers. It counts UK supermarket giants Tesco and ASDA among its customers.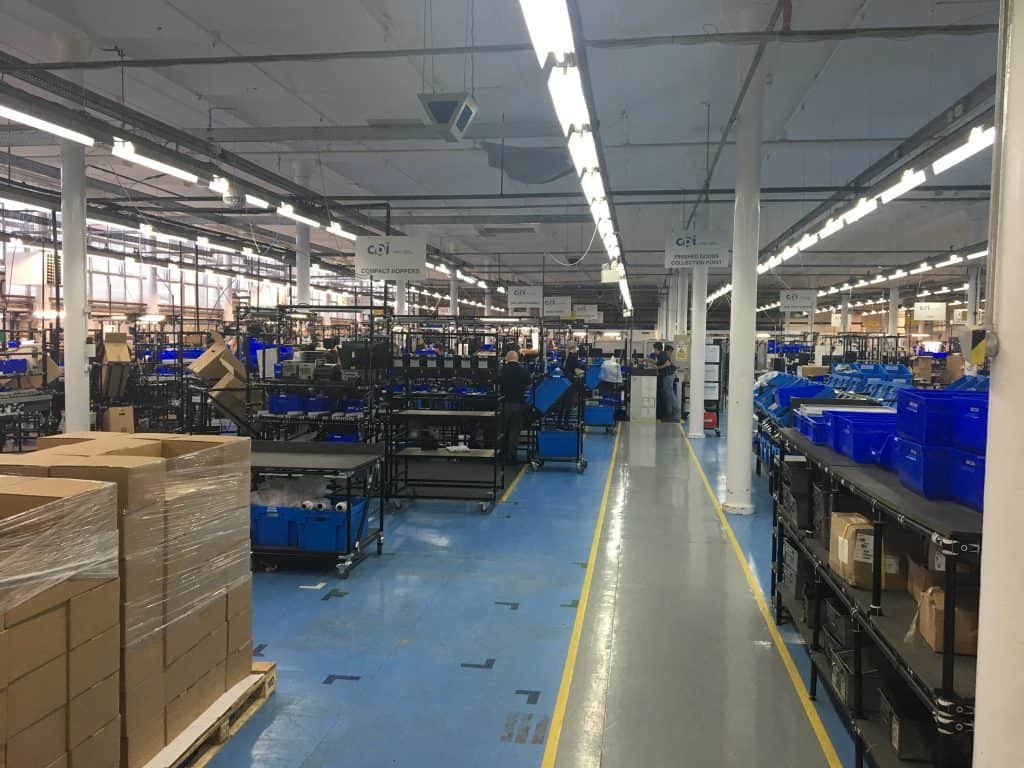 At CPI's appropriately named Coin House site in Royton, Kaizen (the Japanese word for 'improvement') is its guiding light. This approach to creating continuous improvement is based on the idea that small, ongoing positive changes can reap major improvements and it was developed in the manufacturing sector to reduce defects, eliminate waste, boost productivity, encourage worker purpose and promote innovation.
The fact that it helped CPI to identify 3D printing as a transformational technology is surely one of its finest achievements to date.
Dave Taylor, a Principal Mechanical Design Engineer with 16 years' experience in the payment-handling sector, had a major role to play.
He said: "Customers always want an evolution in product performance, and that particularly is where 3D printing comes in.
"For us to justify getting a 3D printer we had to prove what it was going to save us and what the benefits were. We saw an opportunity to save time and cost and therefore it was quite an easy picture to paint.
"It's quite clear that parts will be cheaper and faster to produce, and as long as they're functional – which they are – it's a no-brainer."
To help with the development and production of its coin recognition, sorting and dispensing systems, CPI's first foray into 3D printing came in the form of a Stratasys Objet30 Pro. Supplied by Derbyshire-based SYS Systems, a Stratasys UK platinum partner, this desktop machine utilises PolyJet technology (based on traditional inkjet printing) and can produce exceptionally high-quality models.
Its success led CPI to add to its capabilities in the form of a Stratasys F370, a printer utilising the fused deposition modelling (FDM) technique of building detailed models layer by layer, from the bottom up, in ultra-tough materials.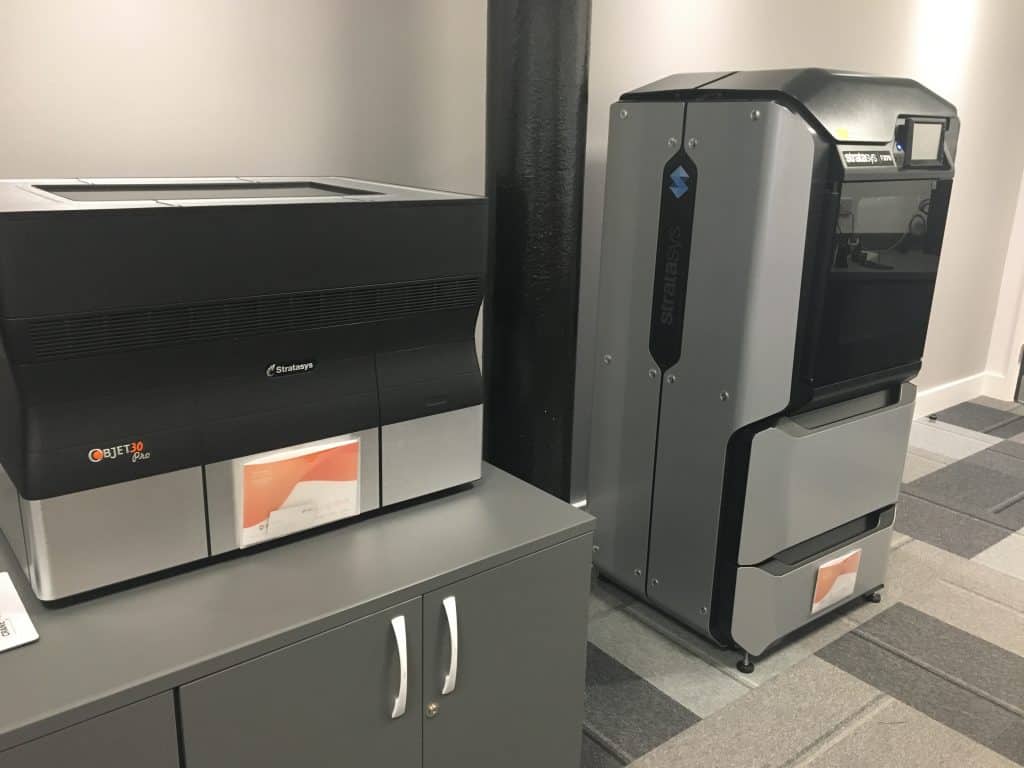 Mr Taylor said: "Once we'd used the Objet30 Pro for a few years we started to see the potential benefits of printing our jigs and fixtures, which is why we looked at FDM technology.
"We chose the F370 because of the large bed size and it gives us incredible time and cost savings.
"Now we have the best of both worlds – accuracy and a smooth surface finish with the Objet, and speed and toughness in spades with the F370.
"The F370 has been incredibly reliable. We've not had a single failed print in a year and it's done 4,000 hours of work."
Whether for prototyping, machining fixtures, assembly fixtures or test apparatus, 3D printing has become a critical element of CPI's day-to-day work.
Mr Taylor added: "Initially 3D printing was all about functional prototyping and speed of iteration for us, but it's kind of evolved now and 80 per cent of production is for jigs, fixtures and production support.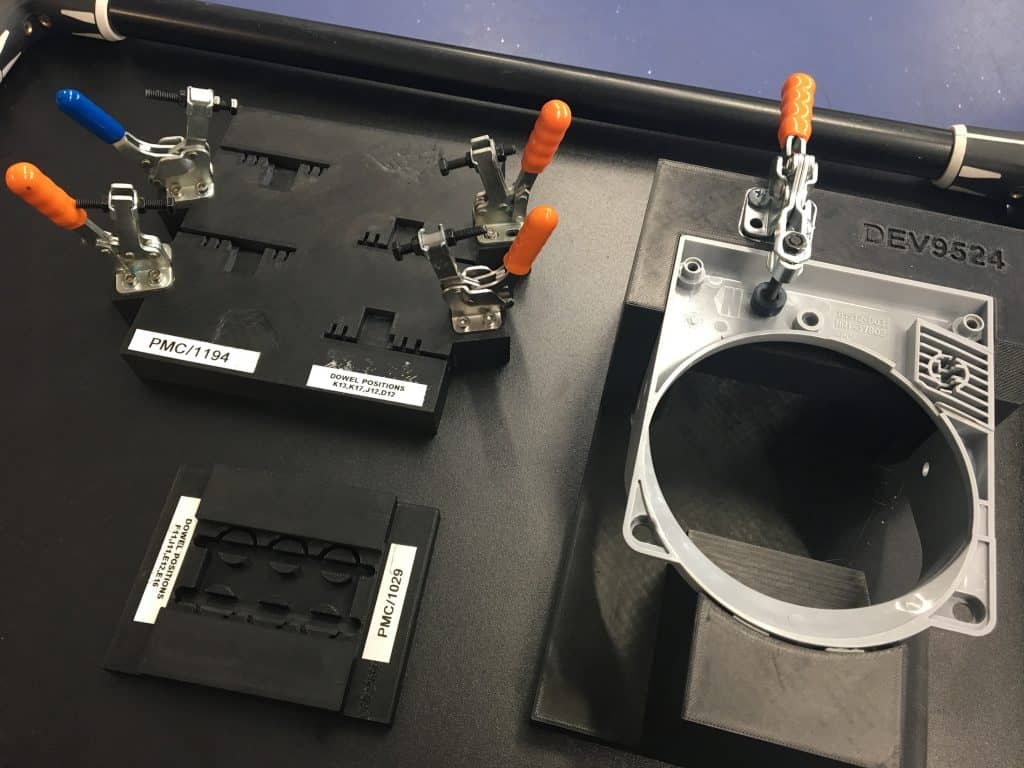 "Previously these parts would be made from either wood, aluminium or plastic at a company which would charge us hundreds or thousands of pounds for them, and the parts weren't repeatable.
"3D printing has completely replaced this method, so the price comparison is incredible. There's a piece of data under a part number, someone presses a button when they need one and it's replaced the next day. There are countless benefits to that.
"There have been virtually no complaints about the parts we print, which are used hundreds of times a day. The material's good and copes well with the punishment it gets.
"We used to buy in prototypes at 10 times the cost of 3D printing them and the one thing you can't buy is time – it's more valuable than anything else. Using even the fastest methods when outsourcing, it would take a week to get the model back.
"If you're making prototypes for a live project you have to iterate quickly to meet the expectations of the business and customer. With 3D printing, a part can be ready the next morning and consequently we've been able to shift most of our prototyping in house."
CPI has the technology down to such a fine art that it makes bespoke manufacturing aids that take into consideration the needs of individual assemblers and operators, incorporating features that help to limit the risk of conditions like repetitive strain injury (RSI).
"If our 3D printers were taken away now it would be like having a vital part of our business missing," said Mr Taylor. "Often we solve a problem by printing a part – it's becoming as accepted as a laser ink printer.
"The Stratasys machines are everything we hoped they'd be and have been extremely beneficial."