The Telford facility of Saint Gobain PAM UK, a specialist in iron pipeline, cover and drainage solutions, has begun utilising Stratasys 3D printers for Direct Digital Manufacturing.
The machine paid for itself in just a few weeks after Saint Gobain PAM estimated it had returned a staggering £145,000 of savings in its first 4 months, at just 40% capacity!
Shropshire has been steeped in iron-making history ever since Abraham Darby perfected the technique of smelting iron with coke (allowing much cheaper iron production) in Coalbrookdale, less than five miles south of the Saint Gobain PAM factory in Telford. Just down the road from Coalbrookdale, the grandson of Abraham Darby in 1779 built the famous cast iron bridge at the place now known as Ironbridge -; the first structure of its kind in the world.
The Saint Gobain PAM foundry at Telford continues this tradition on a site that has been casting iron since the 1800s. Today, this 120+ employee facility, which was acquired by Saint Gobain in 1997, comprises a modern floor foundry plant and a full DISAMATIC plant for high volume throughput.

Master patterns
"We initially bought the Eden 500V to 3D print shell patterns and prototype patterns for the floor foundry as we were making them from wood or aluminium previously at great cost and time," explains the company's Product Development Manager, Jonathan McGill. "However, we soon found that if we 3D printed a negative of the pattern, called a master pattern, we could use these to produce moulds for the DISAMATIC line -; again far more quickly and cheaply than before. Of course, we have done plenty of testing to prove the process. In like-for-like trials we've taken resin from both aluminium and 3D printed master patterns and witnessed absolutely no difference in quality."
Saint Gobain PAM can now go from the 3D printer, typically producing a master pattern overnight, straight to the plant within a week where it can be set to work producing 200 moulds an hour. The company is also currently trialling a high temperature resin that will open up even more 3D printing opportunities.
"We can 3D print a master pattern for around £200 whereas beforehand we were paying a pattern shop around £3000 to produce the same product in aluminium," says Mr McGill. "Furthermore, typical lead-times were around six weeks compared with around a week depending on the product. In just 4 months of operating the Eden 500V we have saved around £145,000 -; and that's based on just 40% capacity while we ramp up our range of applications. The business budgeted 2½ years to achieve payback but we reached a return in just a few weeks. The potential for 3D printing in the foundry sector is vast, with speed of manufacture and a reduction of cost being key drivers.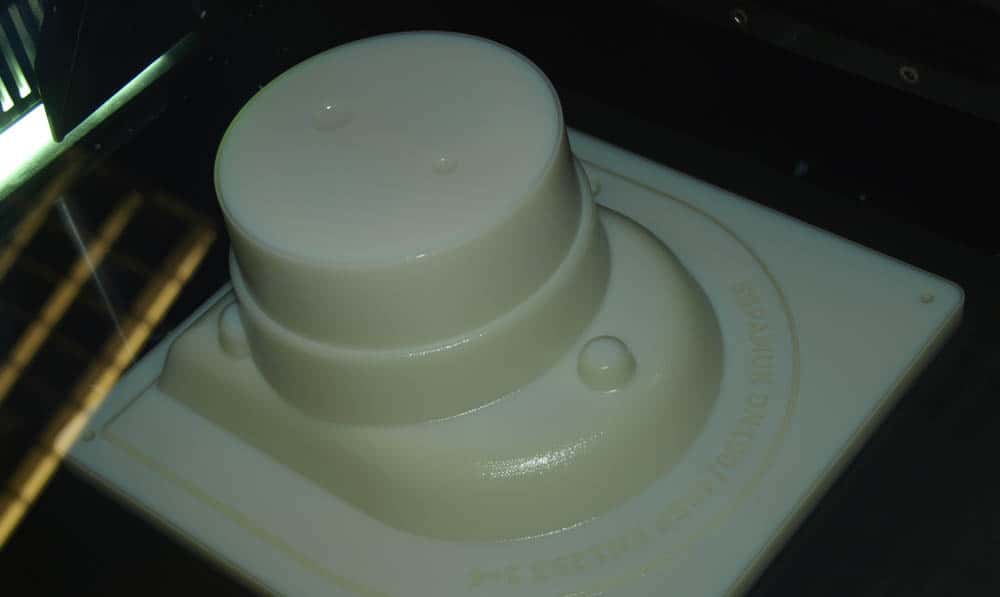 Growing uptake
Word of the Stratasys 3D printer has spread fast. In the UK, the company is winning orders against jobbing foundries thanks to the speed and quality of the Eden 500V. The new capability has led to a degree of diversification among the products traditionally manufactured at the site. By being able to make new patterns quickly and cheaply, the company has been able to produce products for non-traditional markets, even supporting local businesses by producing bespoke branded gym weights that would otherwise have come from China.
The spectrum of parts produced here is impressive: from ductile iron water/sewer pipes, fittings, valves and couplings; through to cast iron soil, drain and rainwater systems. The company also manufactures a range of iron access covers and gratings. Typical customers include utilities, telecoms, highways, civil engineering, construction and housing companies.
Another major advantage afforded by the installation of the 3D printer at Saint Gobain PAM is that time-to-market is now reduced. A typical 2-year development cycle to introduce a new product is now closer to 9 months, a factor that's delivering both competitive gain and growth for this progressive manufacturing enterprise.
Unrivalled quality
"Before buying the Eden 500V we surveyed the market but nothing else matched the surface quality," says Mr McGill. "We knew the machine's speed and precision would easily match our requirements, but in combination with thermal rigidity of the material, surface finish was our top priority -; the exterior of the patterns has to be smooth and step-free. Size was another important factor."
The Objet Eden 500V features the robustness and reliability of the Objet Eden line as well as its largest build envelope at 500 by 400 by 200 mm. With the ability to print in 17 different materials, it can produce print layers as fine as 16 µm for models with complex geometries, smooth surfaces and thin walls.