3D printing reduces CMM fixture costs tenfold for global aerospace manufacturer
Over the past 60 years, Moog Aircraft Group has earned a reputation across the globe as a company that makes the impossible a reality.
A leading supplier of integrated control actuation systems for civil and military aircraft, the business is committed to extending its systems capabilities while at the same time expanding its component expertise to meet the demands of a fast-changing industry.
That's why, having made a made a substantial commitment to improving its internal capabilities for CMM inspection, it knew it would have to identify a team of like-minded engineers committed to helping keep its products at the forefront of the aerospace industry.
In SYS Systems, it found exactly what it was looking for. A Stratasys platinum partner in the UK, SYS has been at the forefront of the 3D-printing movement for more than a decade, supplying and supporting the full Stratasys product portfolio.
Part of Moog's planned improvement was to ensure every machining operation, for every part, had a dedicated fixture for the inspection operation. Traditionally, fixturing and part-alignment tooling had been outsourced to external suppliers, where it was made from tool steel.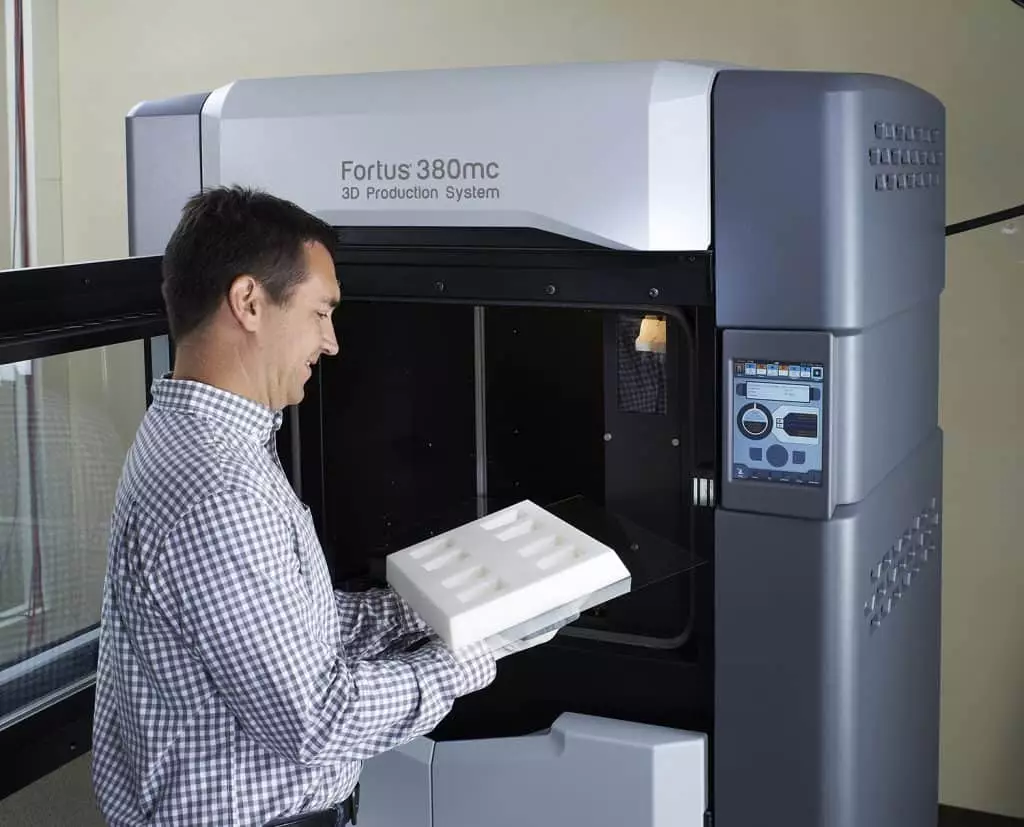 SYS analysed the customer's requirements and singled out the Fortus 380 – an advanced 3D printer based on FDM technology – as ideal for the task in hand.
Such has been the machine's success that it has cut lead times for CMM fixtures at Moog from between four and six weeks (using subcontract resources) to just a few hours, and helped to reduce costs tenfold.
"Based on the number of fixtures involved in the CMM improvement project, outsourcing would have represented significant expenditure," explains James Stuart-Young, Manufacturing Engineering Manager – Military Value stream, Moog Aircraft Group – Wolverhampton Operations.
"In addition, the outsourcing process always had a lead time of four to six weeks from drawing release to receipt of a finished fixture.
"Following a cost-versus-benefit analysis, we evaluated ways to produce these fixtures in-house via a cost-effective method that would reduce planned lead times. 3D printing was chosen as the preferred method of manufacture due to the speed of production and low piece-part costs."
Rob Thompson, Sales Manager at SYS Systems – part of the Derbyshire-based Carfulan Group – said: "Engineers from Moog Aircraft Group attended an open house at our facility near Derby. As a result of the meeting we offered to print an aircraft valve body, a 30-hour print, simply to show the capabilities of Stratasys Fortus FDM machines."
Mr Stuart-Young added: "The prototype part that SYS produced was so well developed that we immediately put it into use and proved one of our first CMM programs."
The Stratasys Fortus 380 was selected as the preferred option as it met all the required technical standards. Furthermore, the layer by layer FDM technique proves extremely cost-effective when producing hollow and/or honeycomb features, which are commonplace in fixture applications.
"The FDM process of the Fortus 380 produced a more stable part through the sampling process," said Mr Stuart-Young.
"Furthermore, the build envelope and printing materials satisfied our needs, and the price was within our budget."
SYS called upon its extensive in-house expertise to deliver advanced training to the Moog team in Wolverhampton so the company could maximise the benefits of the machine.
Mr Thompson said: "This is an exciting application and, through our 3D-printing knowledge – as well as the CMM expertise of our sister division OGP UK – we were able to help Moog Aircraft Group optimise the printing of its fixtures."
Mr Stuart-Young added: "We've had good support from SYS throughout the project and they've been very helpful in answering any questions we raise. Overall we are pleased with the service provided."
The Fortus 380 at Moog Aircraft Group has been almost fully utilised in the production of fixtures for the CMM inspection process. The method of manufacture and the ability to model complex shapes from CAD systems has improved the way in which the company can orientate parts on the CMM machines to gain access to a variety of features in one set-up.
With regard to material selection, Mr Stuart-Young said: "There is a need for the fixtures to be stable to temperature and ultraviolet light, which led us to choose ASA ivory as the preferred material on the machine."
ASA is a production-grade thermoplastic offering high-quality surface finish, mechanical strength and UV stability for functional prototyping. Occasionally, Moog will also use materials such as PC-10 polycarbonate.
Prior to the introduction of the Fortus 380, Moog Aircraft Group subcontracted the production of all tooling and fixtures. However, due to the limited number of suppliers in its local area, the company regularly suffered from a bottleneck situation.
Today, however, the story is very different.
"The ability to produce in-house has put us back in control of prioritising production to suit the demands of the customer program," said Mr Stuart-Young.
"Build times vary due to the range of parts we are printing, but for the CMM fixtures it is approximately 20 hours. What's more, fixtures that have cost us in excess of £2,000 in the past can now be made for a couple of hundred pounds.
"Importantly, the machine's user interface and offline software is easy to use and, if the machine ever stops, there is an alarm or screen message providing instructions on what to do next."
To complement media such as ASA and PC-10, Moog Aircraft Group uses Stratasys soluble support materials like SR-30 and SR-100 for automated, hands-free removal that results in more efficient prototyping and part production.
"We put printed parts into our cleaning tank to dissolve the soluble support material," said Mr Stuart-Young. "After, we take them out and leave them to dry on a rack, although we are currently looking into the possible purchase of a vacuum oven to dry parts faster. The fixtures are then stored close to the CMM machines for ease of access."
Today, the Fortus 380 at Moog runs almost 24 hours a day, even during the weekends. Alongside the production of CMM fixtures, departments such as Assembly & Test and Development Engineering have realised the benefit of making complex tooling and fixtures in a shorter lead time.
Using the Fortus machine, engineers are able to deploy different layer thickness to change the print time accordingly.
"The ability to try a design idea, test it and redesign it accordingly in a matter of hours, rather than weeks, has seen us improve workholding and reduce the occurrence of manual handling damage throughout the production processes," concluded Mr Stuart-Young.