Digital dentistry with 3D printing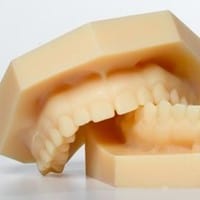 3D printing is revolutionising the dental industry worldwide, by implementing a 3D printer you can eliminate the bottleneck of manual modeling and let the business grow to its full potential, all through digital dentistry. Everything from scheduling to finished restoration can be achieved both digitally and automatically. With a 3D Printer you can produce:
Stone models directly from orally scanned digital files.
True-to-life veneer prototypes with ultra-fine detail parts featuring smooth surfaces.
Series of clear aligners and retainers.
Surgical guides and appliances.
Combining oral scanning, CAD/CAM design and 3D printing, dental labs have the ability to accurately and rapidly produce crowns, bridges, stone models and a range of orthodontic appliances. Digital dentistry can help to speed up production while improving quality and precision.
Dental Series 3D Printers Dental Materials
Dental labs around the world use Stratasys 3D printing solutions to:
Fabricate accurate stone models directly from orally scanned digital files;
Integrate with intraoral 3D dental scanners and a range of dental design software;
Produce true-to-life veneer prototypes -; enabling patients to try and test their veneers prior to making an order;
Produce delivery trays -; allowing dentists to more accurately align and insert real veneers;
Deliver surgical guide and orthodontic appliances directly from your choice of software;
Produce series of clear aligners and retainers quickly and precisely from digital files.
3D Printers from Stratasys can save you time and money, whether you have a small dental lab, or a large orthodontic practice there is a dental solution perfect for you – we would be delighted to show you how digital dentistry can work for your dental practice.