3D Printing Helps Dutch Manufacturer In Reducing Injection Moulding Lead Times By 93%
Using world-leading Stratasys 3D printing solutions, Dutch manufacturer Promolding has successfully reduced injection mould lead times by 93% through the utilisation of precision PolyJet 3D printing technology. Injection moulding, often leveraged by manufacturers with massive volumes of products to create plastic items such as chairs and toys, is one of the most widely used manufacturing processes.
During the injection moulding process polymer or plastic material is heated to liquid form allowing for it to fit to any shape of mould. This liquefied material is injected into a custom mould using pressure, this entire process is completed quicker than many other manufacturing methods.
While the creation of the moulds conventionally requiring weeks of preparation, the polymer injection phase is less complex and can be carried out simply and swiftly.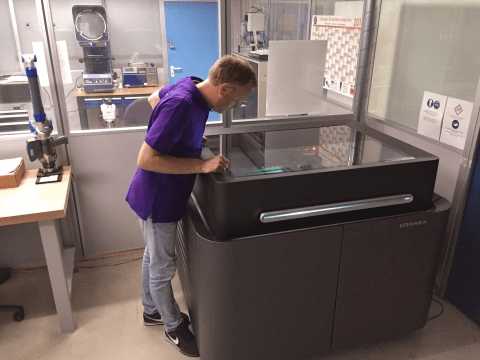 Product Development Manager, Jeroen Gross, at industry-leading global plastic part manufacturer Promolding, notes that the development of injection moulds normally consumes approximately six weeks of manufacturing time. Whereas with the use of 3D printing in mould making, Gross explained that the mould creation phase can be reduced by 93% allowing for Promolding to complete the majority of injection moulding within the span of just a few days.
"Traditionally, injection mould development required at least a six-week lead time," Gross commented. "By designing and 3D printing the moulds in-house, we can produce moulds in just three days."
Due to Stratasys PolyJet technology efficiency and accuracy in designing and developing moulds, Gross states that his team reached a consensus to rely on Stratasys technology over any other commercial 3D printers on the market.
"We became increasingly aware of the need for a 3D printer that would help us optimise our product development process," he continued. "We looked at several different options, but fell in love with Stratasys Objet Connex 3D Printer and its ability to not only improve our prototyping, but also become a key driver for our PRIM (3D Printed Injection Moulding division) business."
Promolding recently designed a fibre optic sensor house for customer Fugro, a global leader in integrated geotechnical, subsea, survey and geoscience services. With time restraints for extremely complex parts, using conventional methods of injection moulding would have prolonged the task and made it impossible to adhere to the strict deadlines in place. Promolding was able to produce a series of moulds quickly and efficiently using the Objet500 Connex 3D printer, which in turn enabled Fugro to make over 50 product housing samples in a variety of materials including PP, TPE and PBT.
"Particularly with the development of bigger and more complex products, it is crucial as a business that we are as efficient as possible throughout the product development process, without compromising on quality," explained Gross. "Having our 3D printer has enabled us to achieve this and given us an incredible level of flexibility. We can use the technology in the early development phases to speed up the design process and develop, review and adapt prototypes earlier, but also extend the efficiencies into production through our PRIM process. It really has been a game-changer and we've seen the benefits passed onto our customers."
Major clients of Promolding include Heineken and Airbus, one of the largest pioneers of 3D printing within the aerospace industry. The company had been utilising their 3D printer in several other product development applications before they decided to use the Objet500 in the creation of injection moulds, allowing them to combine two major manufacturing technologies and potentially open the door for new business ventures.
"Additive manufacturing has the power to transform business models and Promolding is a prime example," said Andy Middleton, General Manager of Stratasys EMEA. "We are seeing more and more customers realise the full potential of our PolyJet 3D printing technology, going beyond the immediate efficiencies within product design and pioneering the disruption of traditional manufacturing processes. In the case of injection moulding, 3D printed injection moulds are redefining the price-performance benchmark for low volume production, giving manufacturers the flexibility to make products in the final injected material faster than ever before."
[Source: 3dprint.com]