The Benefits of 3D Printing Jigs and Fixtures
Many designers are utilising 3D printing technology to create prototypes and end use parts that are realistic and fully functional, cutting down on costs, and design times for their product designs. However, there is another very important application that often gets overlooked the manufacture of jigs and fixtures.
Manufacturing relies heavily on tools, including jigs, fixtures, templates and gauges in order to maintain consistent levels of high quality and production efficiency. These manufacturing tools are virtually invisible when it comes to production, however when problems arise in the production line, they become extremely important, they help to avoid halts in production and to avoid product defects. Because of this, jigs and fixtures need to be rapidly designed and manufactured as quickly and as accurately as possible.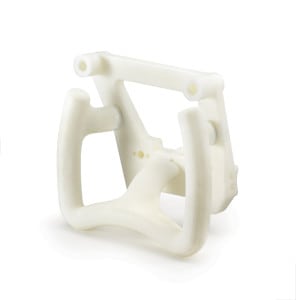 Jigs and fixtures are most commonly fabricated by machining metal, wood or plastics, which means that machine tools used for production work are tied up which results in loss of production. Many manufacturers will outsource this work, but this results in long lead times, with wait times sometimes taking weeks to complete. For intricate tools, several design iterations may be needed before reaching the desired outcome, this can increase lead times even further.
3D printing technology gives you the ability to design and produce jigs and fixtures in house, meaning that every step of the process can be monitored and the final outcome is ready straight away, tools can be built overnight with the availability to use the next day. By manufacturing jigs and fixtures in this way enables you to see a drastic reduction in costs, lead times, as well as improved accuracy and performance.
The range of materials available from Stratasys combine strength, durability and quality, enabling manufacturers to build a range of jigs and fixtures featuring many different qualities. High temperature and chemical resistant material is also available.
This technology replaces traditional fabrication methods of producing manufacturing tooling, and simplifies the process, allowing for improved productivity, efficiency and quality.
See also: Rutland Plastics use 3D printing to create drill jigs