3D Printing PPE – How has 3D printing helped during the Coronavirus outbreak?
During the coronavirus outbreak, we have seen a rise in the use of 3D printing. Specifically, it has allowed suppliers to support key front-line workers in producing PPE equipment. Why has this been the go-to solution for a lot of manufacturers though?
3D Printing – Rapid Production
One of the clear benefits for companies and individuals is the rapid production times that it provides. The ability to start producing PPE equipment without major changes to production lines or special tooling enables them to provide it to key workers quickly. When responding to the crisis that we find ourselves in, this is obviously a massive benefit. It allows all individuals to help combat the spread of the disease which has been crucial for countries all over the world.
Open-Source
Another benefit highlighted is the ability to share files and designs quickly and on a large scale to manufacturers. From our perspective we have had really positive feedback from individuals who have been able to access our files. The print-ready files allow them to start creating PPE equipment in no time, which they can then supply to help combat the outbreak.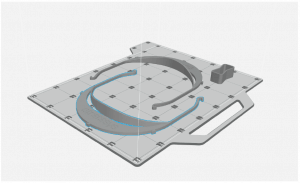 Thanks to rapid production times and the ability to download print-ready files. Individuals have been able to set up local manufacturing units to produce PPE equipment that can help support their local services.
Local Manufacturing
The World Health Organization has urged every country to boost its domestic PPE production by 40%. The ease and rapid turnaround that 3D printing offers have allowed SME's, local charities, schools and specialist groups to begin production of face visors to help meet some of this demand.
This also points out another benefit of 3D printing. Production lines can be changed rapidly to meet demands. Something that older and more rigid technology might not have been able to do.
Cost-Effective
Whilst everyone is feeling the effects of the economic impact the crisis has on our societies. It is vital for companies to be able to produce cost-effective parts to support local causes in the fight against the virus. With no special tooling requirements and the ability to print multiple shields 'unmanned' 3D printing offers a cost-effective solution. The 3D printing community has been able to set up new production lines on limited resources and in rapid time.
Easily Accessible
3D printing has also allowed hobbyists, charities, SME's and other individuals to access equipment and start producing PPE quickly. From a price, ease of use and time perspective. It has allowed individuals to act on the crisis and start making a positive contribution to the problem.
The coronavirus has shone a light onto a lot of different areas and will have highlighted issues for manufacturers that may not have been so obvious before this. From production times, cost, reliability, supply chains and staff availability.
This crisis demonstrates 3D printing as a rapid, flexible, reliable and cost-effective approach to manufacturing. In a volatile market with ever-changing demands, the versatility of 3D printing can be crucial to maintaining production.
If you would like to contact us about any of our 3D printers then feel free to get in touch here.