3D Printing Design – Worlds Number 1 Selling Gaming Mouse
Headquartered in Bray, Ireland, Design Partners is among the latest strategic product design consultancies to leverage the benefits of bringing 3D printing in-house. Having acquired two Stratasys Objet 3D printers from SYS Systems, an Objet30 and an Objet30 Pro, the company is enjoying shorter lead-times, greater project control and reduced costs, while clients benefit from faster reaction to design changes and shorter time-to-market.
The 30-employee design consultancy, which also has a European hub in Eindhoven, partners with ambitious clients to help fuel their growth through story-led design experiences.
"Our approach is based on understanding a brand's potential, ambition and opportunity," says Brian Stephens, the CEO and founder of Design Partners. "We believe in designing the complete experience and have invested in building the talent, expertise and network to support this. In addition to industrial, interaction and graphic design services, we also have teams to support the engineering and model shop functions of the business."
Operating largely in three market areas consumer, healthcare and professional products  the companys work is all about creating new artefacts and user experiences in a connected world.. And although Design Partners comes from a craft tradition and has a deep belief in making things by hand, the company deploys a number of different modelling techniques, which now include 3D printing.
"Previously we performed a lot of CNC machining to make prototypes in house," states Engineering Director James Lynch. "Theres a heavy cost associated with that as complex parts require many set-ups and a lot of operator interaction. We also tried outsourcing 3D prints, but the associated lead-time was typically in the order of three days, which was precious time we could do without losing. Having 3D printing in-house has revolutionised how we approach both the process and the service we give to our clients. The main advantage is a reduction in lead-time for iterating prototypes; we can now print overnight and have parts in our hands the following morning."
With Design Partners traditional process, parts had to be modified for CNC machining, entailing programming, planning and operator resources. Now, especially with having a second Objet 3D printer in-house, the company can simply send whatever it has at the end of the day to print, review it in the morning and factor this into the next days development.
"The second Objet machine was acquired as we ended up using the first one a lot more than we actually thought,"says Mr Lynch. "Having two 3D printers gives better flexibility and means that we don't need to plan as much. One of the things we wanted to do by bringing 3D printing in-house was to eliminate the barriers to creativity. It's amazing what you can do when you lose the constraints of conventional manufacturing techniques, especially regarding fine details such as clips, undercuts and bosses. To be able to produce those kind of features overnight means we can interact quickly, design quickly and react quickly to changes, and our clients really appreciate that."
One of the latest projects to be prototyped using Design Partners Objet 3D printing capability was a tunable gaming mouse. Gamers play to win and require specialist equipment that can be tuned to their game. With this in mind, Design Partners brought tunability to new levels with a science-led approach to the design that makes the multi award winning Logitech G502 Spectrum Proteus the first of its kind.

Providing tunability to weight and balance, the metal-wheel ratchet, programmable controls, DPI and surface tuning of the sensor; the G502 empowers gamers to fine-tune their abilities. The technological innovation of the G502 is embodied in its fractured, futuristic identity, which combines the forensic science of gaming with customisation where it matters the entire foundation of which was prototyped on the Objet 3D printers.
"SYS Systems has been a very good partner for us," states Mr Lynch. "The sales team was very helpful in demonstrating the pros and cons of each system they know their products inside out while the professionalism from the support team is second to none."
According to Mr Lynch, the main factor in choosing an Objet desktop 3D printer was the material choice, resolution and the price point.
"As an SME, our capital investment has to be planned, and has to deliver a significant return on investment," he says. "The price point of the Objet desktop printers was a major factor in the final decision when compared with some of the other printing technologies out there."
The Objet30 Pro offers a range of eight different materials, including transparent and high-temperature photopolymers. Furthermore, a large tray size gets the most out of a small footprint. In short, the machine combines the accuracy and versatility of a high-end rapid prototyping machine with the compactness of a desktop 3D printer.
"Ultimately, we bought the machines to expand our capabilities and reduce our lead-time, and they've done that," says Mr Lynch. "Since getting the machines, we have completed projects that we simply wouldn't have been able to do without them. We've had clients come and camp at our offices for weeks at a time, because they see how efficient we can be, and the progress that can be made in whats often an incredibly short time. Furthermore, the range of materials is very useful especially the fact that the Objet30 Pro prints clear materials. If we are working on mechanisms, for example, we can see internally how those parts are interacting in real-time."
Powered by PolyJet technology, the Objet30 Pro features the industrys best print resolution, allowing users to attain smooth surfaces, small moving parts and thin walls. With a roomy tray size of 300 by 200 by 150 mm, Objet30 Pro is ideal for prototyping consumer goods, consumer electronics, medical devices and more.
"As a process, design is somewhat imperfect," adds Mr Stephens. "It requires experimentation just like any other means of R&D. Due to the iterative nature of design we believe in using models and prototypes to explore and understand what we're doing. You can have all of the imagery and strategy in the world, but when you put a model in front of a client, it makes all the difference."
From experience, Design Partners has found that 3D printing is unique in its ability to iterate quickly. For this reason, it allows the company to see fundamental mistakes, or sometimes to try things that should have worked and see why they need to be evolved differently.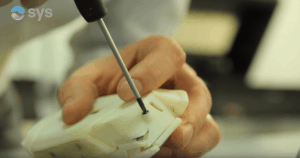 "I don't know how we would manage without it now," says Mr Stephens."I mean, I do remember how we managed before: inefficiently. The big benefit for us and our clients is that it speeds up the process and increases efficiency."
For all design projects, there exists a complex group of people who have to work together closely and effectively to ensure the final product can be mass produced. One of the best tools to help simplify and accelerate this process is 3D printing.
"Being able to share a model or have it made in a different location is something of great value," states Mr Stephens. "You can try something out, learn from it, and try something out again and learn from that, but theres no substitute for being able to put your hands on an actual part."
The final word goes to Mr Lynch, who has some clear advice for any company thinking of investing in the latest 3D printing technology.
"If an Objet machine works for you from a material and resolution point of view, the advice I would give to people is buy the largest bed size available, because that will give you the maximum flexibility downstream. Whatever you think you're going to use it for now, I can guarantee it will expand far more in the future."
View the full case study video here: