3D Printing Rapidly Builds Architectural Business
New York City-based Rietveld Architects LLP is recognised worldwide for its creative input and expression when producing residential and commercial spaces. Through adopting new technologies quickly their international team can produce results that reflect Rietvelds world renowned name.
First introduced to 3D printing technology by a contact at NASA, partners Rijk and Margaret Rietveld saw its potential to innovate their business and increase productivity. Conventionally Rietveld constructed architectural models by hand using cardboard, foam board and Plexiglass.
Two employees would carry out the build, spending roughly two months cutting and assembling model components in order to provide their client with a visual representation of the architectural concept. Through changing the build method to 3D printing technology they are able to reduce a process that originally took months to just hours.
"We saw that big changes were coming to the architectural industry and believed that firms that could do more with less and deliver superior models would be more competitive in the new environment," said Rijk Rietveld. They chose to install the Stratasys Objet Eden 3D printing system because of its capabilities in producing highly intricate models required in a typical project where a number of detailed models need to be produced in a variety of scales, whilst Rietvelds team of architects also find ways to implement technologies in areas such as energy savings and individual environmental controls.
Hand crafting the models was expensive and time consuming. The method prevented intricate detailing in the finished design representation, making it difficult for the client to visualise the final structure and what it would look like in reality.
Rietveld made the decision to explore 3D printing in order to increase productivity and model quality. Following their research into eight different systems they chose an Objet Eden 3D printer because it matched their criteria for producing repeatable, complex, strong and durable structural models at a lower cost in a much shorter amount of time.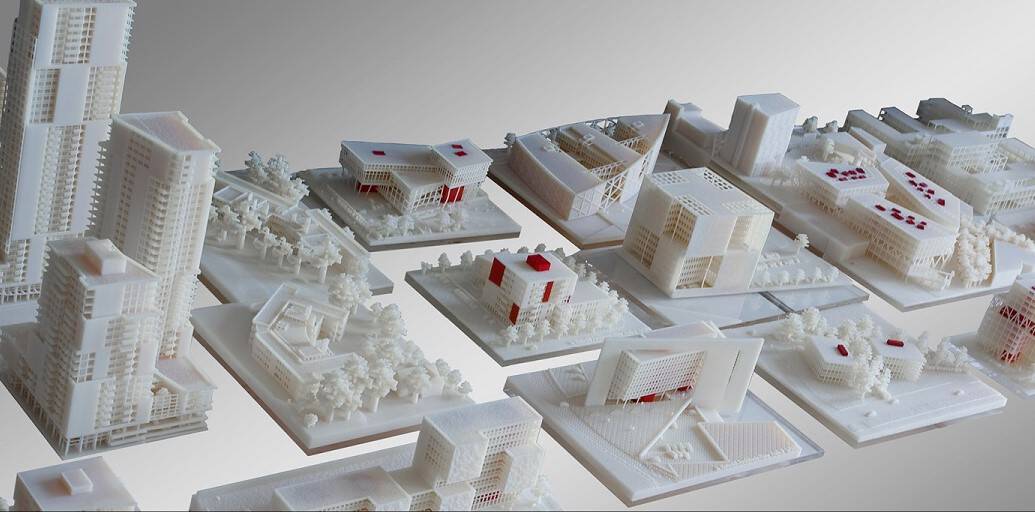 "We were particularly impressed by the ability of this system to quickly produce highly detailed, accurate models with minimal office clean-up," said Rijk Rietveld. "Some of the other technologies produced brittle models and didn't have the fine detail of the Objet 3D Printer."
"Frequently during a project, clients request design changes or wonder how particular changes may impact the overall aesthetic,"said Piet Meijs, Senior 3D Expert at Rietveld.
The ability to produce and finish models using the Objet 3D printer has improved business by helping to secure several new projects. Meijs attributes this to their 3D printing capabilities because their clients know that they are receiving accurate and complex models, he explains, "Our Objet 3D Printer is helping us do more with less, spurring innovation in our company and industry."
A recent project with INHOLLAND University in the Netherlands proved an incredible demonstration of the Objet 3D printing capabilities when they sought to replace an existing building with a newly designed larger space for its applied science program. This space required an interior plan that was flexible and preserved the universitys identity.
A few features of the new building were a suspended auditorium within a composite material glass-wall atrium, an open scissor staircase and an independent student study area. The Objet 3D printer allows Rietveld to bring a precise representation of the building to life, combining the complex functional requirements of the university with Rietvelds creative concepts and unique designs.
"The enthusiastic response from the universitys leadership played out in the extremely collaborative and streamlined approval process", said Meijs. Hand-made models could not have displayed all of the important details in this project.
These concerns may be justified with other products but the Objet 3D Printer has given us the technological tools and flexibility to create even the most delicate model components, Meijs said. For example, Rietveld has devised a method to preserve more intricate model components by slightly modifying some design specifications for the prototypes, protecting the fine details while effectively capturing the look, feel and proportion of the structure.
Rijk Rietveld also divulged that the architectural industry is hesitant about embracing rapid prototyping and 3D printing structural models for client visualisation. This is because there are concerns regarding the delicacy of some extreme larger models. However Stratasys range continues to innovate prototyping technology and offers durability and complexity like never before.
"The name of the game is innovation," Meijs said. "We are constantly striving to better ourselves and better our industry. Our Objet 3D Printer is helping us do just that."