3D Printing Technology Sets the Stage for Creation and Innovation
Stage One, a leading manufacturer of bespoke parts and assemblies for the creative industries, is taking advantage of two recently installed Stratasys 3D printers at its 8000m² site at Tockwith, near York. The new multi-material machines, supplied by SYS Systems, have changed the way the company designs and manufactures its solutions, opening up new opportunities to work faster and smarter.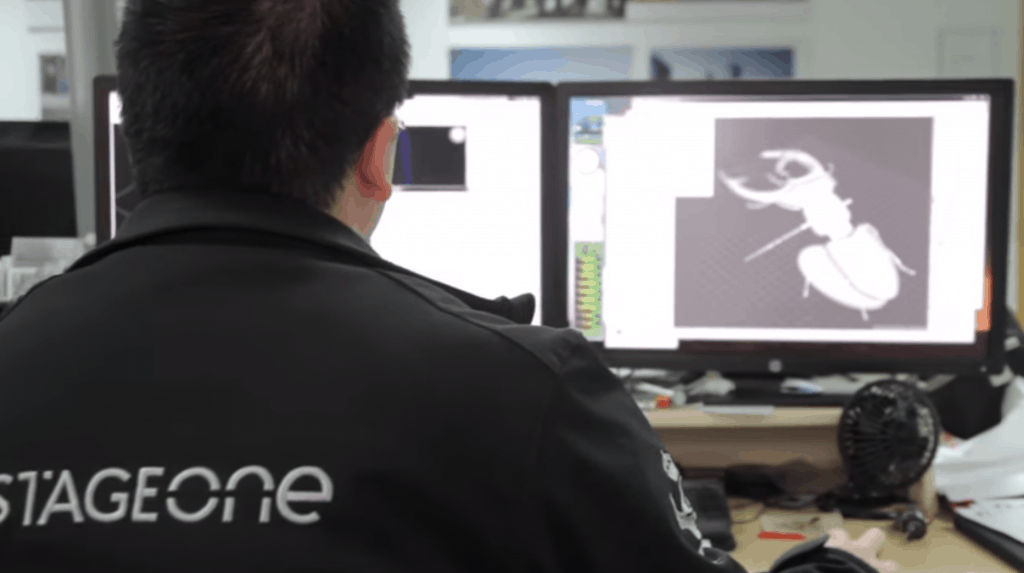 Three large hangars form the centrepiece of Stage Ones impressive facility in North Yorkshire. This generous space allows the company to innovate, experiment and manufacture everything from a single circuit board to a 42m-long scenic icebreaker.
"We specialise in stages for events and opening ceremonies, as well as structures for architects", explains Edwin Stokes, Head of R&D at Stage One. "We produced the cauldron used at the opening ceremony of the London 2012 Olympics and much of the behind-the-scenes engineering. Anything thats complicated is our forte."
The company, which employs around 100 people and is a recent winner of a Queens Award for Enterprise in the Innovation category, is certainly well equipment to cater for the extraordinary. On site can be found a woodworking shop, metalworking shop, paint shop, electrical workshop, technical department and CNC machine shop. However, 3D printing was, until recently, something absent from its portfolio of capabilities.
Imagination Turned Into Reality
"Initially, we were considering the use of large scale 3D printing for an R&D project, to help some of our panel and 3D geometry manufacturing", says CEO Mark Johnson. "As a result, we went to see SYS Systems and found them to be very helpful and responsive. SYS showed us lots of different technologies and we soon realised that there are a lot more benefits in terms of wider prototyping and engineering requirements within the business. That led us down the path of wanting to make real products and components for general use."
With all the options considered, Stage One selected two Stratasys Fortus models: 250mc and 900mc 3D production systems.
"We chose Fortus machines from SYS because we had identified FDM [Fused Deposition Modelling] as the right 3D printing technology for Stage One", says Mr Stokes. "We had a range of capabilities in-house and 3D printing with FDM fits in very well amongst them, particularly as we wanted something that could produce large parts in a variety of materials. However, because price was also an issue, we saw FDM as being a good balance between cost effectiveness and versatility."
FDM Technology is a powerful, Stratasys-patented additive manufacturing method. It builds concept models, functional prototypes and end-use parts in standard, engineering-grade and high performance thermoplastics. In fact, it is the only professional 3D printing technology that uses production-grade thermoplastics, so parts are unrivalled in mechanical, thermal and chemical strength.
3D printers that run on FDM 3D printing technology build parts layer-by-layer from the bottom up. The process begins by heating the thermoplastic to a semi-liquid state, which is then deposited in ultra-fine beads along the extrusion path. Where support or buffering is needed, the 3D printer deposits a removable material that acts as scaffolding. Once complete, the user simply breaks away any support material or dissolves it in detergent and water, and the part is ready to use.
Expanding Horizons
Such was the initial impression created by the Fortus machines at Stage One that the company soon began to think about establishing its own R&D capacity in-house at Tockwith.
"That thought-process led us to look for grants and other things which we could exploit from the machines", says Mr Johnson. So it has actually been an enabler to a new department, and really changed the way we look at things and the way we approach problems.
The Fortus 250mc offers a build envelope of 254 x 254 x 305mm. Users can specify tool paths, adjust material density, fine-tune part orientation and choose from three available layer resolutions. Nine standard colours plus custom colours are available, with parts offering accuracy of ±0.241mm depending on geometry. For bigger parts, Stage One turns to its Fortus 900mc, which can produce durable, accurate, repeatable parts measuring up to 914 x 610 x 914mm. There are two materials bays for maximum unattended build time, while three layer thickness options allow users to strike the right balance between fine feature detail and speed.
Support Through Every Stage
Aside from the technology, Stage One also singles-out SYS Systems for praise, highlighting a fantastic experience of partnership working.
"SYS are knowledgeable and supportive, and very open about the specific benefits of each machine", says Mr Stokes. "We've had examples printed for us and been to SYSs facility in Derbyshire to see demonstrations. Today, we are using 3D printing more than we thought we would, for applications that we didn't really consider at first. For example, for making consoles and drive systems for some of our winches."
It's the impact of the Fortus 3D printers on the production side of the business, however, which has made the biggest impression. In fact, the company says that the Stratasys machines has added to the quality of the output witnessed at the opening ceremony of the 2015 European Games in Baku.
"For Baku, we first utilised the clay models by scanning them", states Mr Johnson. "We then printed models for reference before creating the actual scenic elements at large scale. Thats really what we're looking for 3D printing to incorporate into our business a full service provision. Furthermore, the real, bona fide materials that we can use mean the application becomes much more usable. It's not just a toy that we're manufacturing, it's a real component that we will use in a product. Specific things like that really add value."
A machine such as the Fortus 900mc is able to build parts in 12 production-grade engineering thermoplastics to cover a myriad of different applications: ABS-ESD7 for static dissipation; ABSi for translucence; ABS-M30 in six colours for high tensile, impact and flexural strength; ABS-M30i for biocompatibility; ASA in 10 colours for greater mechanical strength, UV stability and aesthetics; FDM nylon 12 for maximum toughness; PC for superior mechanical properties and heat resistance; PC-ABS for highest impact strength; PC-ISO for biocompatibility and strength; PPSF for highest heat and chemical resistance; ULTEM 1010 for highest heat resistance, chemical resistance and tensile strength; and ULTEM 9085 for the best mix of mechanical, chemical and thermal properties.
The machines are faultless; we get good accuracy, and they are fantastic for a broad range of materials, concludes Mr Stokes. Investing in the machines was definitely a good decision. It has opened up new ways of working and created a new capability in-house.