Engineering-grade materials are the icing on the F120's 3D-printing cake
The F120 is the latest desktop 3D printer from Stratasys and, thanks to its advanced capabilities, it is being billed as the machine that will really make additive manufacturing accessible on a wider scale.
No longer will users require qualifications and experience in an engineering arena. The F120 boasts features that make it suitable for design studios, offices or classroom environments where even novices will be able to quickly adapt and begin producing high-quality parts.
The F120 3D printer works with fused deposition modelling (FDM) technology, which was responsible for sparking the 3D-printing revolution more than 30 years ago and works by building parts layer by layer from the bottom up.
Production-grade thermoplastics are employed to craft strong and dimensionally stable parts with impressive accuracy and repeatability, and these material properties are a major part of what promises to make the F120 so appealing.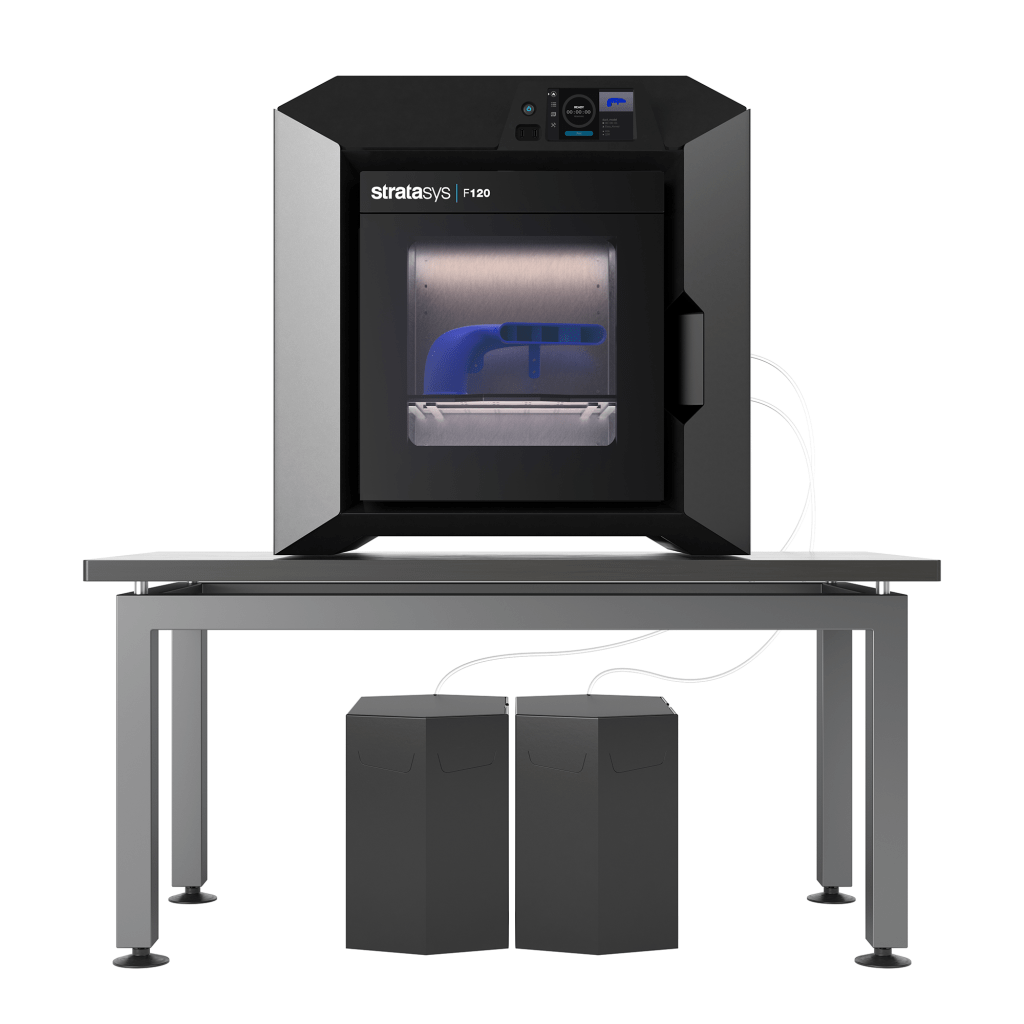 Here, we take a closer look at the two materials available for use on the system.
ABS-M30
The lowest-cost material in the thermoplastics range, ABS-M30's strength and versatility allows users to try out more ideas, test more often and work iteratively, ultimately lowering risk and allowing better products to reach the market faster.
It is effective for form, fit and functional applications – as well as jigs, fixtures, tooling and production parts – and has a good blend of mechanical and aesthetic properties.
Colours include natural, white, black, dark grey, red and blue, plus an option to create custom tones.
Soluble support material makes for hands-free removal, making the product development process even more efficient.
ASA
An all-purpose prototyping solution, ASA allows users to build consistently high-quality parts with the best aesthetics of any thermoplastic.
Its exceptional UV stability make it well suited for end-use outdoor parts, while a wide variety of colours mean it is an attractive solution for the design of consumer sporting goods, tools and automotive components and accessories.
It has become an industry favourite due to its strong mechanical properties and easy, hands-free support material removal.
Why else should you choose the F120?
Part of the best-selling F123 Series of machines, the F120 was developed with simplicity in mind, with no compromise in terms of accuracy, durability and low maintenance.
The plug-and-print solution is the quietest machine on the market, featuring a user-friendly touchscreen interface and being backed up by intuitive design-to-print GrabCAD software.
It is proven to work for 250 hours uninterrupted thanks to new, large filament boxes, printing up to three times faster than competing systems and therefore offering an extremely quick return on investment.
When workflows are streamlined, the concept iteration and verification process becomes a much quicker one, leading to increased productivity.
During more than 1,000 hours of independent testing, the F120 comfortably outperformed its rivals. Its engineering-grade materials delivered top results against a number of key build attributes, including feature reproduction, part sturdiness and surface quality.