Faster, cheaper, better: Aerospace giant embracing 3D printing for flight-ready parts
Marshall Aerospace and Defence Group

has turned to 3D printing to create flight-ready parts at a fraction of the cost and time involved in using traditional manufacturing methods.
The Cambridge-based firm's latest innovation program is pushing technological boundaries to reduce weight and increase performance on its fleet of military, civil and business aircraft.
It originally looked at metal additive manufacturing as a solution before discovering that the quality of Stratasys polymer technology – supplied by SYS Systems – could deliver the quality of materials it needed to satisfy industry regulations.
Marshall already has several pieces of 3D-printed ductwork flying on heavily modified aircraft, as well as holders for safety knives and switches for aircraft interiors, while producing specific ground-running equipment far more quickly and cheaply than aluminum alternatives.
Chris Botting, Materials, Processes and Additive Manufacturing Engineer at Marshall, said: "When manufacturing on complex engineering programs, we need a method that can create an accurate, complex, functional and lightweight duct efficiently with minimal tooling costs – this is where 3D printing fits perfectly.
"We also need to ensure that the ducting work produced will be approved by the European Aviation Safety Agency (EASA) for flight. As a result, we're using the Stratasys Fortus 450mc and ULTEM 9085 resin – a tough yet lightweight 3D-printing material with high thermal and chemical resistance.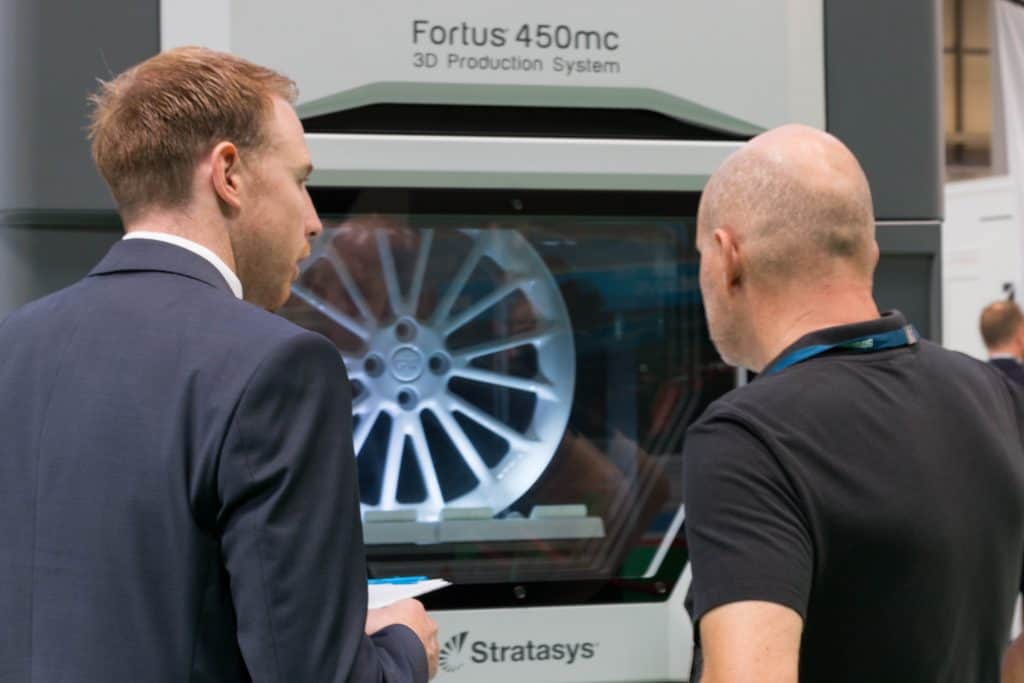 "This has been crucial to overcoming the stringent requirements of our industry, as we can now print parts with the desired flame, smoke and toxicity properties for use on aircraft interiors."
Having worked with engineers from UK Stratasys platinum partner SYS Systems, Marshall recently created a ducting adapter prototype for vital ground-running equipment – essential for providing fresh air to cool an aircraft's avionics.
Mr Botting added: "Before committing to expensive aluminum machining, we used the Fortus 450mc to print a prototype in ASA material. It enabled us to create an accurate working prototype of a complex component.
"We were then able to demonstrate it had the potential to be 3D printed in Nylon 12 material as opposed to the more conventional method of machining from aluminum. The 3D-printed duct led to a significant cost reduction compared to machining the part out of aluminum, as well as a 63 per cent reduction in overall weight."
Marshall is also using Stratasys 3D printers for a range of complex tooling applications, including drill jigs, masking templates, bonded fixtures and composite mould tooling.
It regularly creates customised, low-volume production tools within 24 hours of an engineer's request. 3D-printed thermoplastic tools are replacing heavy metal alternatives, reducing burden on the operator as well as cost and lead times on urgent operational tasks.
Mr Botting said: "3D-printing technology has altered the way we work and the aerospace-grade and materials enable us to meet increasingly aggressive deadlines and complex manufacturing requirements.
"In the future, there is no doubt that 3D printing will continue to have a significant impact in the way we design and manufacture in our business."
SYS Systems Sales Manager Rob Thompson said: "It's been fantastic working alongside the experts at Marshall to introduce 3D printing to the business.
"Selecting the correct technology and materials was key to the success of the project – the fact that parts are now in flight is testimony to this. To see parts from the printers being used in prototyping, tooling and end use shows how Marshall have embraced this technology in a short period of time, leading to a rapid return on their investment.
"We look forward to continuing to explore further applications with the Marshall team."