How will surgeons build Tessa's nose with 3D printing?
Distributed, installed and serviced by leading Stratasys UK distributor, SYS Systems Limited. The innovative 3D printing machine, Objet30 PRO, has been installed at the Queens University Belfast Hospital where it will help provide innovative medical advancements.
Some of the most incredible uses for 3D printing are developing within the medical field, helping to provide innovative medical advances to change people's lives around the world.
An exceptional example is Tessa Evans, who was born with an extremely rare medical condition called 'Complete Congenital Arhinia' which means she has no nose or sense of smell. 3D printing has been used to help build a new nose for Tessa by leading UK surgeon Jonathan Britto using a objet30 pro machine.
Tessa's mother Grainne explained they met Mr Britto when Tessa was just nine months old.
"He came up with this idea to have an under the skin prosthesis," she said.
"It had never been done before and had never been an option before."
"The surgeon printed a 3D model of her skull and used modelling clay to design the shape of the nose. They sent the model off to be made, Tessa then had the surgery to fix the full implant to her midface."
Tessa underwent the groundbreaking procedure at Great Ormond Street Hospital in London. The two-hour operation involved the first part of the implant fitted through an incision in Tessa's hairline.
Grainne commented, "Tessa's face has already changed quite dramatically since her birth. The small implant has given her a nasal bump and raised the area between the eyes. The surgery will be repeated every two years.
Medical Innovation Through 3D Printing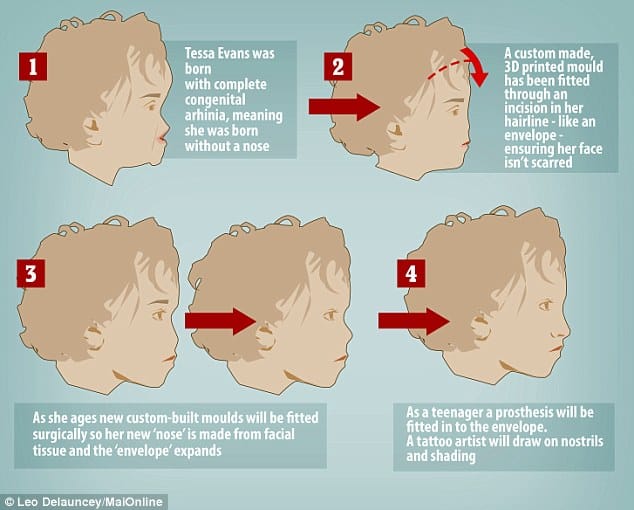 In an operation carried out at Great Ormond Street Hospital, London, plastic surgeon Jonathan Britto used a 3D printer to make a model of Tessa's skull. Then, he used a substance like modelling clay to design a small mould that fitted to her face underneath her skin.
The custom-made implant was then produced in medical grade material, ready for the operation.
It was inserted via an incision behind her hairline, meaning there is no visual scarring on her face.
Tessa will undergo surgery every couple of years to ensure her nose "grows" at the same rate as the rest of her body.
A final prosthesis will be fitted when she reaches her teenage years.
Mr Britto said: "In the past attempts to rebuild a nose would leave scars on the face."
"The 'nose' would not function as an airway and they didn't achieve a good aesthetic result. Teenagers would end up with something that didn't look like a nose."
He added: "With the new method, we'll make a new implant as Tessa grows, at each stage in her growth."
"By the time she is adolescent we'll have expanded the tissue. When she is a teenager we'll make a definitive nose, where we will tattoo in nostrils and creases. I'm really excited about it. She won't have any of the downsides of previous methods."
View the video and original article Here