Medical Collaboration Pioneers the Future of Vascular Health Care through 3D Printing Technology
3D Printing in Medicine – Pioneering the Future of Vascular Health Care
Kaleida Healths Gates Vascular Institute (GVI), the University at Buffalos Clinical and Translational Research Centre (CTRC) and the Jacobs Institute (JI) are working as a team to innovate the way health organisations approach clinical training in vascular health care. Alongside leading 3D printing innovation experts Stratasys they share a collective vision to establish a world-leading vascular care centre of the future, these three bodies combine to allow researchers and clinical engineers to develop innovations in medical solutions. Through the implementation of rapid prototyping in the research process, vascular care can evolve through interventional clinical training with printed models that simulate human tissue and have patient-specific anatomy, allowing for a much more precise pre-operation plan and practice procedure, providing endless opportunities in the vascular care sector.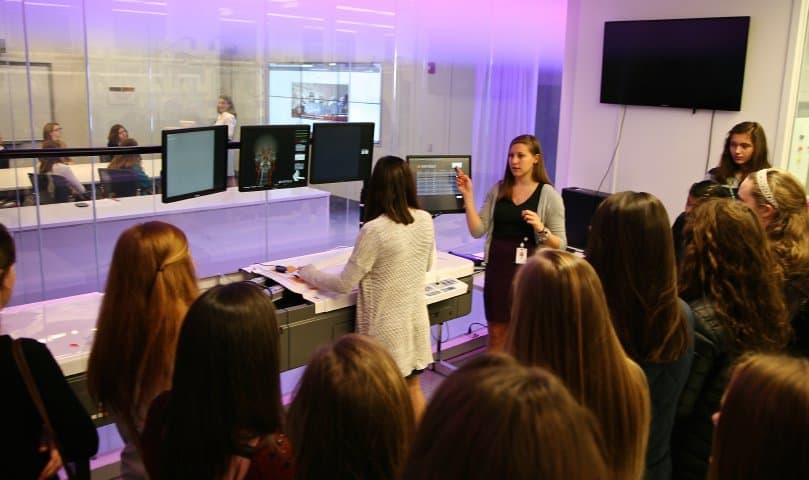 Through these advanced training techniques physicians can participate in a hands-on, thorough training course providing cutting-edge medical solutions and training to future physicians. Prior to innovations in Additive Manufacturing (AM) technology training surgeons would rely on illustrations, 2D scans, animal testing and models that involved a long observation period before gaining experience, especially with rare procedures. The most recent advancements in 3D printing can offer researchers and doctors the tools to produce individual patients with condition-specific models. Using Stratasys Polyjet-powered technology JI is able to offer future physicians a hands-on training experience like no other.
"We use 3D printing technology and materials to create a lifelike vascular environment that isn't achievable any other way," explained Michael Springer, the Director of Operations and Entrepreneurship at Jacobs Institute.
Physicians at the institute are able to produce 3D printed models of stroke patients or clots, aneurysms and other complex cases, not only providing customised solutions per patient while also offering surgical skill development in a risk-free environment. This allows future physicians further exposure to a wide range of anatomies that they will encounter in their career when treating living patients.
JIs CEO and President of Gates Vascular Institute, Dr L Nelson Hopkins commented, "3D vascular models represent a new paradigm for training the next generation of doctors. This paradigm includes surgical and endovascular simulation and skills evaluation before they are allowed to treat patients."
Clinical training with printed models eliminates the need for controlled environments such as biohazard controls, refrigeration storage or on-site care when using animals and human cadavers to practice surgical procedures on. Thus avoiding unnecessary expenditure alongside operation risk and complexity.
Additionally, using AM models replaces processed cadavers where human tissue no longer retains the properties of living tissue whereas Stratasys Polyjet printing materials can closely simulate living human tissue. These models enable dynamic and interactive training through the integration of access points, sensors and blood-flow simulation.
Aside from utilising rapid prototyping in order to maximise student learning through a simulated real-world approach, JI applies the same techniques used in training and device testing in providing solutions for referred patients with severe and complex conditions. This approach allows surgeons to use patient scans to create physical replicas of the affected organ, allowing for meticulous planning and practice for the procedure beforehand. The models can be used throughout as an educational prop to communicate between surgical teams, patient families and the patients themselves. Thus providing cutting-edge training for prospective surgeons as well as medical solutions for complex vascular conditions whilst improving clinical practice through employing modern technology that allows researchers to continuously develop medical approaches.
As the named UK and Ireland Platinum Partner to Stratasys, SYS Systems representatives are trained professionals in 3D printing technology and can advise you on the most suitable machine for you.