Pioneering 3D-printing application delivers '100 times better parts'
Chris Freshman is a man on a mission.
A few short years ago, the R&D Director of Torus Group set himself the challenge of making 3D printing an indispensable part of the bespoke metrology business by exploring its benefits for all aspects of day-to-day operations.
If the fact that Torus now prints its own doorstops and whiteboard erasers is anything to go by, he may have surprised even himself.
The crowning glory of the company's additive manufacturing adventure so far, however, is the development of a completely unique part that is helping to better meet the stringent demands of internationally renowned clients.
After experiencing problems with reliability and functionality in the past, Torus looked at how it might use 3D printing to redesign and recreate the filling assembly on its top load and volume gauge machine.
The assembly is a complex construction of channels, inserts and electrodes that allow water to flow in and out during bottle volume and crush resistance testing.
It is printed on the Stratasys Objet260 Connex3, an advanced system supplied by Stratasys UK platinum partner SYS Systems, whose engineers have worked with Torus to expand its 3D-printing capabilities.
"3D printing has saved us three days of labour per machine"
Mr Freshman said: "We make machines for quality and inspection. With the top load and volume gauge, a customer will want to know when they fill a bottle to a set height, that the right volume of liquid has been dispensed.
"Previously, the filling assembly involved a stock tube that we would machine and they were a nightmare in terms of reliability. We thought they could be improved using 3D printing and that has certainly been the case – they're now 100 times better.
"Four separate parts have all been combined into one sturdy structure without any support materials required. The fact that we print the parts means they're easily replaceable, but they only fail if you break one – we haven't yet had to replace one worn out by general use.
"Compared with the old method of producing the parts, I'd say 3D printing has saved us three days of labour per machine, factoring in the production problems that have now been removed."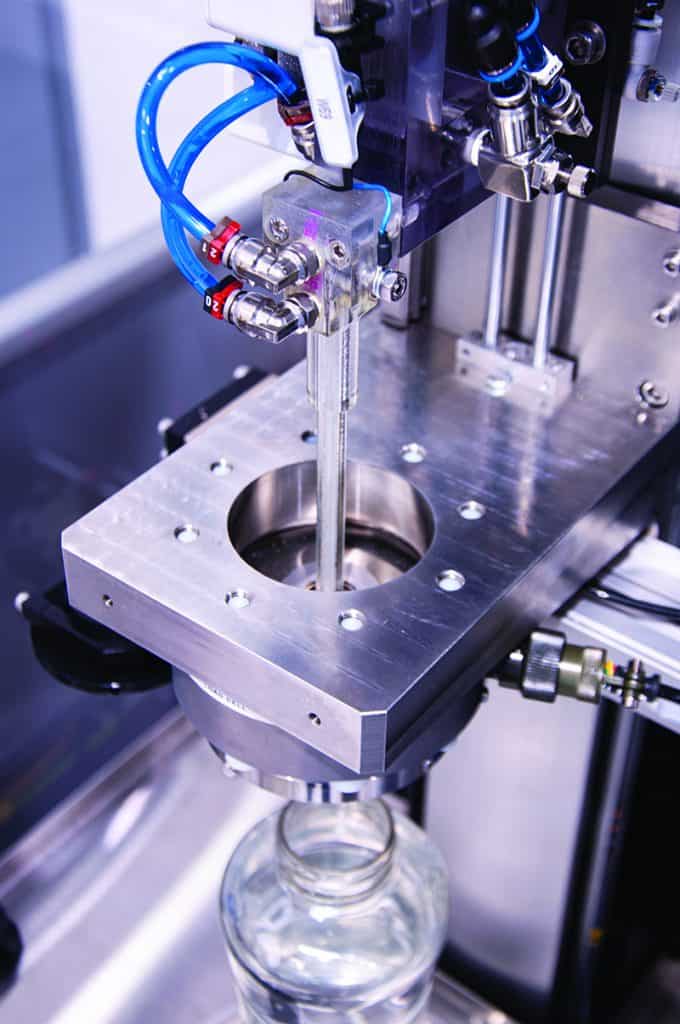 The manifold and nozzle for the new filling assembly took less than a week to design and each complete part can be printed in 19 hours, to an average accuracy of 50 microns, using VeroClear – a rigid material providing excellent detail and dimensional stability. The 3D printer runs overnight, so there is minimal operator resource required.
Nozzles can now be printed to a width of just 9mm compared to 18mm using traditional manufacturing methods, helping to cater for customers producing smaller bottles. Where faster fills are required, the part can simply be scaled up.
Think and Design Differently with 3D Printing
Telford-based Torus has even designed its own bleaching box, which uses a powerful light source to 'bleach' the finished part and enhance transparency even further.
Mr Freshman added: "The assembly structures have specifically been designed for 3D printing and I don't know of any other way they could be manufactured. They're completely unique.
"We're pushing real 3D-printing applications as far as we can for the benefit of our customers and it's an ever-growing area.
"You have to think and design differently, but what you get out of it at the end is a lot better."
The Connex3 range of 3D printers offers unmatched design freedom with a wide range of material properties, from rigid to flexible, transparent to opaque, neutral to vibrant, standard to bio-compatible and durable to high temperature.
It is possible to incorporate dozens of colours into one model, from vivid opaque to stained-glass-like translucent, with hundreds of blended hues in between.
Rob Thompson, Sales Manager at Derbyshire-based SYS Systems, said: "We love the challenge of working with customers on new and innovative 3D-printing applications and Torus continues to break new ground.
"They are setting the industry standard with their filling assemblies and it's inspiring to see how they've positively embraced the power of additive manufacturing."
Do you have a 3D printing application that you'd like to discuss with SYS Systems?
Contact us to speak with one of our engineers –