Product Design Students Benefit from Multi Material 3D Printer
Students at Ravensbourne College, an innovative, industry-focussed university sector college located in the heart of London, are now using the latest Stratasys Objet 260 Connex 3D printer. Supplied by SYS Systems, the multi material 3D printer is helping students take their project ideas from initial concept to final manufacture, faster than ever before.
Ravensbourne College describes itself as a champion of creativity and collaboration that is dedicated to giving its learners the specialist skills and opportunities they need for outstanding careers in disciplines such as product design. Some 2400 students and 140 staff populate the college, which offers practically focused design courses from pre-degree, undergraduate and postgraduate, through to professional short course level.
"As the Prototyping Department for the college we look constantly at the technology available to designers, whether its product design, architecture or fashion design," says Jake Durrant, head of Ravensbournes Prototying Department. "We are a college-wide department, so we're available to students on any course, and we aim to offer as much modern technology as we possibly can. We don't know what projects are coming up or how our students are going to use the technology. We simply make it available and explain it in a way they hopefully understand. From there, they'll almost certainly find a use for it on their own project."
Driven by industry standards and supported by the latest high-performance technology, Ravensbourne aims to produce highly employable and enterprising graduates. In fact, the college has a strong track record in graduate employability and business creation.
One of Ravensbournes market differentiators is its strong industry focus. The college has a proven ability to secure good jobs for its graduates because it equips them with the practical skills they need to excel in the workplace. In fact, Ravensbournes current graduate employability rate, provided by the Higher Education Statistics Agency, is an impressive 97.2%, putting it in the UK's top 10.
Without doubt, the emphasis on practical project work involving the latest rapid prototyping technologies is key to success at Ravensbourne. Among the recent projects making use of the new Stratasys Objet 260 Connex is a wash pod, an innovative manual device designed as a cost-effective and portable solution for washing, rinsing and drying clothes. It uses various material types for different components.
Ideal for festivals or a week away camping, it is important that the wash pod is water-tight. With this in mind, the tolerances need to ensure that the product fits together nicely.
The student heading up the wash pod project, says: "The 3D printed quality from the Objet 260 is really nice really smooth. You don't need to do any post-print finishing or make any changes, which you might find with other 3D printers. Using the machine has also accelerated the project timescale massively. We are not having to spend masses of time refining the product, so 3D printing has been really beneficial."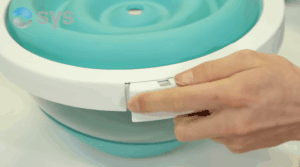 The Stratasys Objet 260 Connex provides a gateway to the world of multi-material 3D printing. In a single print job, it is possible to incorporate a wide range of material properties to vary translucency, rigidity, thermal resistance and colour. For parts that require a range of mechanical, optical or thermal properties like over-mouldings, transparent housings, flexible hinges or heat-resistant surfaces  the Connex can produce a range of digital materials in every print job for realistic prototypes without additional assembly or post-processing. What's more, fine detail is no problem for this advanced machine. Precise threading or crisp lettering, for example, can be created directly from CAD. With 16µm layer resolution, the Connex lets designers see, touch, test and perfect every detail. The level of detail produced by the machine is far excelling what we can get with our other machines, states Mr Durrant. It's proving really worthwhile for the students.
Clearly, gaining hands-on experience of using 3D printers such as the Objet 260 makes the students highly attractive to potential employers. The college works hard to maintain close working relationships with local and national industries, making sure that Ravensbourne learners have access to a wealth of work placement opportunities.
Another product design student learning his craft at the college describes how his team was tasked with developing and making a product that could be customised according to user requirements.
"We chose to make sunglasses, which offer the ability to create different shapes and styles thanks to the use of interchangeable component parts," he says. In fact, the whole concept of the glasses means that people can adapt different pieces to match different looks on any particular day. So far, we can offer over 1 million combinations."
From initial concept, the sunglasses team moved into developing prototypes. Prior to the arrival of the Objet 260, these were manufactured on fairly low-quality desktop 3D printers.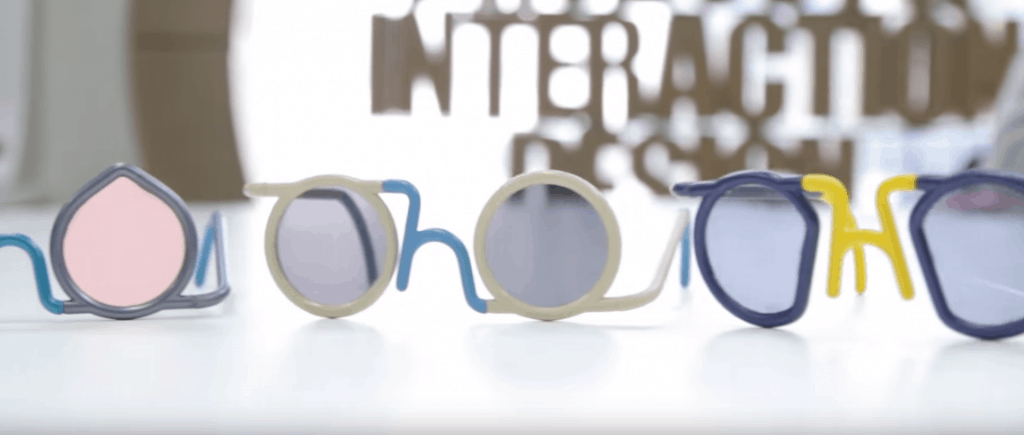 "These weren't ideal because the tolerances were far too big and we needed something finer so that the joints would fit together nicely,"he says. "This is where the Connex comes in. We only have a finite amount of time on our project, and the use of the Objet 260 means we can continue prototyping in more detail as the prints are completed quickly. The overall result is of a standard that is very close to actual manufacture. This means we can guarantee that what we're printing is going to turn out the way it has been designed."
One of the notable features of the sunglasses is the wide array of colours deployed. Here, Stratasys Creative Colours Software, powered by Adobe 3D Colour Print Engine, blends new colour capabilities with a hassle-free workflow. Users can produce smooth, three-colour gradients and vivid multi-colour models based on the colour information in the original CAD file, and/or graphic elements added in Adobe Photoshop. The software recommends the closest colour match and provides realistic previews to eliminate the guesswork.
Mr Durrant says that he actively encourages lots of iterations of design processes in order to get the best from technologies such as rapid prototyping and CAD software.
"This machine represents the top end of that," he says of the Objet 260. "Its where ultimately you might make a near-finished piece or something that tests out your concept at a high level of detail. These are things you can't do with lower end machines. We were looking for higher resolution than our previous processes and wanted to incorporate flexibility and a variety of materials. The Objet does exactly that."
Ravensbourne, which is affectionately nicknamed Rave by its students, has history dating back to 1959 when it opened in nearby Bromley. Relocating in 2010 to a purpose-built campus on the Greenwich peninsula (next to the 02 Arena), the college also hosts alongside its student community more than 100 creative technology businesses that utilise its leading edge technologies and media resources, and collaborate with its student body and industry partners.
Watch the accompanying video: