Put yourself in pole position with the most advanced 3D printing technology available
Over the past decade and more, our experience in the additive manufacturing industry has told us that users of 3D-printing technology fall into one of three general categories.
Here, we look at the 'amplifier.'
3D-printing performance like never before
An increasing number of the most successful companies in the UK and beyond are advocates of 3D printing.
As they continue to employ more complex and bespoke applications, experienced users must position themselves at the cutting edge of the latest technological developments to remain ahead of the competition.
Working with SYS Systems – a Stratasys platinum partner – means access to the very highest-quality thermoplastics available, such as aerospace-grade ULTEM, as well as ultra-realistic rapid prototyping materials offering full colour and multiple texture options.
Our aim is to help you achieve advanced manufacturing on a whole new level.
Rapid prototyping, instant testing, better products
For luxury car makers, the field of product development could not be more important.
That's the reason Jaguar Land Rover (JLR) installed an Objet 500 Connex3, a machine capable of multi-material 3D printing to deliver superior models with working mechanisms much quicker than with traditional manufacturing methods.
Working from CAD data with elastomer, rubber-like materials and incredible accuracy, the Connex has broadened JLR's rapid prototyping processes and significantly reduced lead times.
It was able to produce a complete facia air vent assembly for a Range Rover Sport in a single process, selecting rigid materials for the housing and air-deflection blades and rubber-like options for the control knobs and air seal, allowing engineers to begin testing immediately.
The number of parts produced on the printer has steadily increased as the JLR team has found new ways to capitalise on the Connex's potential, such as overmoulding for covers with rubber seals. Other key areas for use include the development of door seals and protective gaiters.
High accuracy and dimensional control, easy operation, fast turnaround, impressive build speed and mess-free post-processing are other benefits of the Connex3.
'The king of all 3D-printing processes'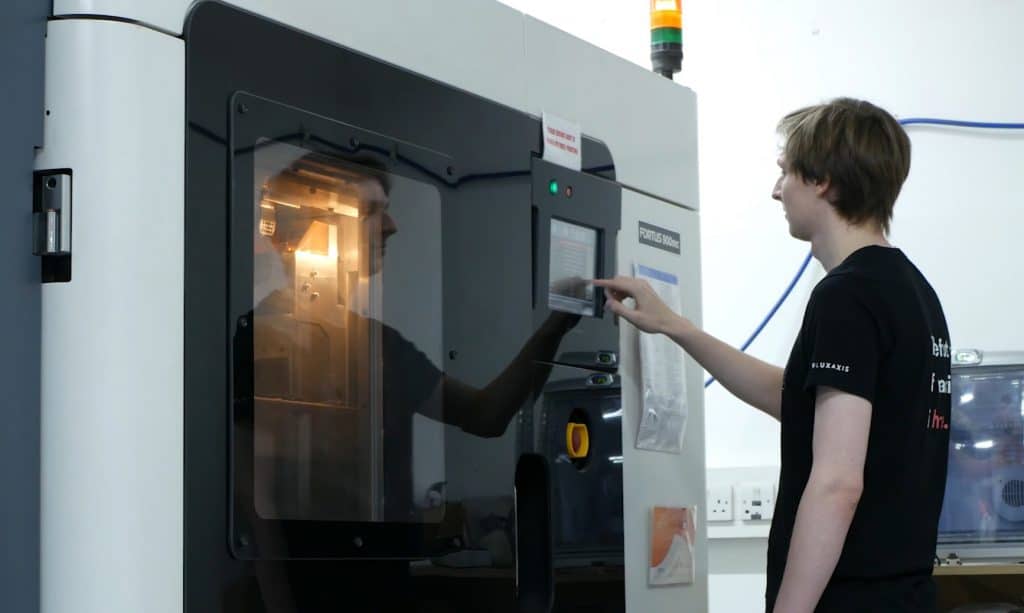 Fluxaxis certainly likes a challenge – even when it's quite literally a giant-sized one.
The 3D-printing company's experts regularly work with clients on the type of big sculptures that form the centrepieces of stadia and public spaces, and few come bigger than the 'David and Goliath' piece it commissioned for artist and sculptor Jam Sutton.
Part of an exhibition that was shown at Dublin Castle, the 3D-printed replica of Sutton's original marble sculpture was produced in three parts, taking 258 hours to print using 15kg of material.
It was made possible by the Stratasys Fortus 900mc, a world-leading additive manufacturing system utilising Fused Deposition Modelling (FDM) technology to deliver large, complex parts without any compromise on quality.
The F900 offers the largest build size of any FDM system and is tailored specifically for heavy industries. It uses 13 of the same tried and tested thermoplastics found in traditional (but more time-consuming) manufacturing processes, meaning it delivers for applications that demand tight tolerances, toughness and environmental stability, or ones with specialised properties like electrostatic dissipation, translucence and biocompatibility.
Fluxaxis Production Manager Jake Augur said: "FDM is really the king of all 3D-printing processes. It's here to stay – there's no other process which is safer and more reliable in general."
Design without limitation

Herman Miller has been producing iconic and award-winning office furniture for more than 100 years, exporting its top-class products across Europe, the Middle East and Africa.
Keen to remain at the forefront of innovation, it first invested in on-site 3D printing in the form of the Stratasys uPrint for its small parts, but still had to outsource the process for its larger and more complex creations.
That all changed when it acquired a Fortus 400 system. Its impact was such that the company quickly brought in a second machine, the Fortus 450, to further reduce product development time, supplement prototyping processes and support the growth of the business.
Now, instead of waiting five to 10 days for outsourced 3D-printed parts, components can be accurately produced overnight ready for testing, using many of the engineering-grade and high-performance thermoplastics employed in traditional manufacturing processes.
Stefan Kogut, R&D Workshop Lead at the firm's Portal Mill facility in Melksham, said: "Gone are the days of having to work our designs around the limitations of traditional manufacturing processes.
"Among the many production parts to benefit is the cradle, which forms the back of an office chair. Despite it being a large nylon part, we have managed to print it with ease on the Fortus.
"In our test labs we can now model, build and test within a very short timeframe."