TCT Show 2019, proof that we're living in a materials world
Over the past decade and more, the advancements in 3D printing have rattled along at breakneck speed.
Where once the technology was overwhelmingly tailored towards product designers keen to visualise, test and develop their ideas, today its appeal is far more wide-reaching across the manufacturing sector as a whole, in almost every industry imaginable.
Though 3D-printing systems and the software that supports them have made huge strides forward, it's the potential of an increasingly impressive range of high-performance materials that continues to drive the revolution.
At the TCT Show 2019, on stand B70, Stratasys UK platinum partner SYS Systems was constantly reminded of this fact by scores of visitors keen to discuss their own specific – and often niche – applications.
From hard-wearing, heat-resistant, rigid and transparent to flexible, rubber-like, multi-coloured and bio-compatible, Stratasys boasts the widest range of 3D-printing materials on the planet, enabling users to produce parts of the highest quality and meet every demand.
Businesses are no longer asking themselves the question, 'Can additive manufacturing improve the way we work?'
Today they tend to ask, 'By how much can it improve the way we work?'
The striking backlit, near 15ft-high fabric wall featuring a hand cupping the SYS Systems logo at TCT was a reminder that, with 3D printing, a world of possibilities lie at the fingertips of organisations of all sizes.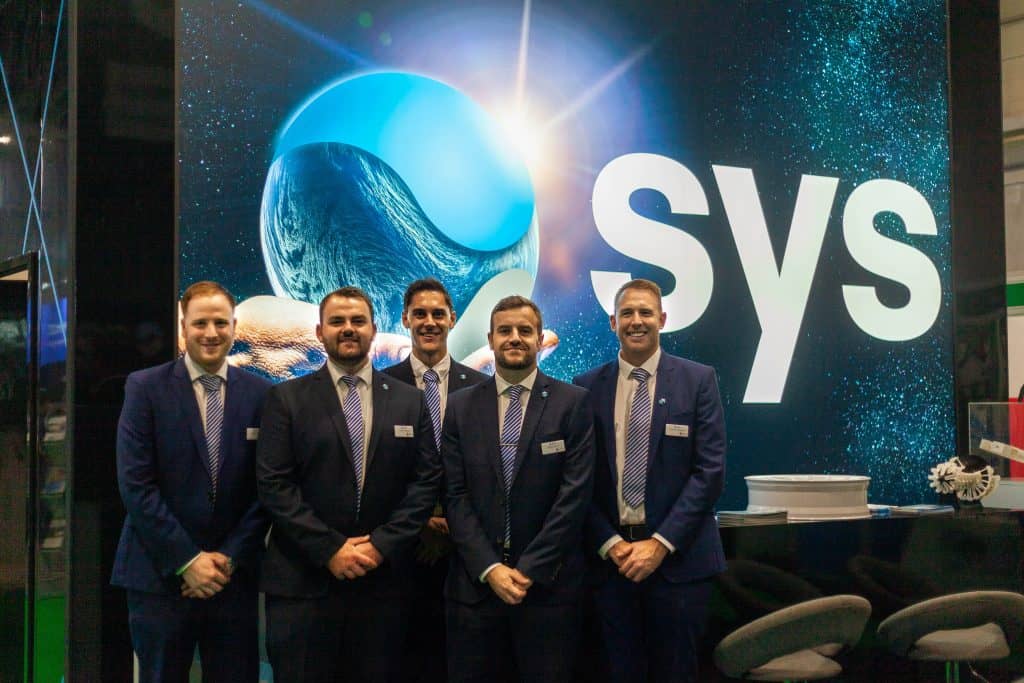 On the stand itself was a live demonstration from Torus Group, an SYS customer which has developed a pioneering application not replicated anywhere else in the UK.
The bespoke metrology specialist's 3D-printed filling assembly for its top load and volume gauge machine is a complex construction of channels, inserts and electrodes that allow water to flow in and out during bottle volume and crush resistance testing.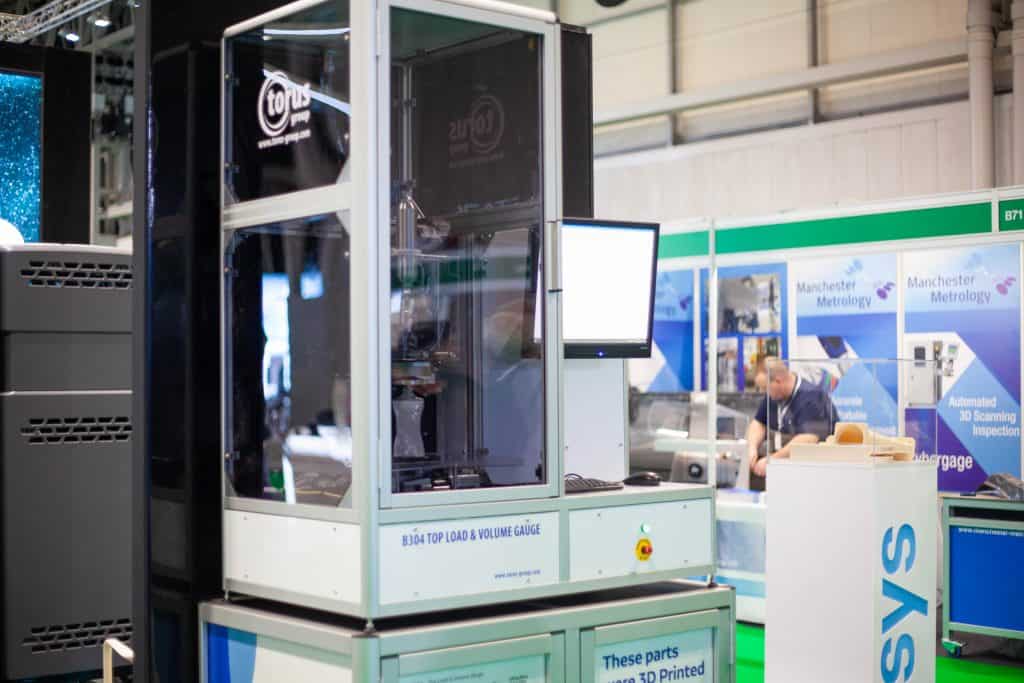 The assembly is printed to an accuracy of 50 microns on the Stratasys Objet260 Connex3 and, according to Torus, it has not only increased efficiency but improved accuracy and reliability to help meet the stringent demands of internationally renowned clients.
SYS engineers welcomed dozens of existing customers keen to share stories of how their own 3D-printing innovations were breaking new ground.
Yorkshire-based Weir Minerals, for example, a heavy industrial engineering company making large industrial pumps for the mining, infrastructure and oil and gas sectors, installed a Stratasys F900 production system in May 2019.
Additive Manufacturing Design Engineer Brian Lord revealed how the machine had delivered time, cost and efficiency benefits in its pattern shop, where dies and mouldings for heavy-duty castings were being produced.
Using ABS, an ultra-tough thermoplastic, Weir is printing lighter and stronger vanes four at a time in one mould, saving around £2,800 each and every time it does so when compared to traditional production methods.
When parts get damaged, as they inevitably do in such a demanding environment, others are simply printed off, eliminating a significant amount of down time.
Weir is now experimenting in replacing metal parts with ones 3D-printed in ULTEM 1010 and Antero, both thermoplastics whose strength makes them ideal for such a use.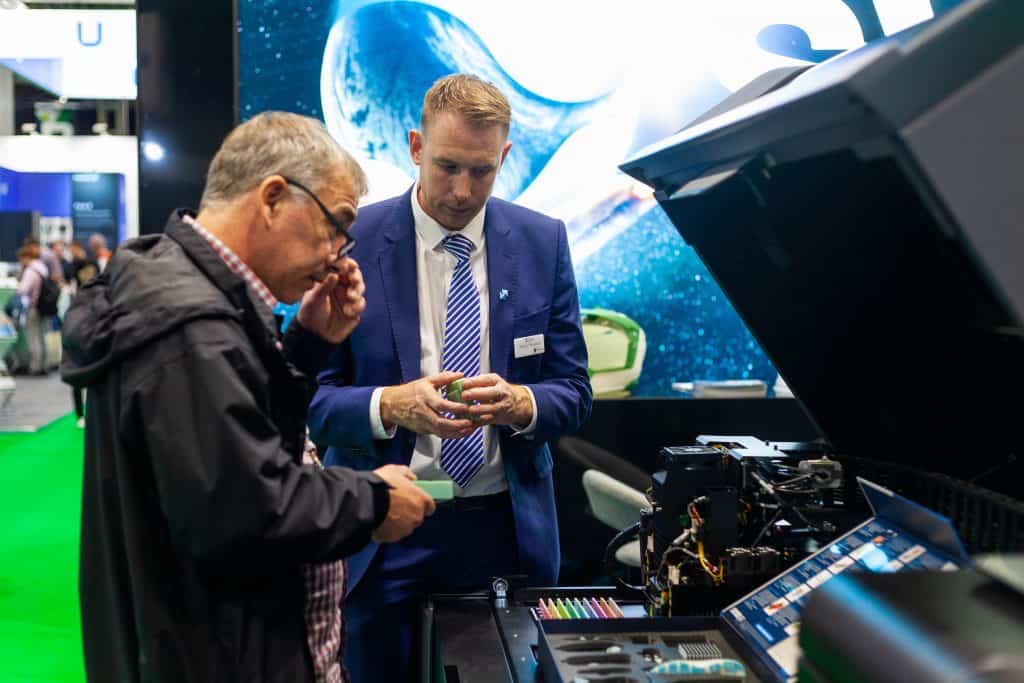 SYS Systems Sales Manager Rob Thompson said: "As well as an opportunity to speak to new people, the TCT Show is a great platform to hear from existing customers about the great things they're doing with Stratasys technology.
"The conversations we have are very much applications-driven and that's evidence of the general culture shift towards a desire for production and end-use parts. People want to know whether they can use 3D printing to help them assemble a product more efficiently, for example, rather than just in the R&D or design team.
"It's both inspiring and rewarding for us to be playing a part in helping our customers to innovate and reach new heights in manufacturing.
"3D printing as a technology is now pretty widely understood, but we're able to pass on our experience and expertise in terms of how it can assist the traditional manufacturing process and deliver an impressive return on investment."
The 2019 TCT Show marked the 24th anniversary of the event as the leading exhibition for 3D printing, having brought together thousands of manufacturers, designers, business leaders, early adopters, innovators and investors over the years.
Find out how much SYS can help improve the way you work by requesting a free demo below.