The benefits of in-house 3D printing and why you'll never use a bureau again
Over the past decade and more, our experience in the additive manufacturing industry has told us that users of 3D-printing technology fall into one of three general categories.
Here, we look at the 'outsourcer.'
Faster, cheaper, better
Infrequent need, a lack of time, limited knowledge – there are many reasons that some businesses favour using a bureau over in-house 3D printing.
However, thanks to so many recent major advancements in the technology, our engineers can prove that there's a better way.
In addition to the immediate time and cost savings of removing the outsourcing process, the Stratasys systems that we supply employ versatile and intuitive design-to-print software to create low-cost parts in an ever-growing range of high-class materials, with ultimate accuracy and reliability.
That means no major training requirements, a streamlined design function and improved models on demand.
Put simply, an on-site machine is the fastest, most efficient and most cost-effective route to get your products to market.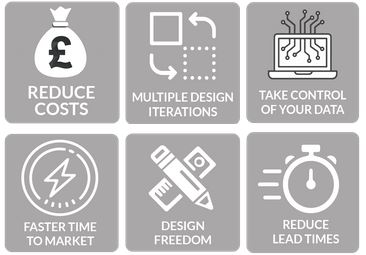 'An even quicker return on investment than we anticipated'
For Eschmann, a leading designer and manufacturer of operating tables, operating theatre equipment and infection control systems, 3D-printed prototypes play a key role in the product development process.
However, the Sussex-based firm quickly realised that using outside agencies to create its 3D models was not only expensive, but lengthened the design, prototype and consultation process considerably.
Mechanical Engineering Manager Mick Gray said: "Due to increasing volumes of designs that needed to be 3D printed and the intricacies often required, we undertook a search for a high-quality, cost-effective 3D printer that would enable us to bring this important function in-house and deliver an economical return on our investment."
It settled on a Stratasys Objet30 Pro, which through PolyJet technology combines the accuracy and versatility of a high-quality rapid prototyping machine with the convenience and small footprint of a desktop 3D printer.
Mr Gray added: "Now, in-house, we are able to create finely detailed physical objects directly from digital data that are virtually identical to the real thing in terms of size, shape, colour, texture and weight.
"It has helped to slash our design-to-production times, ensured the successful fine-tuning of product designs, saved a lot of money on using outside agencies and is well on its way to giving us an even quicker return on investment than we anticipated."
'Back in control'
Major defence manufacturer Moog Aircraft Group was keen to examine how it produced bespoke co-ordinate measuring machine (CMM) fixtures for each of its machined parts – a process that has traditionally been outsourced to external suppliers, who made them from tool steel.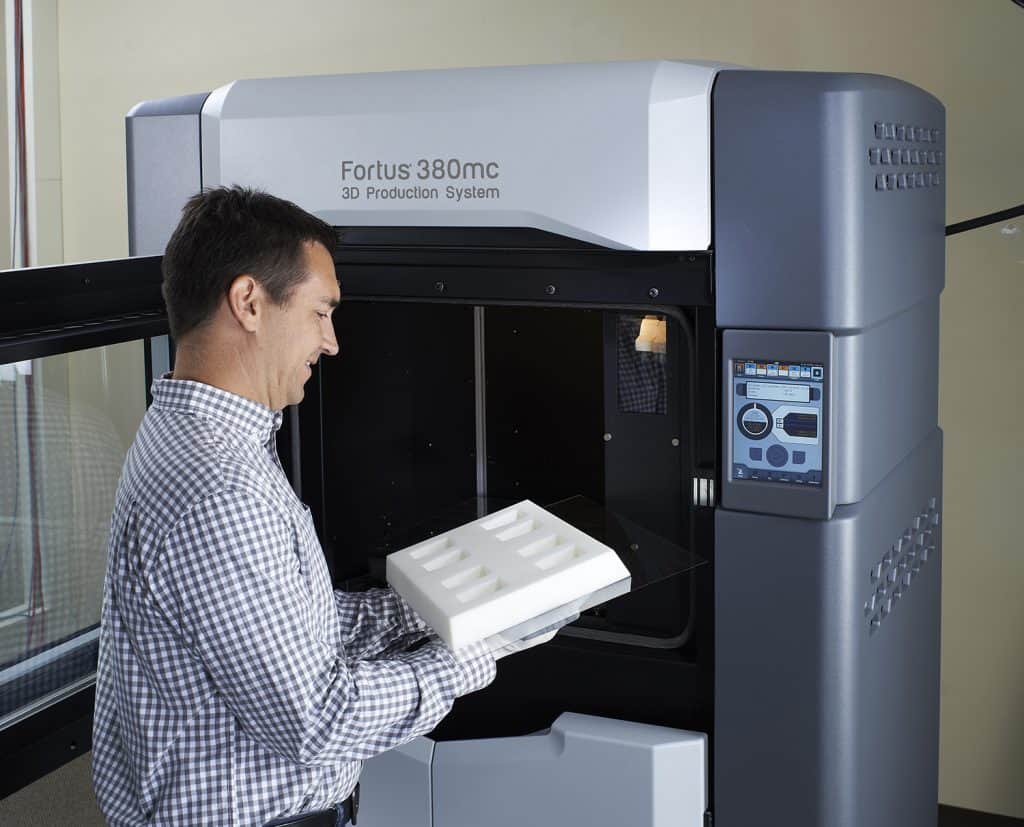 It identified 3D printing and the Fortus 380 as the best tool for the job, a system that uses fused deposition modelling (FDM) technology to create parts quickly using high-quality, production-grade thermoplastics.
The machine helped to cut lead times for CMM fixtures at Moog from more than a month to just hours, eliminated production bottlenecks and reduced costs tenfold.
James Stuart-Young, Manufacturing Engineering Manager (Military Value stream) at the Wolverhampton-based company, said: "The outsourcing process always had a lead time of four to six weeks from drawing release to receipt of a finished fixture.
"We evaluated ways to produce these fixtures in-house via a cost-effective method that would reduce planned lead times. 3D printing was chosen as the preferred method of manufacture due to the speed of production and low piece-part costs.
"The ability to produce in-house has put us back in control of prioritising production to suit the demands of the customer programme.
"Fixtures that have cost us in excess of £2,000 in the past can now be made for a couple of hundred pounds. The ability to try a design idea, test it and redesign it accordingly in a matter of hours, rather than weeks, has seen us improve work holding and reduce the occurrence of manual handling damage throughout production processes."
'Eliminating the barriers to creativity'
Design consultancy Design Partners tried a combination of CNC machining and outsourcing 3D prints to create prototypes, but neither method satisfied the price and time demands it was working under.
However, the purchase of an Objet30 and an Objet30 Pro led the company to achieve shorter lead-times, greater project control and reduced costs.
CEO and Founder Brian Stephens said: "Having 3D printing in-house has revolutionised how we approach both the process and the service we give to our clients. The main advantage is a reduction in lead-time for iterating prototypes; we can now print overnight and have parts in our hands the following morning.
"One of the things we wanted to do by bringing 3D printing in-house was to eliminate the barriers to creativity. It's amazing what you can do when you lose the constraints of conventional manufacturing techniques.
"Since getting the machines, we have completed projects that we simply wouldn't have been able to do without them. We've had clients come and camp at our offices for weeks at a time, because they see how efficient we can be, and the progress that can be made in what's often an incredibly short time.
"I don't know how we would manage without 3D printing now. Whatever you think you're going to use a printer for now, I can guarantee it will expand far more in the future."
Are you still outsourcing your 3D printing? Discover the difference with Polyjet technology from Stratasys…