Where are we and where are we headed? A 3D-printing industry view
With 12 years' experience at the forefront of the 3D-printing movement, Rob Thompson has pretty much seen it all.
Here, the Sales Manager for SYS Systems – a UK platinum partner for Stratasys – reveals how the industry landscape is changing and why there are more exciting times ahead for exponents of this ever-growing technology.
Shifting momentum
In the early days, 3D printing was very much geared towards product designers keen to visualise, test and develop their latest ideas.
While this remains a key area of work, huge technological advancements have forced businesses to rethink what they want to get from their 3D printers and the wider implications on their operations.
"Predominantly we've built our customer base with systems supplied to companies that want to prototype and test form, fit and function– that's where the majority of printers were sold in the early days," said Mr Thompson.
"The big shift in the last few years has been the move towards more production and end-use applications. We're getting more enquiries from people asking whether they can do something different and take advantage of the many opportunities that 3D printing presents.
"For example, can they use it to help assemble a product rather than just in R&D or the design team?
"That change has really been driven by material developments, with improvements made on temperature resistance, strength, accuracy, reliability and repeatability. That's allowed us to get into those areas, but in addition businesses have also got a generally deeper understanding of what 3D-printing machines are capable of.
"We now get people who understand what the technology is and how it works, but needing that extra bit of advice in terms of where it can be useful and where they can get their ROI.
"The conversations we have are very much applications-driven.'"
True additive manufacturing
The focus on true additive manufacturing – where parts can be printed ready for real-world use across industries like aerospace, automotive and medical – is increasing rapidly.
Mr Thompson said: "We're now talking to parts of businesses we didn't use to talk to, such as machine shops which once thought 3D printing wasn't for them. They're sitting up and realising the technology is here to stay and that they've got to embrace it and see where it can offer them benefits.
"Customer awareness and their expectation levels are meeting in the middle with the material and machine developments.
"At SYS Systems we've been exposed to this for many years and can use our knowledge to offer a better experience to those customers.
"Today, more than 50% of our machine sales are for AM uses, which has grown hugely in recent years. The beauty of a Stratasys system is it can be multi-discipline – they're not just restricted to the shop floor or aimed at the design team.
"The amount of materials and options available means the business case for investing in a system is stronger, because it can be used by different departments and the ROI is a lot higher and easier to prove."
Open minds
"I see the industry as a wedge shape. The thick end of the wedge is rapid prototyping and the thin end is end-use components. In the middle you have jigs and fixtures, workholdings and manufacturing aids – anything that can help get someone's product out of the door quicker, cheaper or more efficiently.
"Over a period of time I wouldn't say we've seen prototyping diminishing, but other areas are definitely growing. The market trend is towards customers being more open to exploring materials and then end use. That's because it saves on time, gives better print quality and there are fewer tools required for production.
"The big challenge for both our customers and our engineers is working together to continue to grow that middle and thin end of the wedge. Businesses increasingly see 3D printing as a way of improving their production processes and replacing inefficient traditional manufacturing methods, but in the short-term that may mean ripping up the rule book and redesigning their parts to suit a new way of working.
"Once a company has overcome that hurdle, the potential long-term benefits are almost endless. We've seen it with clients like Torus Group, which has developed a unique 3D-printed bottle-filling assembly to improve testing on its top load and volume gauge machinery.
"In terms of current industry demand, you have two fields. There are applications where customers are wanting a certain part and to know how they can make it lighter, quicker and stronger, and also from a technology point of view where they want better materials – and I'm sure those things will come.
"Stratasys has made a great example of allowing customers to evolve with the technology, such as with the Fortus 450, for example. These machines can be upgraded at any point to use materials that will be developed and released down the line."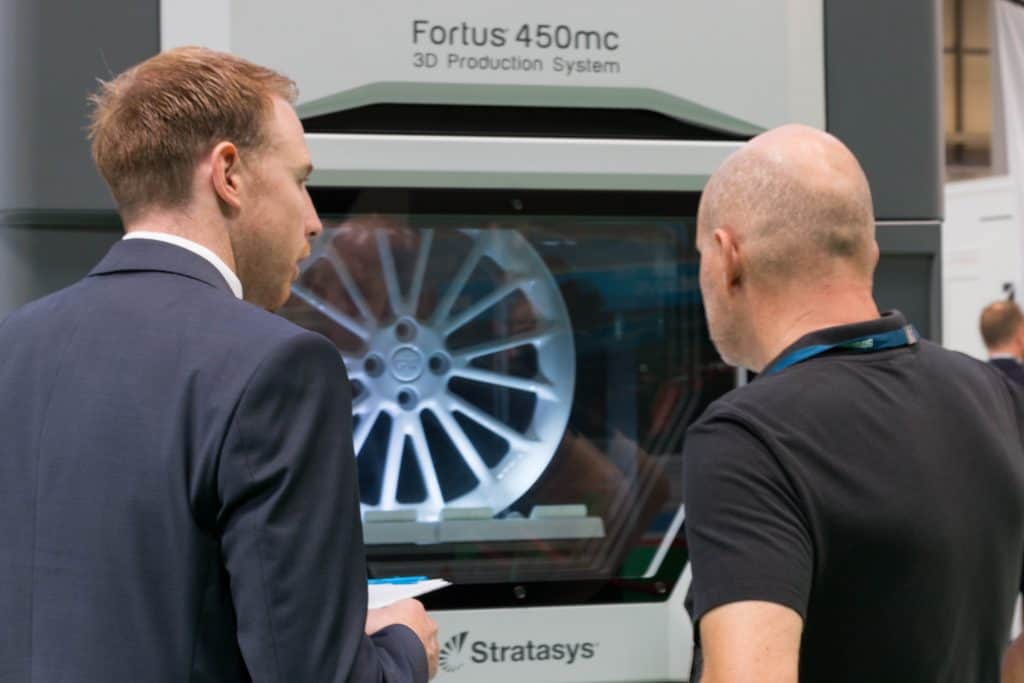 Evolution, not revolution
"I don't think the next few years will see things change dramatically, but what we will find is more high-performance materials being released.
"Also, because of the ever-expanding 3D-printing colour capabilities on the J-Series of machines, we may be able to speak to people we haven't been able to speak to previously, offering them better prototyping capabilities.
"Using pantone colours, the realism that can be achieved on a model from a prototype point of view is a major market for us.
"We've had a fantastic journey in the last decade and more in terms of company growth, to the point of being the leading UK supplier of Stratasys systems over the past few years.
"We'll continue to build on that success and are already doing so by investing in the latest display equipment at our headquarters near Derby. We'll also continue to invest in our people by training them to factory standards and beyond, meaning they'll always be up to speed as experts in the latest technology, software and application developments from Stratasys.
"Our customers will benefit greatly from that approach."