Overview
Videos
Specification
Materials
Overview
Discover efficiencies
with the Stratasys
Fortus 450mc
3D printer.
Minimize cost, increase uptime and improve quality on your factory floor. The Fortus 450mc builds parts using the FDM materials you're familiar with, but with the advanced complexity and high requirements needed by today's manufacturers.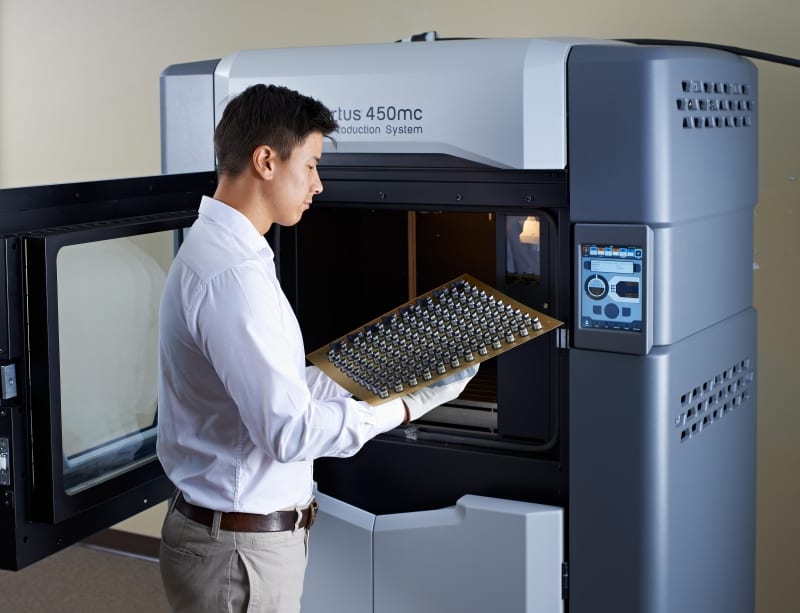 Built for streamlined
manufacturing.
To help you get to market faster, the Fortus 450mc 3D printer provides a multi-application manufacturing solution that reduces design and build times, optimizes manufacturing workflows, decreases overall costs and promotes factory innovation.
Produce custom tools, prototypes and low-volume parts with complex geometries in days versus weeks, without sacrificing quality. The Fortus 450mc's generously-sized build platform provides capabilities to meet industrial application needs while its hands-free, soluble support materials aid in creating complex geometries as well as reducing labor.
Materials for many

applications.
From standard to high-performance, the Fortus 450mc features a large portfolio of materials that cover a range of mechanical properties and support a broad number of applications. Leverage the stiffness of carbon fiber nylon for strong but lightweight tools, functional prototypes and end-use parts. Open up new applications using the superior strength, chemical resistance and ESD performance of Antero PEKK-based thermoplastics. All materials are specifically tuned to the printer to deliver optimal print results with consistent repeatability while support materials allow for successful builds of complex parts.
Videos
Specification
See the
specs.
| | |
| --- | --- |
| Size and Weight | 1295mm x 902mm x 1984mm / 601kg |
| Build Envelope | 355 x 305 x 305mm |
| Materials Available | 8 |
| Layer Thickness | 0.127mm (0.005in); 0.178mm (0.007in); 0.254mm (0.010in); 0.330mm (0.013in) |
| Accuracy | Parts are produced within an accuracy of ± .127mm (± .005in) or ± .0015mm/mm (± .001 in/in), whichever is greater) |
Materials
Industry-leading material performance.

Fortus 450mc parts exhibit more than 80% strength in the vertical (ZX) plane compared with in-plane (XZ) performance for certain materials. This gives you greater flexibility to orient the part in the build chamber for optimal print results while achieving more consistent mechanical properties throughout the part.
| | |
| --- | --- |
| ABS-ESD7 | A thermoplastic with static dissipative properties suitable for use on applications where a static charge can damage products. Combine the versatility of ABS with the reliability of FDM to lower the cost and speed of production of jigs, fixtures, prototypes and production parts. |
| ABS-M30 | Ideal for concept models and moderate requirement parts including functional prototypes, jigs, fixtures, manufacturing tools and production parts. |
| ABS-M30i | A biocompatible 3D printing material that is suited for use on medical, pharmaceutical and food-packing parts. This material will allow designers to print surgical planning models, tools and fixtures. |
| Antero 800NA | Design freedom and ease of use combined with excellent mechanical properties. |
| ASA (Acrylonitrile Styrene Acrylate) | Provides strength, colour choice and UV resistance for outdoor-use production parts. |
| FDM Nylon 12 | A combination of strength with excellent fatigue properties that makes this material ideal for repetitive closures, snap fits and vibration-resistant parts. |
| FDM Nylon 12 Carbon Fiber | For strong, lightweight tools and parts. Highest flexural strength and stiffness-to-weight ratio available. |
| PC | High tensile and flexural strength for demanding prototyping needs, tooling and fixtures. Also used for metal bending and composite work. Finished prints are tough and heat resistant - ideal for industries including automotive, aerospace and medical. |
| PC-ABS | PC-ABS is a high-impact engineering thermoplastic ideal for functional prototyping, tooling and low-volume manufacturing. |
| PC-ISO | Used across a number of industries to create prototypes, moulds and products that are heat-resistant. |
| ULTEM™ 9085 resin | A flame-retardant, high-performance thermoplastic. ULTEM 9085 provides a high strength-to-weight ratio. |
| ULTEM™ 1010 resin | One of the strongest FDM thermoplastics available on the market. ULTEM 1010 possesses high heat resistance and thermal stability. This material can withstand autoclave operations associated with sterilisation and composite fabrication tooling. |
| ST-130 | Used to create hollow composites faster and easier. ST-130 simplifies hollow composite construction by simply dissolving after cure, to leave only the finished part. |