Stratasys 3D printing in design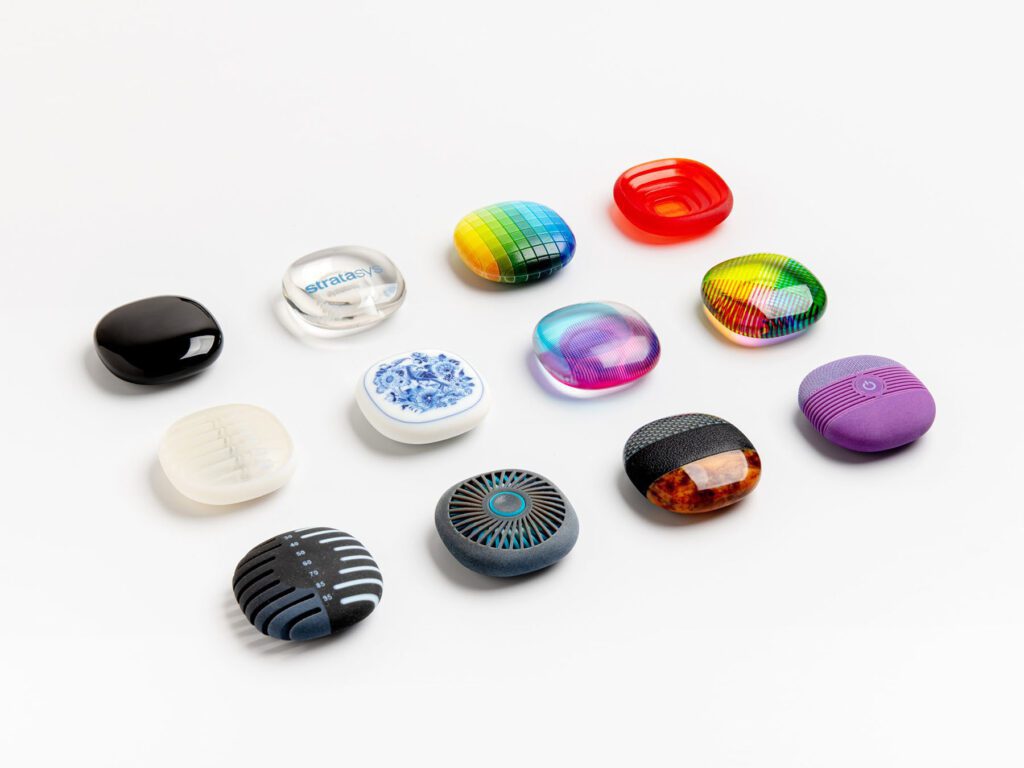 3D printing has become a popular tool in the design industry, as it allows for quick and easy prototyping and creation of customised products.
This technology is particularly useful for creating models and 3D prints of products that can be used to test the ergonomics or fit of a design idea before building a prototype, allowing designers to iterate quickly and efficiently on designs to ensure a high quality final product.
Complete design freedom and flexibility
With customisable software available for 3D printers, it is now possible to create personalised products for your customers, further enhancing their experience with your brand. No matter if you are customising prototypes, parts or products, you can create quality products ready for approval, ready for sale and ready to reach your audience.
Create parts to mimic your final design, and even create your final design, and produce your final design in stunning colour combinations. With thousands of Pantone validated colours available and a wide range of materials with different properties from tensile strength to temperature resistance – the possibilities for your products are out of this world. 
Designers can use 3D printing to quickly produce prototypes of their designs without having to spend money on tooling costs or production runs, helping them speed up the prototyping process and reduce costs while still maintaining a high level of quality. This means not having to spend a fortune on expensive materials and labour costs. 


Designing a physical product from scratch can be a lengthy process that involves numerous iterations and revisions, often requiring you to produce prototypes of your designs and try them out to make sure they function properly and meet your requirements. This process can quickly become costly and time-consuming, often forcing you to redesign your product multiple times until you get it right. 
With 3D printing technology, you can produce high-quality prototypes in a matter of hours. In fact, you can easily create multiple versions of your design to test different features and components without having to purchase new equipment each time.
The benefits of using 3D printing in your business are clear – it offers a number of advantages over traditional manufacturing methods that will help you streamline your operations and improve your efficiency. Simply put, this technology can help you take your business operations to the next level and create innovative products that meet your customers' needs.
Who is using 3D printing in design?
Businesses using 3D printing in their design process include electronics manufacturers such as Dell, who use 3D printing to create fully functional prototypes of their products before finalising the designs. Other companies, including Apple and Microsoft, are also experimenting with the technology to create a custom range of products and accessories for their loyal customers. 
Join the thousands of companies that are already using 3D printing technology to improve their products and expand their reach today. Discover more, and find out how you can harness the power of 3D printing for your business.