Innovative technologies from Stratasys are transforming dental care around the world and helping to create high-quality patient experiences.
Stratasys 3D printing in dental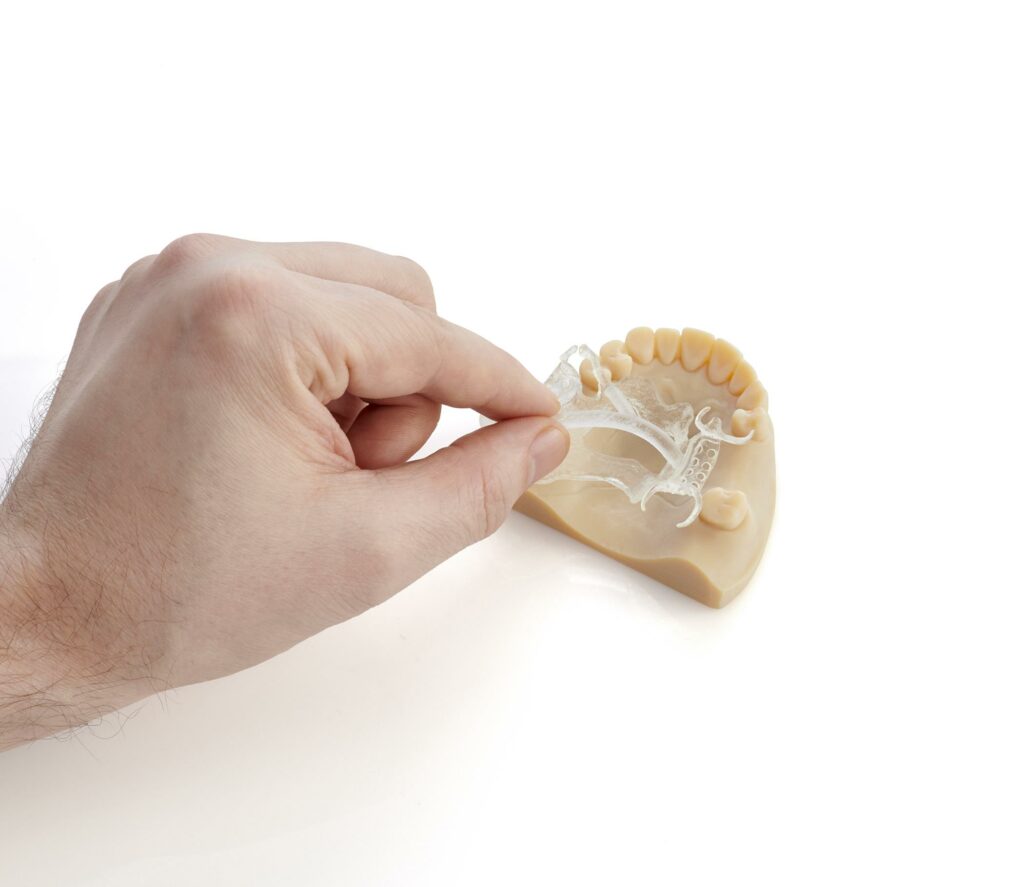 Rapid production on-demand
Using a 3D printer in the dental lab and working direct from orally scanned digital files, dental laboratories now have the ability to accurately and rapidly produce crowns, bridges, models, surgical guides and a range of orthodontic appliances.


Dental 3D printing technology has come a long way in recent years, and the applications for it are only growing. Stratasys dental 3D printers offer superior precision, realism and efficiency when printing dental models. By using medical-grade materials and industry-leading technologies, our printers create realistic anatomical models with intricate details using fewer materials than traditional methods. This not only reduces cost and improves efficiency, but also helps reduce waste and conserve natural resources.


Endless versatility means you can print an implant in the morning and a crown in the afternoon. You can even print multiple crowns or a full arch of teeth at the same time to minimise your turnaround time.
The multiple applications in the dental industry make 3D printing a must-have for versatility and agility in the lab. 
Dentists can quickly prototype dental implants and other oral prosthetics in the lab before manufacturing the devices in larger quantities.
Using 3D printed dental models, surgeons can create more precise surgical guides than with standard medical instruments.
With 3D dental printing technology, orthodontists can rapidly create and test new orthodontic appliances to reduce the risk of patient discomfort and treatment errors.
A 3D dental printer can be used to create precise, natural-looking restorations for a wide variety of applications including crowns, bridges, dentures and inlays.
High quality crowns can now be printed in a matter of minutes using the J5 Dentajet.
Removable partial dentures
For patients who need removable dentures but do not require an entire denture, 3D printed partial dentures offer an effective alternative.
Patients with mild to moderate dental problems may be candidates for Invisalign aligners, which are virtually invisible and can be easily removed for eating and cleaning.
Dental professionals can use 3D printers to create dental models of a patient's teeth and jaws that can be used for diagnostic purposes or to plan treatments.
Print surgical tools on demand with the J5 Dentajet, and with GrabCAD software keeping your digital inventory for when you need it. 
Dentists can use 3D printers to produce custom toothpicks with logos or other promotional messages that are ideal for marketing and branding purposes.
Get in touch with an expert today and we will help you take your dental lab into the future. No matter if you want to explore the effects of 3D printing in dental or if you would like to discover the best dental 3D printers, we will help you get the information, insight and expertise you need. 
Alternatively, you can find out about the specification, service and price of a dental printer today. We are here to help you get it right.