A New Method to Create Surgical Guides Elevates the Standards of Care
As a conservative treatment for fully and partially edentulous patients (with missing teeth), dental implantology requires an advanced and specialised skillset in order to place implants successfully to ensure their viability. Both digital and 3D printing technology have significantly improved dental implant success, as well as transformed the workflow alongside the practice of tooth fixture standards of care. By harnessing the benefits of digital manufacturing, clinicians are now able to attain the best possible outcome for their patients through maximised versatility, and additionally cutting costs and saving time in the process.
Implants are a viable solution in maintaining the patients oral health where teeth are missing, whilst also avoiding the need to destroy healthy neighbouring dentition and ensure their oral healths longevity. Conventional replacement of a missing tooth often affected the healthy teeth adjacent to the tooth, causing cutting away of tooth structures surrounding the gap. Dental implants avoid the need to damage healthy teeth by creating a more conservative approach, placing an implant into the site without affecting any other teeth.
The location, angulation and implant size must be carefully considered prior to placement and more importantly needs to be dependent on site characteristics, while biomechanics of the patients bone density, sinuses and nerves should be addressed and applied to the procedure accordingly.
Advancements in Digital Technology
Conventional surgery involving implants would be carried out by hand or either using surgical guides fabricated on solid stone (gypsum) models, or laboratory-fabricated dentures with predrilled-holes to guide the dental surgeons hand piece. However with the advancements in digital technology and cone beam computed tomography (CBCT) scanning precision guided surgery can be carried out.
Cone beam scans provided an in-depth analysis of the bone, bone density, soft tissue, location and nerves prior to implant surgery. The DICOM (Digital Imaging and Communications in Medicine) file is then integrated into the guided surgery software program, where a clinician or dental technician is able to place an implant virtually, run a series of tests and determine the exact fit, as well as ensure best location outcomes.
An impression of the patients mouth is generated through the use of either an intraoral scanner (digitally) or using the analogue PVS method which produces a model that is then scanned, an optical scan is created and can generate an STL file to be overlaid onto the DICOM file, providing a comprehensive STL file to be imported in to guided surgery software.
The guided surgery software allows the clinician to select the type of implant system as well as the size, automatically generating the implant to be virtually placed in the bone. Once the implant and positioning are correctly lined up this is then integrated and overlaid, alongside the intraoral scan or optically scanned model, to create one concise open-source STL file which can be altered and manipulated allowing for the surgical guide to be designed accordingly.
This ability, to design surgical guides through this digital procedure offers maximum freedom to achieve optimal results through the best treatment possible, elevating standards of care. Using the software makes plotting the location and borders of the guide fast and easy, considering all of the surrounding involved areas, it virtually generates a hole where the drill guide sleeve can be attached.
Faster Production Thanks to 3D Printing
After the design phase is complete, the STL file can then be exported to a 3D printer, providing a faster solution for the production of precision surgical guides. Printed with Stratasys bio-compatible MED610 material, the 3D printed surgical guides are certified for contact with the oral environment for the length of the implant procedure. Specifically, the biocompatible material is approved for short-term mucosal-membrane contact for up to 24 hours.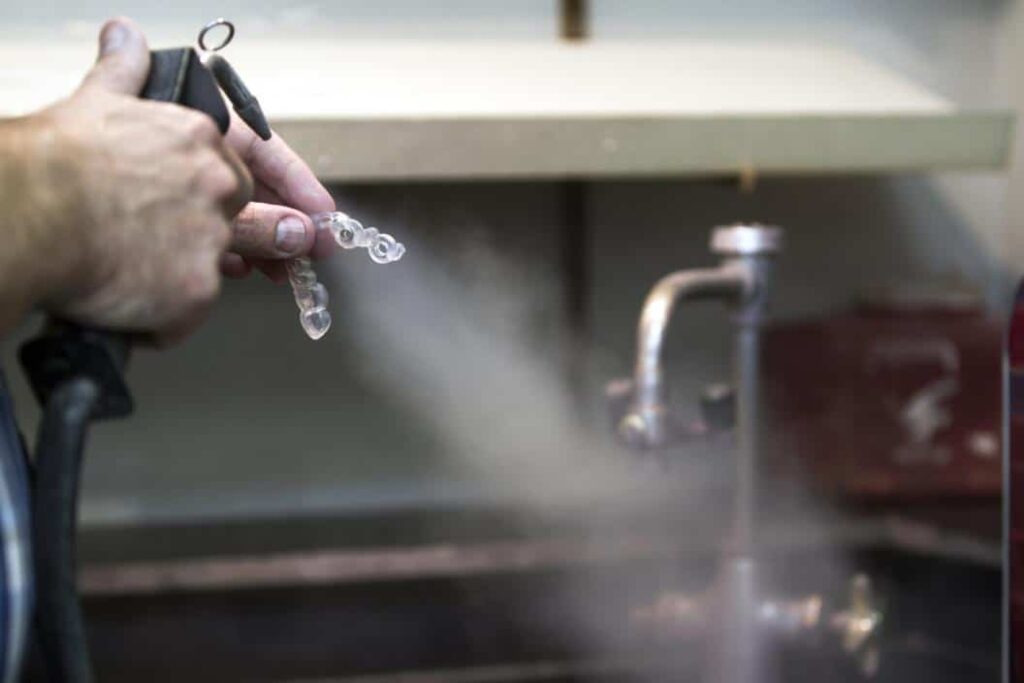 The Benefits of 3D Printed Surgical Guides
Dr. Nejat defines the benefits of 3D printed surgical guides in clinical environments for three key reasons, the first is complete customisation of and control over both the surgical guide creation and treatment procedure. "I can use any implant system and customize the guides to the way I want them to be and as I see it best suits my patients needs and their desired outcomes," he says.
Prior to the use of 3D printing, outsourced vendors were used in order to manufacture these guides, often impeding the process due to limitations especially in options for specific diameters, positioning and support, causing turnaround time of typically around two weeks and costing between £200-£400 each. Dr. Nejat is now able to harness a number of attributes from various surgical guide vendors, incorporating them into his own 3D printed surgical guides within the design process.
The second benefit of digital dentistry is that it allows for significantly faster treatment and patient turnaround time. From initial consultation and assessment through to the procedure itself, complete treatment is carried out in a considerably shortened time period. Thus enhancing the patients overall dental experience by providing optimal results in the fastest possible way.
Lastly, carrying out surgical guide production using 3D printing results in significant cost savings. Dr. Nejat testifies that he has experienced an average saving of between 50-85% after moving from outsourced surgical guide options.
Advancements in direct digital manufacturing and evolving technology allows for dental professionals to attain their aim in improving the standards of care for their patients. The forward-thinkers of this generation have already incorporated this method into their practices in order to obtain diverse solutions through a variety of treatments and services for existing and future clients. 3D printing ultimately offers an extremely advanced solution, providing a cost-effective business model for practitioners and dental labs, enhancing precision and significantly elevating dental procedures. And the outcome? – An optimal dental experience for the patient, increased longevity and viability of the implant-supported restoration.