Addition Design invest in Stratasys' F370 CR carbon fibre 3D printer
Addition Design is a Sheffield-based design firm specialising in developing products, components and devices for multiple industries including medical, pharmaceutical, sports and consumer goods. The industrial design experts offer customers design to production solutions utilising the full capabilities of additive manufacturing.
SYS Systems brought the F370 CR to the UK for the first time in May 2022, and Addition Design were quick to realise the potential of the technology for their own application. The F370 CR was purchased under the guidance and recommendation of Regional AM Specialist at SYS Systems, Chris Andrews who commented:
"Seeing Addition Design be one of the UK's earliest adopters of this new technology emphasises the commitment to their customers. Giving them access to the brand-new FDM Nylon-CF10 for everything from bespoke jigs and fixtures, to end use production parts."
"The last 18-24 months have put immense pressure on the manufacturing sector, and the F370 CR represents a fantastic new addition to the Stratasys range to help alleviate some of these challenges. We see more and more companies everyday substituting machined metal for strong and rigid 3D printed carbon fibres, thanks to being built on the existing and widely adopted F123 Series platform."
Marketing Manager at SYS Systems, Dan Mather visited the Addition Design head office in Sheffield to meet with director and co-founder Tom Fripps to discuss how the composite 3D printer was supporting growth.
Project Brief:
Addition Design approached SYS Systems due to the ongoing demand for increased component quality. Finding that their previous SLS machine was not matching up to the challenge, Addition Design got in touch to tackle the growing demand for more robust parts.
"The existing 3D print systems at Addition are very good for volume and precision work but the change parts tend to be large, robust components on low volume.
"A lot of our customers, particularly in the pharmaceutical, packaging and automated manufacturing markets tend to want larger, stronger parts that tend to be pretty big and thick components.
"So, that's why we decided to invest in the F 370 CR. Because we looked at bringing in the carbon fibre reinforced nylon, and it's a good match."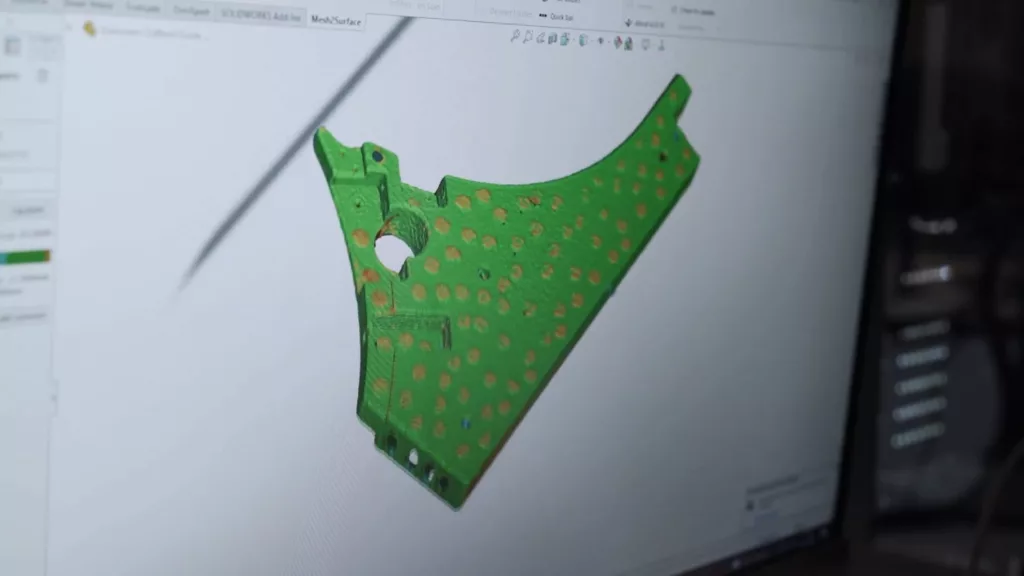 The Solution:
Chris Andrews then proposed the F370 CR, a best-in-class FDM printer putting performance first, allowing faster printing, faster material changeovers, access to new and stronger composite materials, as well as unlocking better quality for prototype to production-grade parts. 
"Reinforced carbon offers that much needed durability to parts. So that's something we just couldn't do before and it opens up markets first and helps our customers just see that much more value in what we can give them."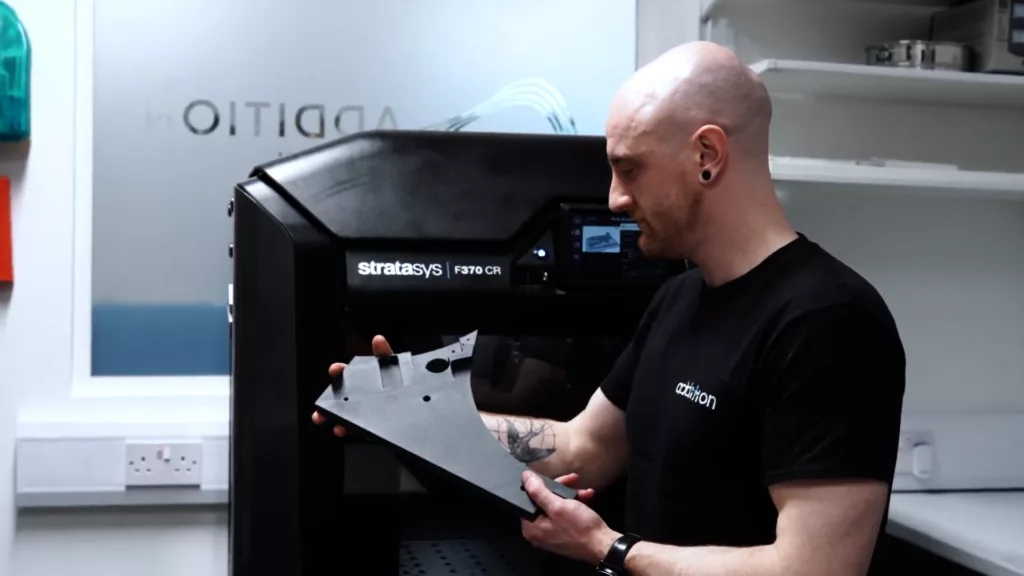 "The range of materials that are open to you by using the Stratasys FDM type systems is much broader, you get a lot more performance, it's a lot faster to change those materials over. With a lesser machine, it can take a day to change materials. Whereas with the FDM, it can only take a few minutes."
The Benefits:
Addition Design are already beginning to benefit from the F370 CR, its speed, quality and properties, and even before the machine arrived on the premises, the firm had scheduled work for the machine, allowing them to get started reducing lead times, time savings they have been able to pass on to customers.
"This innovative new 3D printer is a welcome addition to our business. The investment will improve the quality of change parts and format parts that we are able to produce."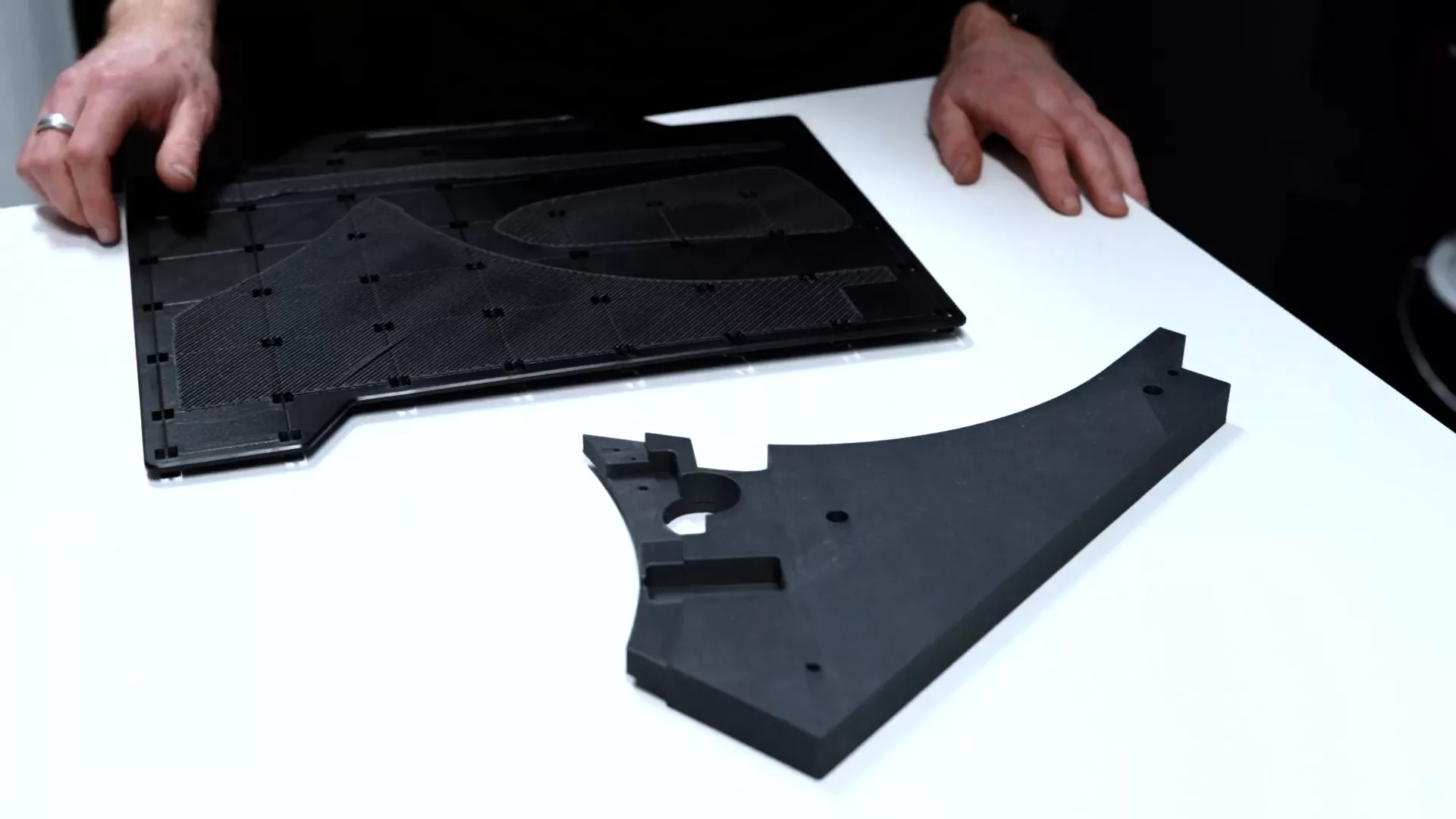 "It will open up new opportunities for us to be able to deliver higher performance parts with reduced lead times. Customers will also benefit from the unique combination of Addition Design's additive design capabilities with very high performing materials."
The new printer is better suited than Addition's existing technology to the application of large, robust components on low volume. However, it also takes things a step further by allowing us to print carbon fibre reinforced components, hugely increasing the performance of the parts that we can produce at Addition."
"We started to queue up work for the F370 CR before it even arrived. So we have already had parts out the door which our customers are paying for. We've also had some quite interesting research work that we've been able to do on that particular machine, because of the density of the parts that it can actually achieve. And so it's already starting to generate value for us."
"We like to pride ourselves on our quick lead time; you'll go from six to eight weeks to six to eight days"
Why SYS UK & Stratasys:
"I would recommend you consider SYS UK when you're looking to purchase an industrial system. I think Stratasys has a good range of products these days; more than ever. The range is getting better geared towards the industrial side than they have previously been so I would certainly say that's why SYS UK are who you should be speaking to."