Since installing an Objet Connex 3D printer, SYS customer Design Reality can produce prototypes overnight rather than waiting for days as they did previously.
For Design Reality the installation of the latest multi-material 3D printing technology has not only added credibility to its reputation for lateral thinking in the world of problem solving design and development projects with clients, but has created what it defines as a new 'freedom tool' to its prototyping capability to develop a solution using the flexibility gained from the characteristics and performance of the most suitable material for the task.
With the Objet Connex 260 the Design Reality team supported by machine supplier SYS Systems of Derby can build and simulate a design in a single 3D model or a series of assembled models each up to 255 mm by 252 mm by 200 mm.  However, most important for the type of work undertaken is that the machine is able to utilise any material or combination of materials from rubber to opaque and transparent right through to rigid ABS grade engineering plastics.
According to Managing Director Troy Baker:  "We have become a significant 'R & D experimenter' which differentiates us from other design consultancies and are using 3D printing to break new ground with solutions that play a key part in our business.  Through using it as a qualifier of our design concepts we have gained an international reputation for conceptual development such as our solutions that have gained 'best-in-the-world' acknowledgement in the manufacture of products such as respirators.  Our development of respirator technology is now being used to meet the demands of the likes of the military and fire services as standard issue in several countries."
Such was the level of design input from Design Reality that the Minister of Deference Procurement went on record to say:  "The General Service Respirator (GSR) is no mere gas mask.  It will give our troops unparalleled levels of protection in the field from all manner of threats."
Half of Design Reality's income is generated from its specialisation in personal protection while also servicing medical, defence and other very specialised sectors.  As a result most involve strict industrial or commercial confidentiality and here the installation of the Objet machine within the headquarters in St Asaph in North Wales means total security is maintained.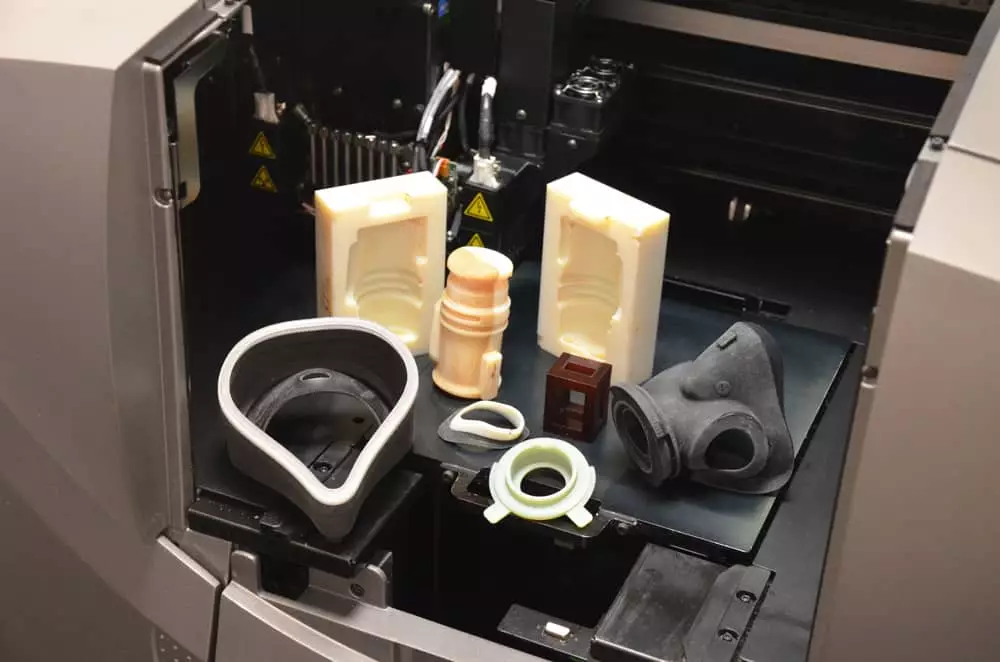 The company was quick-off-the-mark to see the benefits of 3D model building, as an important addition to its ProENGINEER CAD capability and bought its first SLA prototyping machine in 2002. This was just a year following the set-up of the business by Mr Baker, his wife Caroline who is financial director and Graham Wilson, who is now technical director.
As a result of applying the modelling technology in the early days of the business it helped secure a £350,000 contract in 2006 to develop a gas mask that resulted in the expansion of the business to six designers and kicked-off its trail to world success in advancing the application of respiratory technology.
From then, a series of investments following the progressive development of 3D model building systems, helped further to advance the conceptual design capability, which eventually led to the Objet Connex 260 machine purchase from SYS Systems in 2012 which, according to Mr Wilson: "From our long experience in 3D model building and prototyping, we feel we are able to exploit the distinct advantages the Connex 260 machine to increase business more significantly than other equipment on the market to suit our needs. And of course, we have the level of expertise and product development knowledge within SYS at Derby to provide access to high degrees of support when we are trying to push out the boundaries."
He followed on to say: "We have found the Connex 260 is 'fit-for-purpose' enabling us to properly evaluate a design and present a workable product to the client. What is important is that we can demonstrate exact realism with totally new levels of finish and accuracy that were never available from the printing process before. That capability not only helps discussion with clients but encourages positive evaluation of the product and any solution we are proposing."
What design Reality has found is it so important is the ability to use up to 14 materials in the same model build, not only comprising standard materials but having the flexibility to tailor a cocktail of materials to replicate and perform the way the product will be used in the field.
The Connex 260 has demonstrated new levels of operational simplicity and any one of the 13 design engineers at the St Asaph facility in North Wales are able to use the machine. An important factor fed back from the designer's view of the build process is that parts are so easy to clean in comparison to other competitor systems.
Said Mr Wilson: "From our experience with customers they think we are using secondary processes to finish the parts and most impressive is their realisation that we can work, for instance, with different specifications and shore hardness of rubber-like material and solids in the same model build. This enables us to create the stability required as well as an exact look and feel plus functional performance.
Said Mr Baker: "Since it was installed the Objet Connex 260 has run 24 hours a day, seven days a week with the only break in build time being over Christmas." To which he added: "It paid for itself inside 12 months and not by us offering to sell time as a bureau service but using it as a very critical element in our process of product conceptual work and the assessment of performance and suitability for service. It has proven vital in avoiding delays in development lead time as we no longer need go to other suppliers to obtain mouldings and tooling, for instance. This lowers some of the risk in a project that also adds cost and overall control when you have to involve outside suppliers. We now have total control to test, evaluate, modify the design and quickly rebuild a model when needed. As a result, we have a more positive and faster reaction to meet clients' product development targets."
Mr Wilson expands on his team's use of the Connex 260 3D printer where it is gainfully employed to create workholding and tooling for its CNC machines used in the prototyping workshop. Here, small production runs of components are sometimes performed and on certain occasions the combination of printer and machines have produced small parts overnight. Due to the method of layering in the print cycle, Design Reality can use the Connex machine to produce intricate features on parts having internal details such as voids, recesses and undercuts with the added advantage of using ABS-like materials when needed to incorporate thermal properties and different levels of flexibility into the build.
The directors ordered the Connex 260 commenting on its compact size requiring a floor area of 870 mm by 735 mm and able to fit through a standard door.
"The ever growing complexity of product is continually creating an even greater need for lateral thinking-based solutions and this is where our business has scored with simplified methods to provide clients with the answer." To which he concludes: "3D printing has to be one of the most valuable assets to our business and clients outside the capability of our design team."