Rutland Plastics have been able to directly print injection moulds as well as rapid prototyping end products.
The viability of 3D printing technology has really come of age, according to one of the UK's leading trade injection moulding specialists. Steve Ayre, Managing Director of Rutland Plastics, suggests: "The process is useable not only to mimic the final manufactured part, create finely detailed, functional and durable prototype and sample components but also for us, to provide a very cost-effective customer service solution."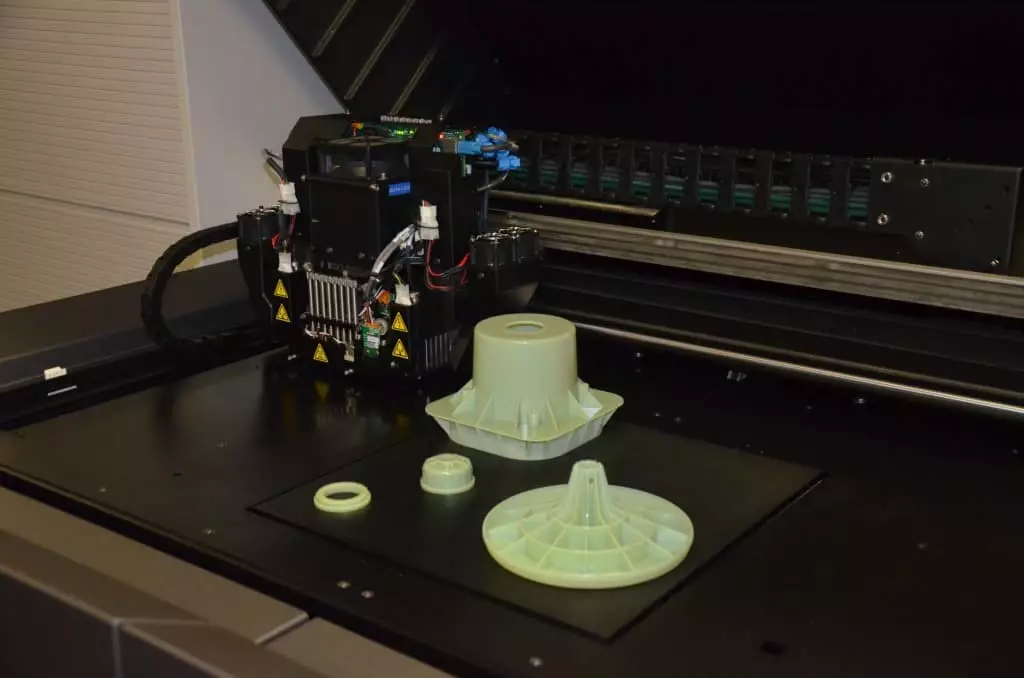 He maintains: "With the Objet Connex 350 3D printer we can use its multi-material capability to create finely detailed truly functional models and prototypes. We are also developing a process for very small batch runs of plastic injection mouldings by printing a mould tool cavity and saving the cost of a conventional steel or aluminium tool. Most important and giving us a major customer advantage, we are able to deliver a significant reduction in lead time that speeds concept to production."
Over the last six months, the installation of the Objet Connex 350 by SYS Systems Ltd of Foston in Derbyshire has produced some 100 different printed models up to 342 mm by 342 mm by 200 mm in a single cycle. In addition, a host of repeat runs have been undertaken from the initial 3D print taking the advantage of incorporating any resulting product changes or design specifics. These single cycle printed models have varied in size from 2 mm diameter by 6 mm long with 0.3 mm diameter intersecting holes, to a sample electrical fence post produced in three sections which dovetail together into a 1 m single length with a 150 mm steel nail inserted in one end.
There are two key areas where 3D printing is producing very practical aids to production and prototyping at the 32,000 ft2 Oakham facility of Rutland Plastics. There is the small batch injection moulding service, in development where mould tool cavities are 3D printed to produce short moulding runs and trials that offset the need for costly initial steel and aluminium mould tools should prove to be of great benefit to customers. Here the cavity is placed in one of Rutland's standard bolsters to produce an injection moulded part.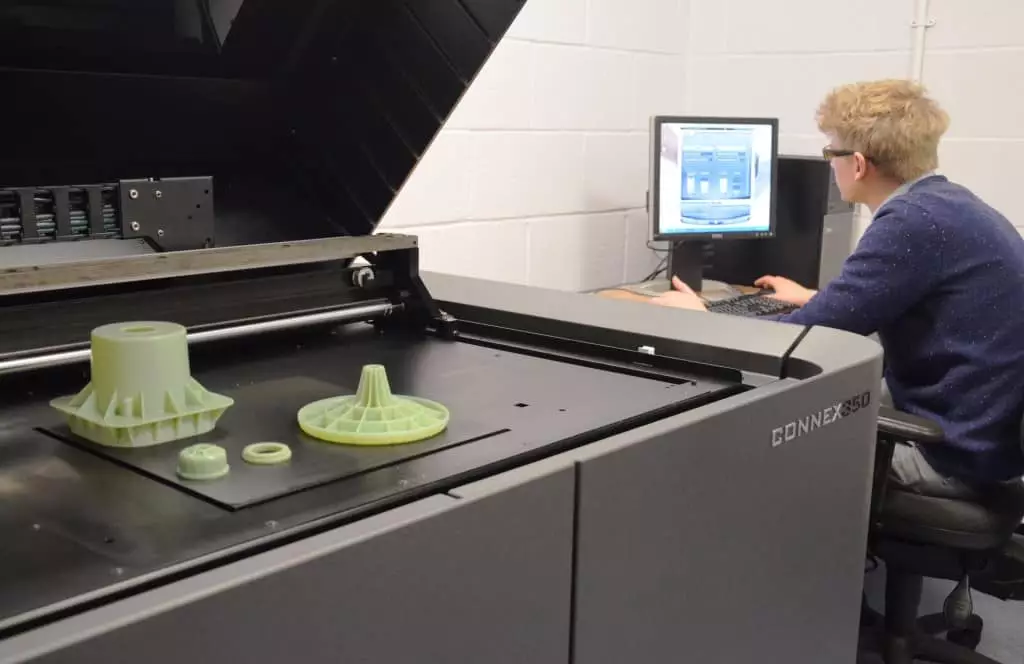 Secondly, according to Mr Ayre: "The flexibility of the 3D printing process to enable different materials to be selected or blended from the 50 or so material types, grades and colours has been invaluable enabling design engineer Simon Grainger to blend different rigid and flexible mechanical properties involving rigid, flexible and transparent materials in the same 3D print run/build cycle."
Mr Grainger said: "The resulting 'composite' material can have totally different specific values for tensile strength, elongation to break, cope with different heat deflection temperatures and even a variety of Shore A scale values. This means we can easily simulate customers' needs for polypropylene, ABS, transparent, high temperature and a wide range of rubber-like materials between Shore 27A to 95A."
Rutland Plastics is able to produce wall sections on models as thin as 0.6 mm with general accuracy levels of 0.1 mm on the Objet machine while larger models can be created by simply joining together two or more prints.
Rutland Plastics was set up in 1956 by Mr Ayre's grandfather mainly engaged in designing and manufacturing its own products such as toys and plastic flowers. It moved into trade moulding in the mid-80s winning an important contract from a supplier to the UK gas industry for producing pipe fittings using the jointly developed and patented process of electrofusion. This process involves a lead-in wire being buried beneath the subsequent coil winding in a moulded pipe product and has helped ensure almost continuous contracts for production of fittings which still accounts for 40 per cent of its £8 million turnover.
Investment in the business has been continuous with the trade moulder progressively increasing the size of injection moulding machines to a massive 1,700 tonnes capacity, capable of holding tools to mould parts up to 1 m square tools with a 38 kg shot weight. These machines also have the productivity advantage of fully integrated robotic automation. Today the firm has 100 employees of which three are on the design team which is working three shifts over a five-day week.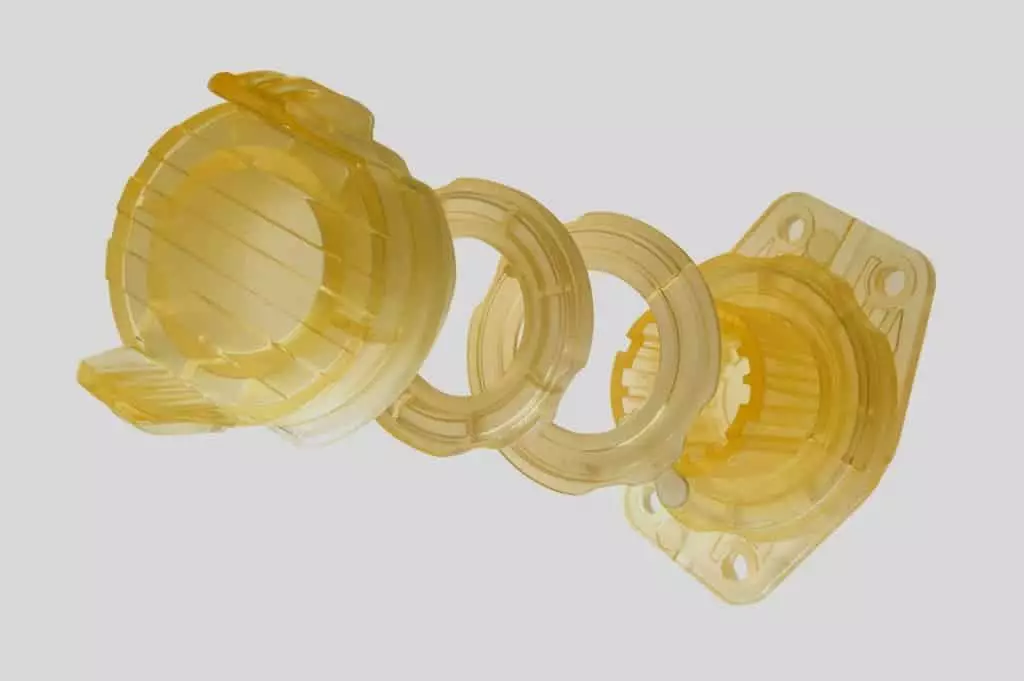 Indeed, in the last 12 months over £1 million has been invested which included the Objet Connex 350, which in Mr Ayre's view, has to be the type of critical 'tool' for use in any moulding business that wants to be progressive and seeks to have more customer involvement and hence on-going growth won against offshore competition. In addition, the company has supplemented its range of large injection moulding machines with the installation of a new 1,500 tonne press.
Says Mr Ayre: "The printer is a valuable tool in support of our 'design for manufacture' involvement with customers -; an area that has proven so beneficial in retaining existing business and developing relationships with new customers. We are able to contribute by influencing design by reducing mould, material and most often process costs if involved in early stages and if needed, can use the Objet machine to turn around a prototype or sample from stock material in three days."
Rutland Plastics also produces drill jigs for machining or checking fixtures for customers as part of its bureau service using stock materials with fitted hardened bushes and location points. Says Mr Ayre: "The 3D printing capability is far quicker than any toolroom could achieve.
Registered to MAS, and in the MAS directory, the Manufacturing Advisory Service, the 'one-stop shop' capability of Rutland Plastics to have input with prototype design and tooling as a package and help to shape a business strategy around the product for the client is a further area where the rapid prototyping comes to the fore. Says Mr Ayre: "3D printing helps to give confidence to the client and provides the ideal support with any presentations the new product would need to be involved with."
Typical of components produced under the 3D rapid prototyping banner are scale models of parts such as a host of heavily detailed electronic cases, pipes and connectors, flow valves, a rubber mat printed with text and a membrane to allow keyboard input with a clear window for internal digital viewing, jigs for checking medical components, full-proof sockets to ensure the correct gas connections in a hospital, the inclusion of bar codes, branding, textures and even active hinges able to withstand repeated flexing in design.