LOCTITE® 3D 3955 FST by Henkel
Winner of the 2020 USAF RSO Advanced Olympics Approval Sprint Challenge. For application-specific flame smoke and toxicity requirements (UL-94).
High-performance, high-modulus product with excellent flexural and tensile physical properties and outstanding flame retardance. Suitable for aerospace and transportation components that require flame resistance, high HDT or chemical resistance. Ideal applications include HVAC components, clips and plugs for control systems, connectors, clamps, ducts, brackets.


Key Benefits
Extremely high HDT (285°C) delivers negligible deformation in harsh environments
Printable at 65°C (149°F)
High modulus
Passes flammability 2×10 second vertical burn and FST (AITM2-0002, AITM2-0007, AITM3-0005)
Halogen-free
Color: Black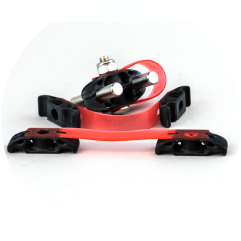 A transformative 3D printer enabling flexible production of end-use parts in a diverse range of high-performance materials. Achieve industry-leading accuracy, consistency, detail and throughput with the Programmable PhotoPolymerization P3™ technology. Get ready for a new era of 3D printing.
Origin® One Material Comparison