Stratasys, a leading provider of polymer 3D printing solutions, has completed its acquisition of Covestro AG's additive manufacturing materials business. The acquisition includes a portfolio of approximately 60 additive manufacturing materials, R&D facilities, global development and sales teams across Europe, the U.S., and Asia, as well as an extensive IP portfolio comprised of hundreds of patents and patents pending.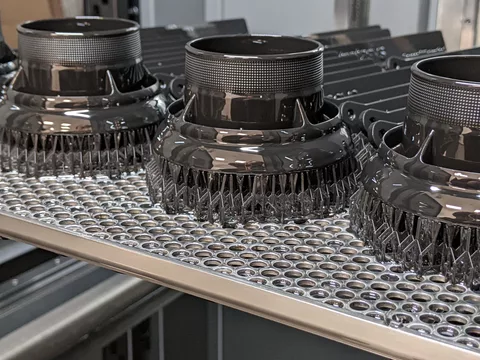 Automotive air vent prototypes 3D printed with Somos WaterShed Black resin on Neo450 3D printers from Stratasys. (Photo: Business Wire)
This move positions Stratasys to expand its engagement with all Covestro AM materials customers, providing a global breadth of sales, service, and support infrastructure. The acquired materials, IP portfolio, and talent will help Stratasys address new applications in key technology categories such as stereolithography, P3/DLP, and powder bed fusion, including SAF technology. These complement Stratasys' existing deep materials expertise for PolyJet and FDM technologies.
According to Dr. Yoav Zeif, Stratasys CEO, "With this acquisition, we're not just expanding our materials portfolio for our broad array of 3D printing technologies – we're also paving the way for more new innovations. Additionally, our growing team of in-house materials experts will be in a stronger position to collaborate with our materials ecosystem partners." All materials are now available through Stratasys,
and its global partners under the Somos and Addigy brands, benefiting customers with greater global sales, service, and support infrastructure. Stratasys will continue to fully support customers whether the materials are used with Stratasys or third-party 3D printers.
Hugo da Silva, previously Vice President of Covestro Additive Manufacturing and now Vice President of Strategy, M&A and Venturing at Stratasys, said, "A new material can be as transformative to a market as a new 3D printer. Whether it's flame, heat and smoke resistant materials for aerospace, new biocompatible materials for medical applications, or resilient materials with ESD properties for electric vehicles, we know that the more we bring new materials innovations to market as part of use case solutions, the more we can transform how everything is manufactured around the world."
This acquisition marks a significant milestone for Stratasys as it solidifies its leadership in the polymer additive manufacturing industry. The company's growing materials portfolio and in-house materials expertise will enable it to collaborate with partners to address more applications faster, pushing the boundaries of what's possible in additive manufacturing. For more information on Stratasys materials for additive manufacturing, visit www.sys-uk.com/materials