3D printing in 4 easy steps with GrabCAD
Industrial 3D printing has never been so easy, and so agile. Offering full flexibility against traditional manufacturing processes, digital manufacturing is quickly becoming the preferred choice for speed, flexibility and accuracy across industries. But how can designers and engineers best make use of this powerful technology?
To help answer that question, we've put together this step-by-step guide to taking designs from ideation through to final part production using a Stratasys 3D printer and a customised GrabCAD Print interface designed specifically for use with Stratasys technologies.
Step 1. Export
Step 2. Upload
Step 3. Transfer
Step 4. Iterate and improve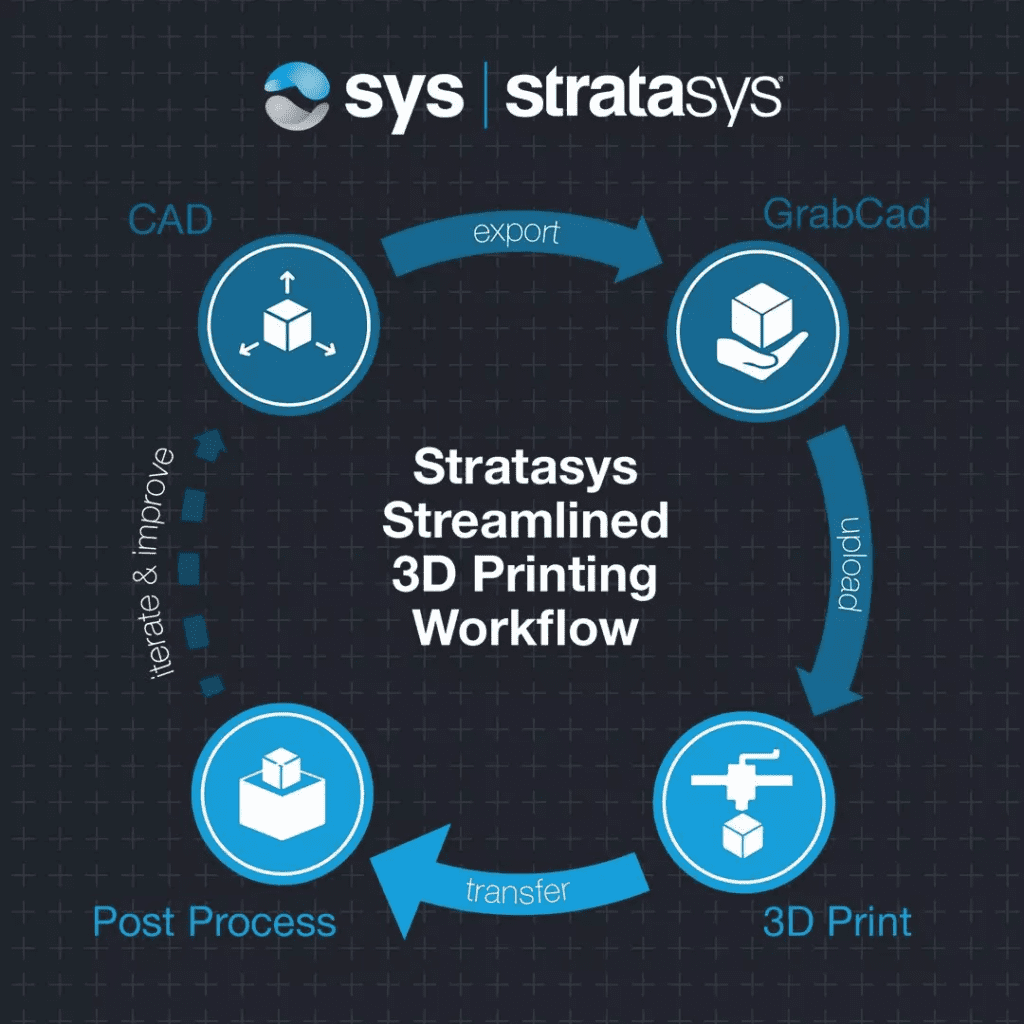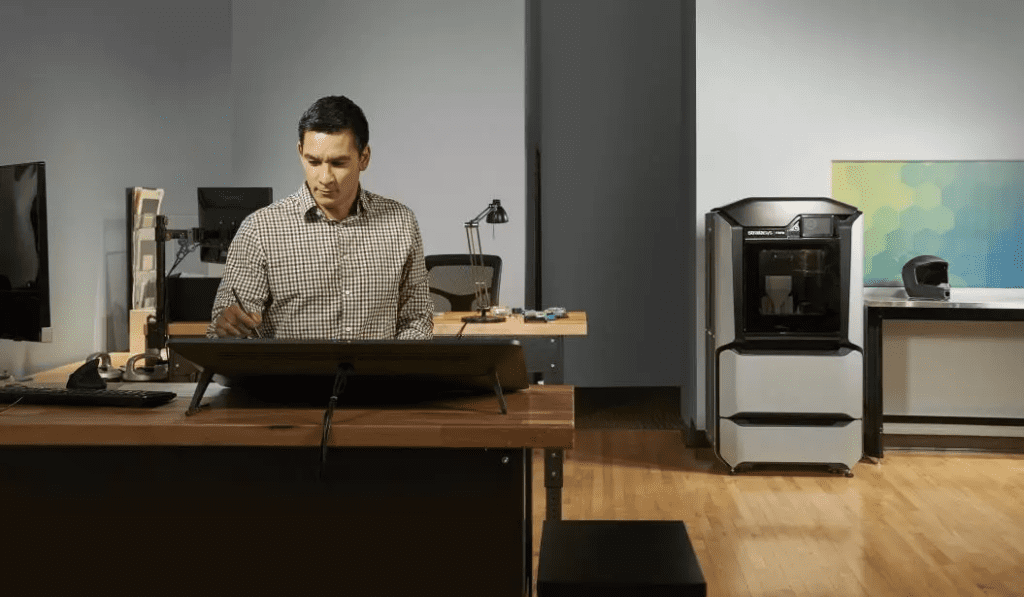 Connect and convert from anywhere
The GrabCAD user interface has been designed to ensure that every step of the design process is accessible and straightforward, whether you're an engineer, designer or educator. Your design files are saved in the cloud so you can access them anytime, anywhere, using any internet-connected device. After selecting the appropriate printer from the menu, you'll be asked to connect your 3D printer to the computer running GrabCAD Print via USB.
If you have an existing 3D model and assembly model in another format, you can also import it into GrabCAD Print to use as a starting point for your design. You don't need to waste time converting and fixing STL files and can import your CAD files, as well as merge multiple files into a single print job, and send directly to GrabCAD Print. Using the freeform drawing tools built into GrabCAD, you can also draw models from scratch using the pen tool to create a clean sketch that can be imported directly to your 3D printer.
Once you've got your design ready, it's time to refine it by adding product and manufacturing information like colours and material specifications to your model. You can do this directly from the GrabCAD Print app, using data straight from the Stratasys Material Properties Library, or by adding your own property details manually. 3D slicing technology allows you to see the effects of changes to your design on the finished print. You can optimise design parameters such as speed, quality, cost and part priority, as well as match colours with Pantone colour matching, and make detail improvements. Make necessary adjustments before going to print with detailed views of your model, tray, and slice preview.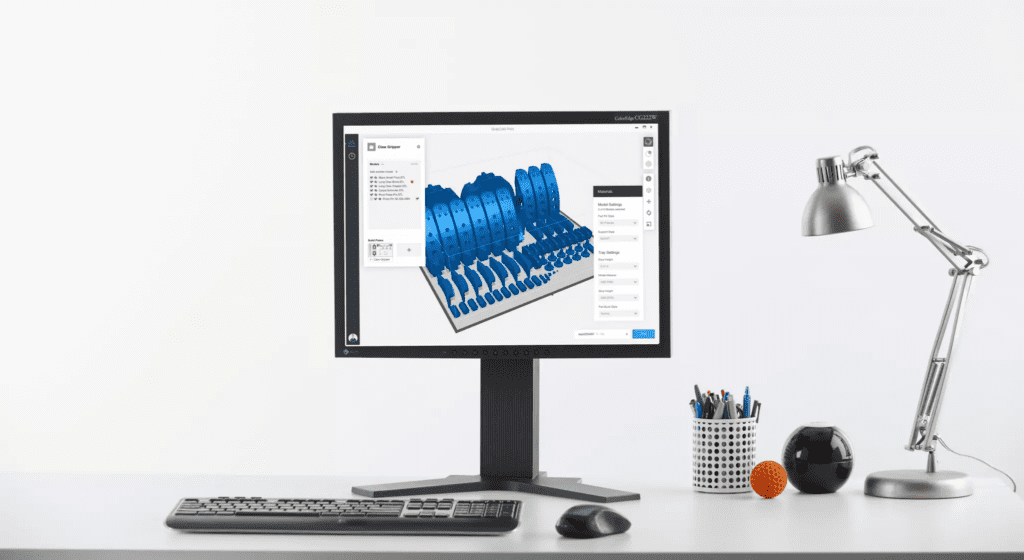 Estimate your cost to print
Once you've added all your product information and you've finishing reviewing your design, you can use the built-in costing tools to estimate how much your product will cost to produce, as well as preview your work before sending it to the printer.
Sophisticated, geometry-specific tools help you to design and build parts that require less weight and material to produce, without compromising on strength. You can select from a range of build materials and select whether or not you want the object to be printed one-at-a-time or in multi-part batches.
You can also choose whether you want the prints to take place automatically when the machine becomes available or on a set schedule that you choose yourself. Finally, you can send your design to the printer to print at the click of a button or save it for further refinement before you send it to print at a later date.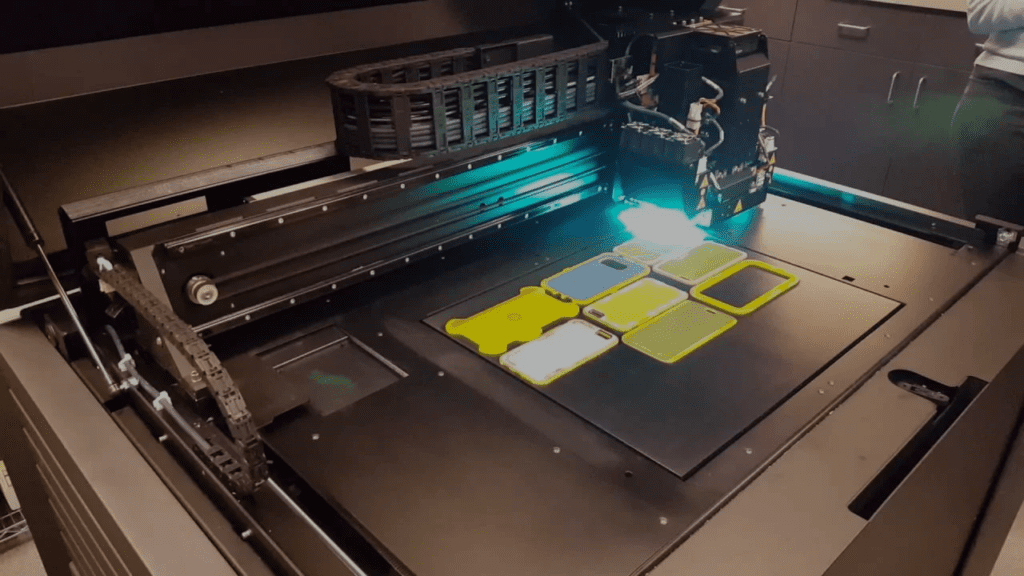 Press print and walk away
Once you've pressed print or scheduled your print and the machine is ready, your design will begin printing automatically and the GrabCAD Print app will automatically notify you when it's complete.
15% of a typical shop's week is wasted tracking down work order requirements and communicating status between engineers, designers and operators. GrabCAD Shop solves this by uniting all of your shop floor documents in one easily accessible location. Additionally, you can associate designs with specific manufacturing operations, making communication between design and manufacturing teams easier.
Schedule and monitor remotely
You can print from anywhere, whether scheduling remotely, on mobile or from a browser and then monitor your print remotely, as well as organise print queues for 24/7 unmanned printing.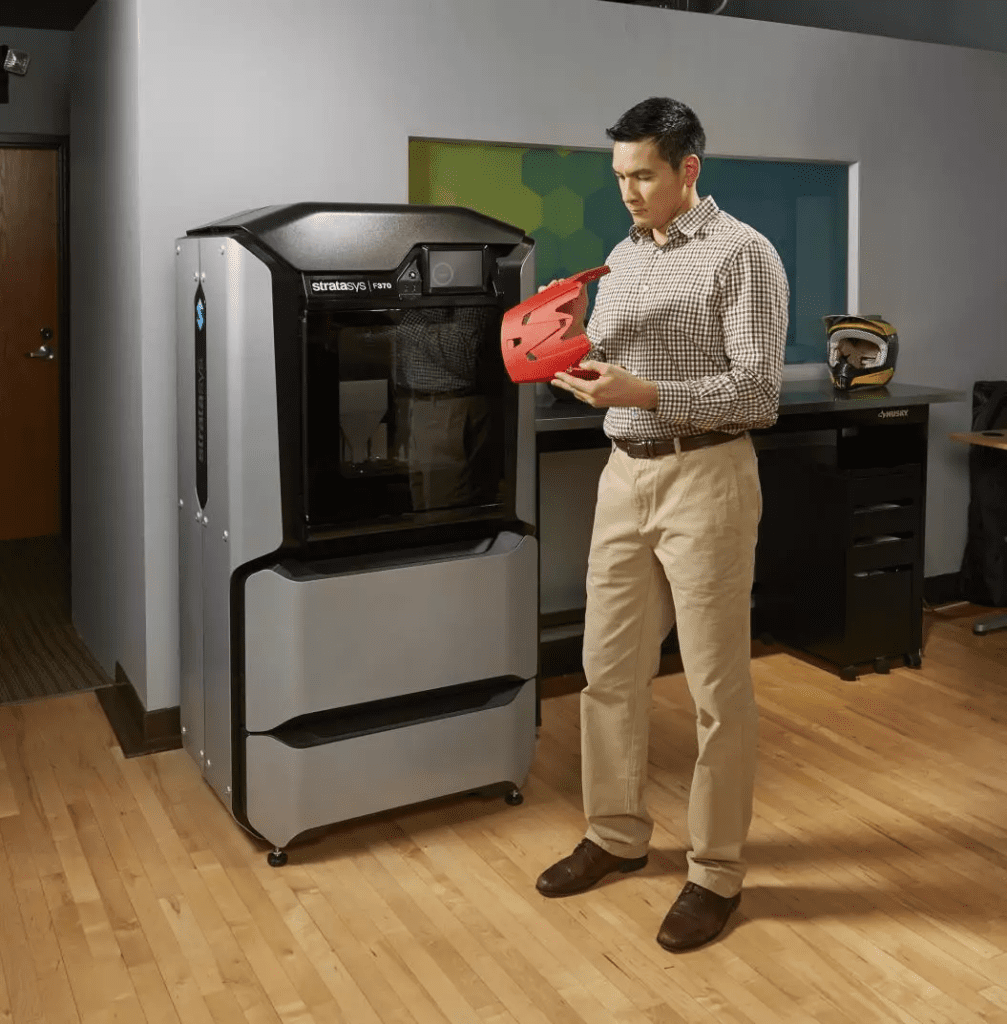 Step 4. Iterate and improve
Once your project is ready and printing, you can go again, freeing you to iterate and improve your design at speed.
Choose additive manufacturing with Stratasys & SYS
SYS Systems is the UK's dedicated platinum partner to Stratasys. Offering exclusive options for additive manufacturing in full-colour, with a wide range of materials suitable for manufacturing parts and products of all sizes and shapes, we help you begin your journey into additive manufacturing. Be it to replace or complement your existing manufacturing processes, our team are on hand to show you how additive manufacturing can work for you.