Manufacturing is an intensely demanding sector. There's mounting overhead to pay, large production quotas to meet, tight deadlines, and fierce competition everywhere. With supply issues, outsourcing, and lead times sprinkled in between, what can be done to ease pressure for a business and the workers therein?
3D printing in manufacturing can bring a slew of benefits from the moment the very first print begins. With costs running from just £299 a week, the Stratasys F770 is a large-scale machine that is designed precisely to bring those benefits in an affordable package. Let's talk about how the F770 can present 3D printing as a fully-fledged means of production.
With a 372,000cm³ build chamber – the longest fully heated chamber on the market today – the F770 can handle build volumes of up to 372 litres and print parts up to a metre long. This space can be utilised to create parts that would traditionally be expensive to make and costly to transport, especially if needed as one-offs or in small volume. The heated chamber ensures that even these big parts are of superior quality, and it's something that Stratasys have plenty of experience in (more on that later).
Huge build volume doesn't discount small parts, either. Build a large amount of small parts in one print run, leading to far more economical production and driving productivity up.
Keeping it simple but focused, the F770 deals with two high-quality thermoplastics that you would find in many consumer products being put onto the market today: ABS-M30™ and ASA.
ABS-M30 bears the lowest cost of the thermoplastics range, yet it has enough strength and versatility for a wide variety of applications in functional testing and production parts, allowing ideas to be iterated faster and get to market quicker. ASA has great aesthetic qualities, producing parts with a smooth and professional finish. Not only that, but it also exceptional UV stability, making it well-suited for end-use parts that will see plenty of outdoor use.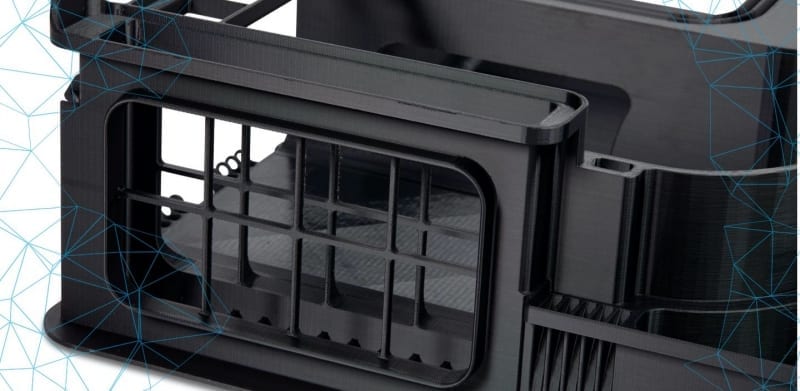 Consistent and repeatable
Lower-end FDM machines won't give you the reliability and consistency that the F770's design can ensure. In addition to inventing FDM itself as the very method of printing that the F770 and its fellow machines use, Stratasys' patented technology made it the exclusive builder of FDM 3D printing machines with fully-heated build chambers for over two decades. Such a healthy head start has paid off in specialist knowledge, both in terms of machine design and the experts at SYS Systems.
Essentially, the heat of the build chamber ensures that the part won't warp as the machine builds, so that each layer is laid precisely where it needs to be, and that the whole part will be a cohesive shape down to the finest details once finished. Even large 3D prints are preserved with this technology, honed and perfected into a repeatable science by Stratasys.
It might seem hard to imagine for a machine that can manufacture such big parts, but the F770 achieves incredible accuracy in its builds. Its achievable accuracy, measured in micrometres – not millimetres – is repeatable time and time again. With water-soluble SR-30™ support material, overhanging details can be achieved safely and without compromising the strength of the overall piece, meaning even intricate features are no problem.
Set the machine to build and attend to other tasks, knowing that the printer can work accurately without the need for operator intervention.

Additive manufacturing for industry can achieve geometrically complex results, but it needn't be difficult to incorporate. The F770 comes with a host of software support to make it as easy as possible to use and incorporate into your Industry 4.0 workflow.
The machine features an intuitive user interface and is fully supported by both GrabCAD Print™ and Insight™ software packages, granting CAD-to-print simplicity with the tools to edit and specify your designs for layer thickness and economic material usage. GrabCAD Print also allows remote job scheduling with alerts and job history, accessible from a phone or desktop. The F770 is MTConnect-ready, enabling you to extract and monitor data from your printer to optimise your manufacturing functions in relation to production metrics, energy consumption, and much more.
A big question for many would-be investors is how 3D printing can be used in industry and still be profitable. The answers lie in just how much stress it alleviates from the more traditional ways of doing things.
Long lead times are drastically reduced. A big part taking less than 250 hours to print on the Stratasys F770 would typically take 6-8 weeks with outsourced moulding. Faster production and faster testing mean getting a product to market quicker and making returns sooner. Compacting processes saves time and the money it takes to keep factories running within that time. That's why additive manufacturing has saved cumulative millions for businesses and institutions across a wide range of sectors.
Find out how it can start saving money in yours by talking to an expert from a Stratasys UK Platinum Partner. Contact us today and have a no-obligation chat about what we have to offer.