SYS Systems has welcomed a shiny new addition to its demonstration facility in Derbyshire.
The Stratasys F770 is an industrial-scale FDM powerhouse, capable of creating large parts with complete uniformity and repeatability.
The Stratasys F770 features the longest fully-heated build chamber on the market measuring at 13 cubic-feet. It can create parts of up to roughly 120cm if orientated on the diagonal, allowing the creation of parts that would otherwise need to be split and adhered together.
Precise thermal management ensures these large parts are built with accuracy and high quality even when dealing with complex geometry. Supporting SR-30 material is water-soluble, meaning parts can be left to be effortlessly dissolved free after production.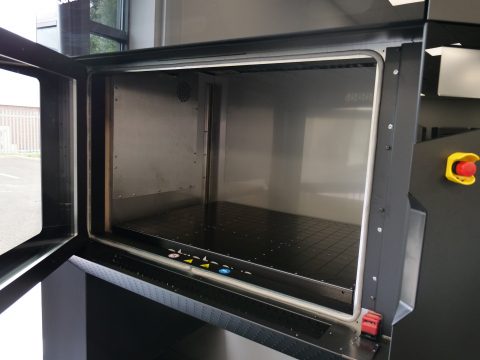 Affordable Additive Manufacturing
Despite its size and capability, the Stratasys F770 presents an affordable entry point to FDM printing. Utilising specifically ABS-M30 and ASA thermoplastics, its low cost of entry is followed by affordable materials that still deliver in strength and capability.
Functional prototypes, jigs and fixtures, manufacturing tools, and production parts can be made using these materials. With the F770's large build chamber, a greater number of smaller parts can be produced on a single build platen with uniform consistency.
SYS Systems can support any adopters of Stratasys 3D printers from purchasing and advice all the way through to installation, support, and training.
Our dedicated experts can get any business up and running with 3D printing in no time. This includes knowledge of best practise, how to get the most out of proprietary GrabCAD Print software, and what materials to use for certain applications.
Watch the machine's unboxing here.