SYS Systems welcomes the official launch of the J35 Pro to its available range, taking orders for the printer as of today.
The Stratasys J35 Pro is a compact PolyJet 3D printer that excels at prototypes and high-fidelity concept models. It uses a range of versatile photopolymers in both clear and black-and-white monochrome for economic material management that doesn't stifle the machine's capabilities.
PolyJet printing produces fine, repeatable details that makes it an ideal technology for model making. Coupled with the affordability of the J35 Pro, creating in-house prototypes becomes an accessible process that saves much of the time and cost associated with outsourcing.
Access to materials such as Elastico also means a new way to simplify the creation of rubberlike parts and more. Four cartridge bays allows for three building materials to be used simultaneously alongside SUP710 support material, either different polymers or multiple cartridges of the same for hotswapping without interruption.
SYS Systems are keen to welcome the J35 Pro to their repertoire because of the potential it holds for offices, classrooms, and small studios.
The printer fits comfortably on a desktop and runs quietly, operating at an undisruptive noise level. ProAero technology utilises advanced carbon filters for clean and odour-free operation that makes it safe for any environment.
The J35 Pro is designed for 'plug and play' simplicity, requiring only a standard mains outlet to run. Its intuitive touchscreen is easy to use with no prior experience. The machine's operation is supported by intuitive GrabCAD Print software, which can automatically repair files before printing and gives live updates as jobs progress and complete.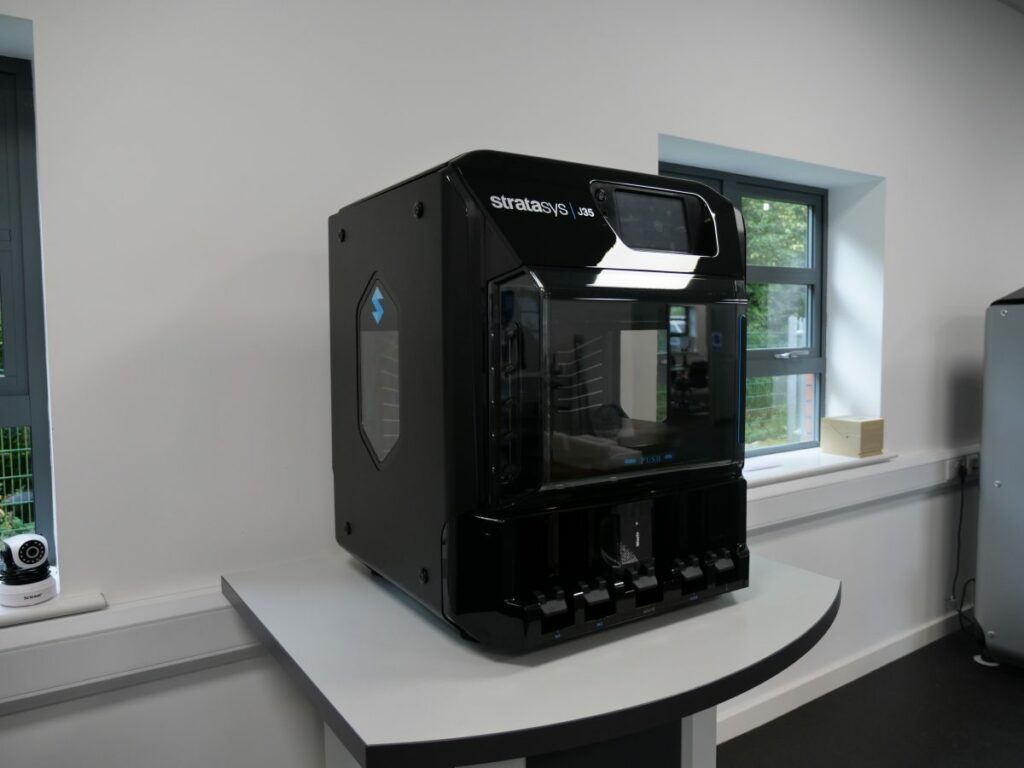 The J35 Pro can make use of a select scope of PolyJet materials that give it a slew of possibilities.
VeroUltra – available in black, white, and clear on the J35 – is suitable for consumer goods and packaging as well as prototypes and concept models. Its ability to make high-fidelity, sharp prints with great colour separation make it fantastic for 2D graphics as well as 3D structures.
Elastico is a rubberlike material with a Shore A value of 45 – placing it roughly halfway between a rubber band and a door seal in terms of feel and rigidity. Its superior tear resistance and flexibility makes it ideal for surrounds, overmoulds, seals, living hinges, and much more whilst simulating the feeling and properties of traditional rubber.
DraftGrey material is a lightweight, economical material designed for fast concepts and prototyping. It has medium opacity and a smooth finish, giving it a pleasing aesthetic quality. Whilst not ideal for colourful designs, it ensures that printing with the J35 Pro is amongst the most affordable PolyJet solutions on the market.
With this convenient entry point to 3D printing, SYS Systems hopes to introduce newcomers with a simple-to-use yet powerful machine that can take their design and testing phases to the next level.
To learn more about the J35 Pro, get in touch with SYS Systems today or request a sample to see the possibilities for yourself.