Stratasys is synonymous with 3D printing. From longstanding FDM printers to new P3 technology, a wide range of additive manufacturing materials can meet all kinds of demands.
Additive manufacturing is always improving and expanding. New printing technologies are created and new approaches to existing technologies come to light as developers find faster and more secure ways of building the products and parts required.
The various approaches that make up the whole of 3D printing technology sometimes only differ in small ways, but each one comes with its own advantages.
Whilst not the leading technology for aesthetic jobs that require novel textures and colours – FDM is a reliable printing process that creates tough parts when handling complex geometries. From prototyping to end-use parts, FDM can handle it all.
PolyJet excels at creating prototypes, functional concepts, and models in full colour and detail. Parts built using this method have excellent surface finishing. 640,000 colour combinations using VeroVivid means that PolyJet printers close the gap between the design and reality. Shore values can be varied and even surface texture can be simulated for high-quality testing that closely mimics the end result. PolyJet 3D printing technologies have brought prototyping and design in house for many companies, simplifying processes and reducing costs and lead times.
Though it can create usable jigs and fixtures, PolyJet is best when focused on aesthetics. The textures and colours of its photopolymers make it best for fast prototyping with realistic finishes. PolyJet is the technology of choice for designers and product testers.
Programmable Photopolymerisation (P3)
P3 exists amongst resin-based 3D printing technologies. Its focus is mass production of end-used parts, which it achieves using digital light projection (DLP). The Stratasys Origin One utilises this build method alongside a host of supporting technologies to ensure repeatable high-quality builds.
Origin One lowers its build platform into the printer's resin tank to begin building. As light is projected and layers are cured, the platform is slowly raised until the part is complete. This method can yield highly accurate details less than 50 microns in size with a smooth surface finish.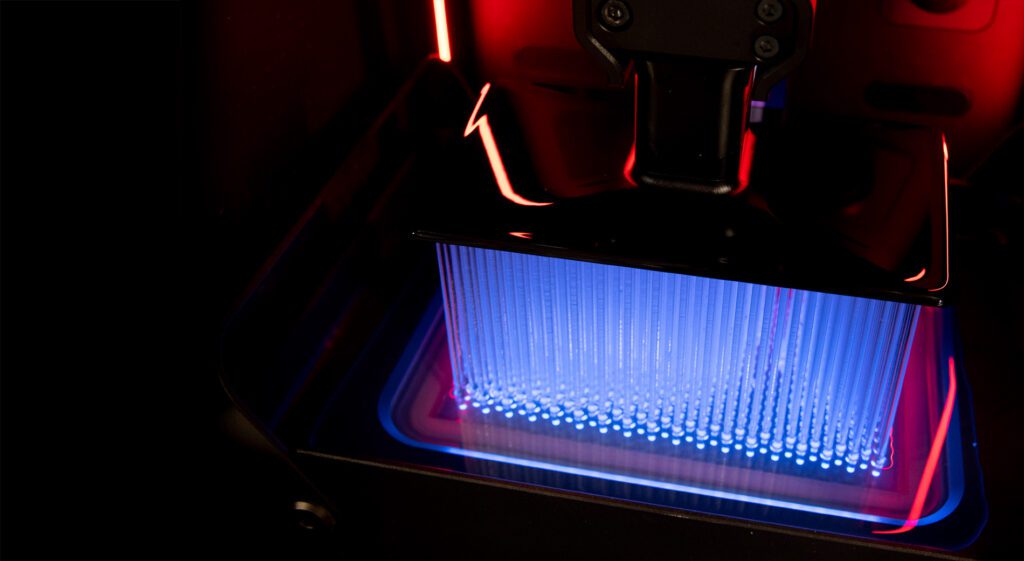 Origin One has ten industrial resins that create tough parts with properties such as superior elongation break and flexibility, biocompatibility, heat deflection at hundreds of degrees Celsius, and much more. These incredible parts can replace trusted traditional methods such as injection moulding with greater versatility and speed.
3D printing technologies are varied and none present a one-size-fits-all solution. However, with Stratasys, a machine can be found for any application.
Each 3D printing technology has its strengths and weaknesses, and applications in which it's better suited than others. Some, like FDM, are adept at handling many areas across low and high-impact uses.
To better understand what one printer can do over another, we always recommend speaking to our dedicated experts at SYS Systems, certified Stratasys Platinum Partner.
Get in touch with us here and discuss additive manufacturing today.