Stratasys unveil their latest 3D printer aligned to the needs of dental surgeons and dental device manufacturers everywhere. The J3 DentaJet is designed to tackle the qualitative and quantitative demands of today's dental labs.
Adding to the J5 Dentajet, J750 Dental, J720 Dental and Origin One Dental, the J3 DentaJet becomes Stratasys' freshest foray into 3D printing for the dental industry. Orders are now being accepted with shipping to commence in March 2023, for businesses looking at additive manufacturing in dental for now and the future.
Made for the laboratory, the J3 DentaJet presents multi-material 3D printing combining extreme accuracy with high-speed production for dental labs to level up their output. 
As small and medium-sized labs continue to increase the quantity of their dental device manufacturing to meet the demands of an ever-expanding industry, Stratasys developed the J3 DentaJet using PolyJet technology designed for quality, compact digital dentistry. Ronen Lebi, Vice President of Dental at Stratasys said:
"This printer is a great value for smaller dental labs that have previously been limited to small, single material table-top 3D printers that are ready to level up their dental production to offer higher-quality digital dental products."
"Adding a J3 DentaJet 3D printer can help labs produce best-in-class dental applications that require extreme accuracy at scale as demand is growing."
Glidewell Dental is one of the first companies with access to J3 DentaJet technology. Ilan Sapir, the Digital Treatment Planner at Glidewell Dental said:
 "The J3 DentaJet enables us to access the most advanced printing technology, packages in a small footprint with a large print capacity."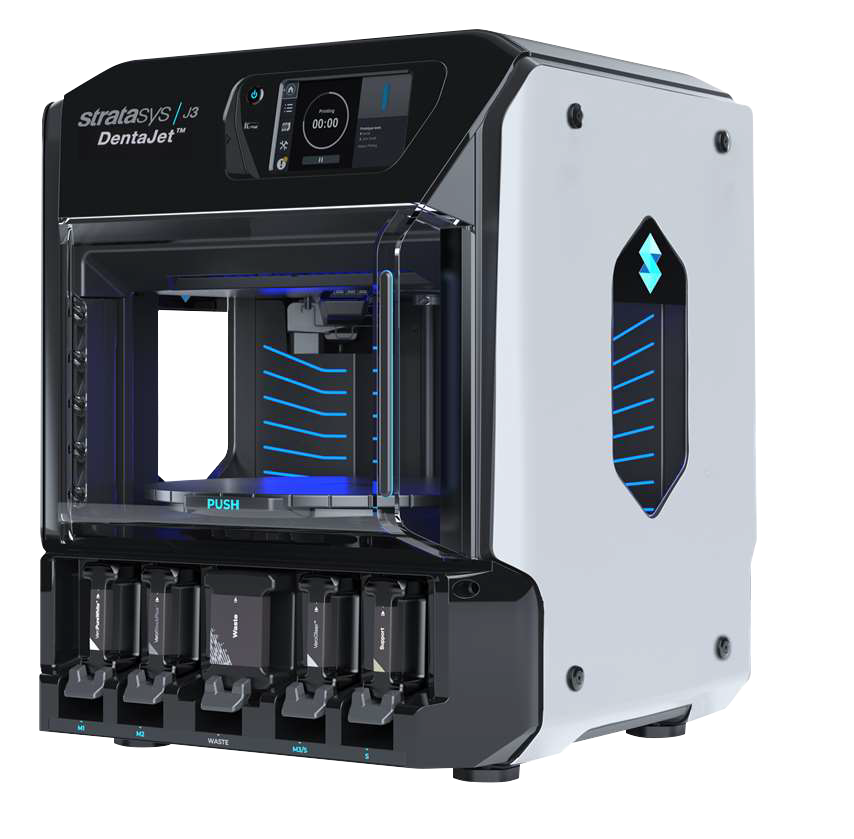 Everything on one tray for efficient production, at scale
Manufacture implant models, surgical guides and gingiva masks all on the same tray. And in multiple materials at the same time.
Solutions for:
Implantology
Dentures
Crowns and bridges
Orthodontics
Ready-to-go dental devices
Your digital inventory, materials and print queues can be carefully managed in synchronicity with GrabCAD Print meaning you can plug and play. Simply press print for 24/7 unmanned 3D printing. Creating clean and safe working conditions, the J3 DentaJet blends in with the surroundings. And when the print finishes, there is no need to handle uncured resins. Post processing is minimal, producing products that are ready-to-go.