Stratasys is a cutting-edge additive manufacturing company specialising in industrial and desktop 3D printing. Stratasys operates a global network of manufacturing and research facilities, using industry-leading expertise in 3D printing to develop a range of solutions to meet the diverse needs of its customers.
Operating from end-to-end from design through to production, Stratasys offers a range of 3D printing technologies aimed at helping customers accelerate their product development cycles. 
Stratasys additive manufacturing offers several advantages over traditional manufacturing techniques, leading multiple businesses in multiple industries from medical to aerospace to utilise the full capabilities of industrial 3D printing not only to design and prototype products, but also to manufacture them.
More sustainable
More applicable
From concept to production - transforming the full product and part lifecycle
President of Stratasys EMEA, Andreas Langfeld said at the SYS | Stratasys Open Day:
"We are witnessing right now an inflection point within the manufacturing industry, where 3D printing has been used for prototyping. How do I get from a CAD file to a part in my hand as fast as possible? That's how 3D printing started.
"And now we are transitioning into manufacturing. There are more and more use cases where additive manufacturing is being used in order to produce parts."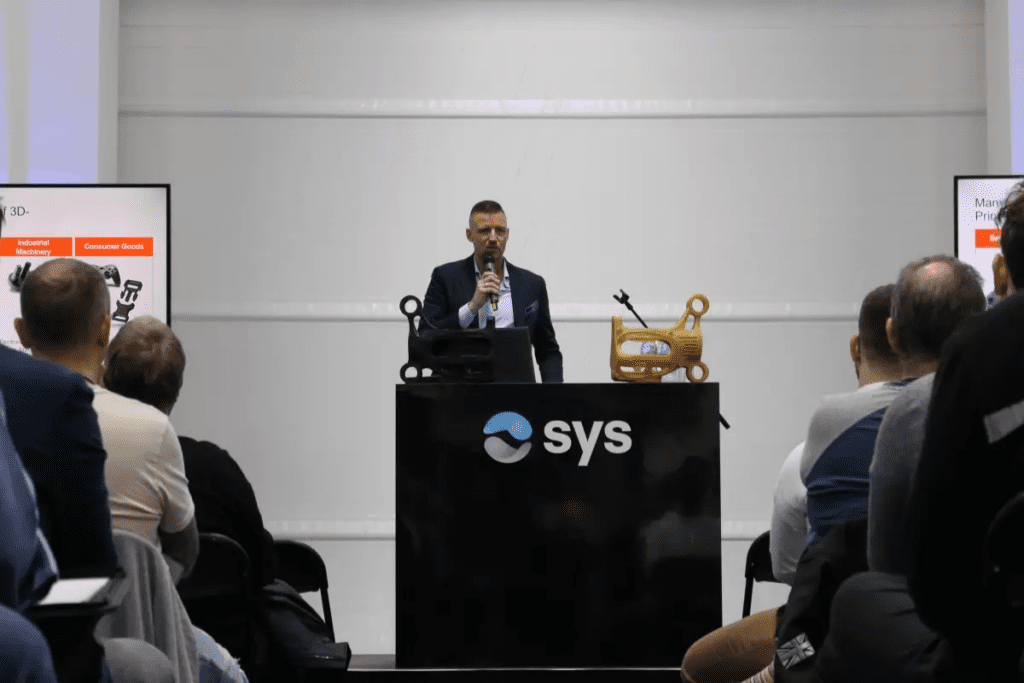 In a world often fraught with economic uncertainty, flexible manufacturing has become a safety net, and so much more for businesses around the world. Lead times have increased across the UK due to Brexit, tensions, war and the strains of the COVID 19 pandemic. 
Never has flexible manufacturing been more important to businesses to ensure the fluidity of their supply chain, and ensure reputations remain intact. It is not all about speed, but agility; being able to change how you manufacture products and parts freely and easily to ensure competitiveness when new challenges crop up.
The expectation now is that manufacturers and subcontractors can and will overcome supply chain problems, and that is largely due to new technologies. With Stratasys technologies, 24/7 unmanned production is no longer a concept for the future, it is now making manufacturing faster and more flexible than ever before.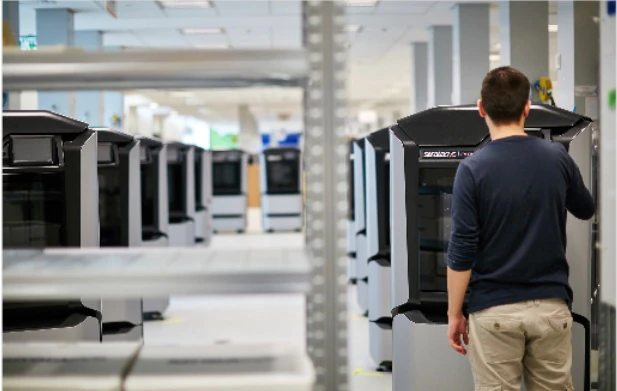 Combining five key technologies with unique advantages, designers, engineers and manufacturers can pinpoint better than ever the details that matter most to them. No matter if the priority is product or part strength, flexibility or a stunning full colour finish Stratasys 3D printing technology excels at creating quality for an array of applications. 
Andreas Langfeld said: 
"You are smarter than us and you give us direction because you decide where additive manufacturing fits and where it makes sense. So, if we were to cook our own meal and tell you to just adapt, it wouldn't work."
"If we now look at manufacturing use cases, we can split it into tooling, jigs and fixtures and into end-use parts. That's where we see a huge adoption. If you think about tooling, jigs and fixtures, those are the applications that are increasing the efficiency on the production floor."
Better value. Faster to market
Speed is on your side with additive manufacturing as ready-to-print digital inventories allow businesses to respond fast to challenges and scale up with speed.
Transforming lives
Creating critical components for applications such as organs for surgical planning that mimic the look and feel of the real thing, additive manufacturing is truly changing lives.
Unleashing creativity
More iterations and revisions offer designers greater control over conceptualisation allowing more freedom of expression, without the added cost of traditional methods.
Mindful manufacturing
Stratasys is redesigning supply chains, creating a faster, more sustainable product lifecycle. The company is proud to share the first Stratasys ESG & Sustainability Report.
Request Sample Part
Discover the advantages of all five Stratasys technologies today